ABC Orders 'The Good Lawyer,' An Embedded Pilot Episode of 'The Good Doctor'
ABC's embedded pilot episode of "The Good Doctor" entitled "The Good Lawyer," from Sony Pictures Television and ABC Signature, will now air Monday, March 13 (previously scheduled for March 6), and stream the next day on Hulu. In the episode, Dr. Shaun Murphy (Freddie Highmore) seeks legal representation to help him win a case and puts his faith in a promising, young lawyer who has obsessive compulsive disorder. The episode is written by co-showrunners David Shore and Liz Friedman, and directed by Ruben Fleischer. Guest starring is Kennedy McMann ("Nancy Drew") as Jodi DeGroot, the brilliant, funny and self-aware lawyer who is relatively new to her prestigious law firm when she takes Shaun's case; Felicity Huffman ("American Crime") as Janet Stewart, a highly regarded attorney and partner at the law firm with a fierce intellect and dry wit; and Bethlehem Million as Abbie, Joni's compassionate, practical slightly older sister. A voice of reason, she is Joni's biggest cheerleader, roommate and best friend.
"The Good Doctor" stars Freddie Highmore as Dr. Shaun Murphy, Hill Harper as Dr. Marcus Andrews, Richard Schiff as Dr. Aaron Glassman, Fiona Gubelmann as Dr. Morgan Reznick, Will Yun Lee as Dr. Alex Park, Christina Chang as Dr. Audrey Lim, Paige Spara as Lea Dilallo, Bria Samoné Henderson as Dr. Jordan Allen and Noah Galvin as Dr. Asher Wolke.
David Shore and Liz Friedman are executive producers and co-showrunners. Daniel Dae Kim, Erin Gunn, Thomas L. Moran, David Hoselton, Peter Blake, Jessica Grasl, Garrett Lerner, Mike Listo, Freddie Highmore, Shawn Williamson, David Kim and Sebastian Lee are also executive producers. The series is from Sony Pictures Television and ABC Signature.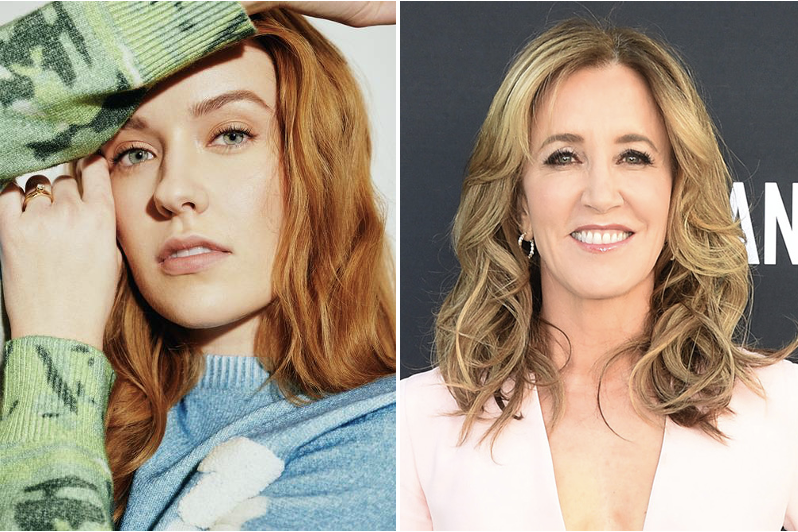 About Kennedy McMann: Kennedy McMann starred for four seasons as the titular role on The CW's series "Nancy Drew," based on the popular mystery novels, and she recently recurred on Hulu's "Tell Me Lies." McMann started acting as a child as a way to cope with her OCD. She went on to study at Carnegie Mellon University, earning a Bachelor of Fine Arts in acting. Born in Michigan to New York Times bestselling author Lisa McMann, Kennedy was raised in Arizona where she currently lives with her husband, Sam. She is represented by Buchwald, Framework Entertainment and Schreck, Rose, Dapello, Adams, Berlin & Dunham.
About Felicity Huffman: Felicity Huffman has proven herself as an exceptional actress in both dramatic and comedic roles. She earned an Academy Award® nomination for her stunning performance in "Transamerica" as well as a Golden Globe® Award and Independent Spirit Award for the same role. Huffman has also been honored with an Emmy and a Screen Actors Guild Award for Best Lead Actress in a Comedy Series for her role on "Desperate Housewives." More recently, Huffman received an Emmy nomination for her role as Janette Hesby in the third season of Academy Award winner John Ridley's ABC drama miniseries, "American Crime." Additionally, she received two Emmy nominations for the show, one for her role as Barb Hanlon in the first season and the other for her role as Leslie Graham in the second season.
Huffman was recently seen in the Netflix limited series "When They See Us" in 2019, adapted by Ava DuVernay. The five-part miniseries follows the notorious case of five young Black men wrongly convicted of a brutal rape that took place in Manhattan's famous park in 1989. Huffman played a member of the prosecution, opposite Vera Farmiga. Following, she was in the Netflix comedy "Otherhood" in 2019, opposite Angela Bassett and Patricia Arquette. Huffman is best known for her role as Lynette Scavo on the ABC hit "Desperate Housewives" on ABC. The cast won the 2004 SAG Award for Outstanding Performance by an Ensemble in a Comedy Series and won a Golden Globe for Best Television Series-Comedy or Musical.
In 2006, Huffman starred in the critically acclaimed Weinstein Company film "Transamerica." The film, which was written and directed by Duncan Tucker, was the first-ever acquisition for the company and starred Huffman as Bree, a transgendered woman who embarks on a journey across the country with her newly discovered son. On the small screen, Huffman was seen in 2004 in the television movie "Reversible Errors" with William H. Macy, Tom Selleck and Monica Potter. Among her television movie credits are "Out of Order"; the critically acclaimed "Door to Door," starring William H. Macy; "Path to War," starring Alec Baldwin and Donald Sutherland; "The Heart Department"; "Harrison, Cry of the City"; "Quicksand"; "Heart of Justice"; "The Water Engine" and Underworld." Other television credits include "Chicago Hope," "The X-Files," "Law and Order," "Bedtime Stories" and appearances as a series regular on "The Human Factor," ABC series "Sports Night," "Thunder Alley," "Early Edition," "Jules" and "The Golden Years." Huffman resides in Los Angeles with her husband, actor/director William H. Macy. She is represented by Atlas Artists and Wolf Kasteler Public Relations.