ABC News Live Presents 'Pride Across America,' With Live Coverage From Three of the Nation's Largest Pride Marches on June 25
ABC News Live will celebrate Pride Month on Sunday, June 25, with "Pride Across America," an unprecedented streaming event that spans the entire country, featuring five hours of live coverage from three of the nation's biggest pride marches. In partnership with Hulu and ABC Owned Television Stations WABC (New York), WLS (Chicago) and KGO (San Francisco), "Pride Across America" will begin June 25 at 11 a.m. EDT with a one-hour pre-show, followed by coverage of the pride marches, featuring special guests, inspiring content and more. Coverage will also be available to stream live to all Hulu subscribers. "Good Morning America" Saturday and Sunday co-anchor and transportation correspondent Gio Benitez, "GMA3: What You Need to Know" co-anchor Eva Pilgrim, ABC Audio's "Life Out Loud" host and ABC News contributor LZ Granderson, and Hulu's "Drag Me To Dinner" host Murray Hill will anchor from New York, with correspondent Alex Perez and chief meteorologist Ginger Zee reporting from Chicago, and KABC (Los Angeles) reporter Christiane Cordero and senior Washington reporter Devin Dwyer live from San Francisco.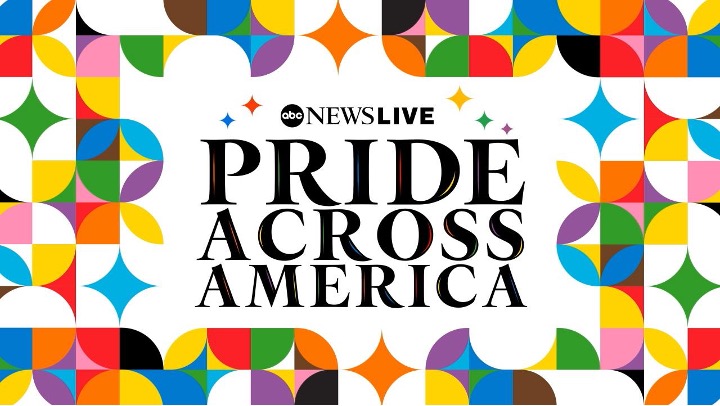 ABC News Live will also feature Hulu's "Pride Never Stops" campaign during its broadcast, with drag legend and "Drag Me to Dinner" star Bianca Del Rio kicking off a "Pass the Mic" initiative, encouraging community members to share how their pride never stops. Throughout "Pride Across America," stars of the new Hulu Original series "Drag Me to Dinner" Neil Patrick Harris, David Burtka, Murray Hill, and Haneefah Wood, influencers Kaycee Clark, Aura Mayari and more will answer the "pass the mic" call, and let viewers know how they keep their pride going. "Pride Across America" is executive produced by David Hatcher, Catherine McKenzie, Seni Tienabeso and Robert Zepeda.