Modern Family and HTGAWM Series Finales, The Baker and the Beauty and more from the 2020 TCAs!
We have breaking news from the Winter TCA event on some of your favorite ABC shows and some new soon-to-be favorites, too! Announcements have been made for the series finale of Modern Family as well as a "Modern Marathon" where you get to pick your favorite episodes. We also have the series premiere date for ABC's new romantic dramedy The Baker and the Beauty along with news on Shark Tank, American Housewife, the How to Get Away with Murder killer series finale, the return of the Emmys to ABC and an all-new live musical event that's sure to be a monster moment in television history. Oh, and The Conners will also be going live the night of the New Hampshire Primary. A couple of classic games shows are also coming back on ABC and Bachelor Nation better get ready for new entry that will be music to its ears. Get all the details below!
THE MODERN FAMILY SERIES FINALE AND A "MODERN MARATHON"
The Pritchett-Dunphy-Tucker clan are ready to say goodbye but not before giving fans one final night of belly laughs as one of television's great family comedies. Currently in its 11th and final season, the Emmy® Award-winning series "Modern Family" will air its series farewell episode on WEDNESDAY, APRIL 8, on ABC.
PHIL RELIVES A PAINFUL AVIATION MEMORY WITH JAY
In addition, ABC is giving fans the power to program an entire night filled with their favorite "Modern Family" episodes that will air WEDNESDAY, MARCH 11 (8:00-11:00 p.m. EDT). The night will kick off with the episode that started it all – the "Modern Family" series premiere – followed by five additional fan-chosen episodes, giving viewers a chance to gather their families for the ultimate "Modern Family" binge and relive some of the Pritchett-Dunphy-Tucker clan's most hilarious, jaw-dropping and monumental moments.
Voting for your favorite "Modern Family" episodes will begin MONDAY, FEB. 3, via a daily Twitter poll from the show's Twitter handle and concludes FRIDAY, FEB. 7. Each day, a different selection of episodes will be available for fans to choose from for a curated night of "Modern Family" fun!
"Modern Family" is produced by Twentieth Century Fox Television in association with Steven Levitan Prods and Picador Productions. Steven Levitan and Christopher Lloyd are co-creators/executive producers. Danny Zuker, Paul Corrigan, Brad Walsh, Abraham Higginbotham, Jeffrey Richman and Jeff Morton also serve as executive producers. Twentieth Century Fox Television is a part of Disney Television Studios, a collection of studios comprised of Twentieth Century Fox Television, ABC Studios and Fox 21 Television Studios.
THE BAKER AND THE BEAUTY' PREMIERES MONDAY, APRIL 13
ABC's compelling new modern-day fairy tale, "The Baker and the Beauty," will take viewers on a flavor-filled adventure between relatable everyman Daniel and international superstar Noa. Daniel Garcia is working in the family bakery and doing everything that his loving Cuban parents and siblings expect him to do. But when he meets Noa Hamilton on a wild Miami night, his life moves into the spotlight. Will this unlikely couple upend their lives to be together and pull his family into a culture clash? "The Baker and the Beauty" premieres MONDAY, APRIL 13 (10:00-11:00 p.m. EDT). "The Baker and the Beauty" stars Victor Rasuk as Daniel Garcia, Nathalie Kelley as Noa Hamilton, Carlos Gómez as Rafael Garcia, Dan Bucatinsky as Lewis, Lisa Vidal as Mari Garcia, David Del Rio as Mateo Garcia, Belissa Escobedo as Natalie and Michelle Veintimilla as Vanessa.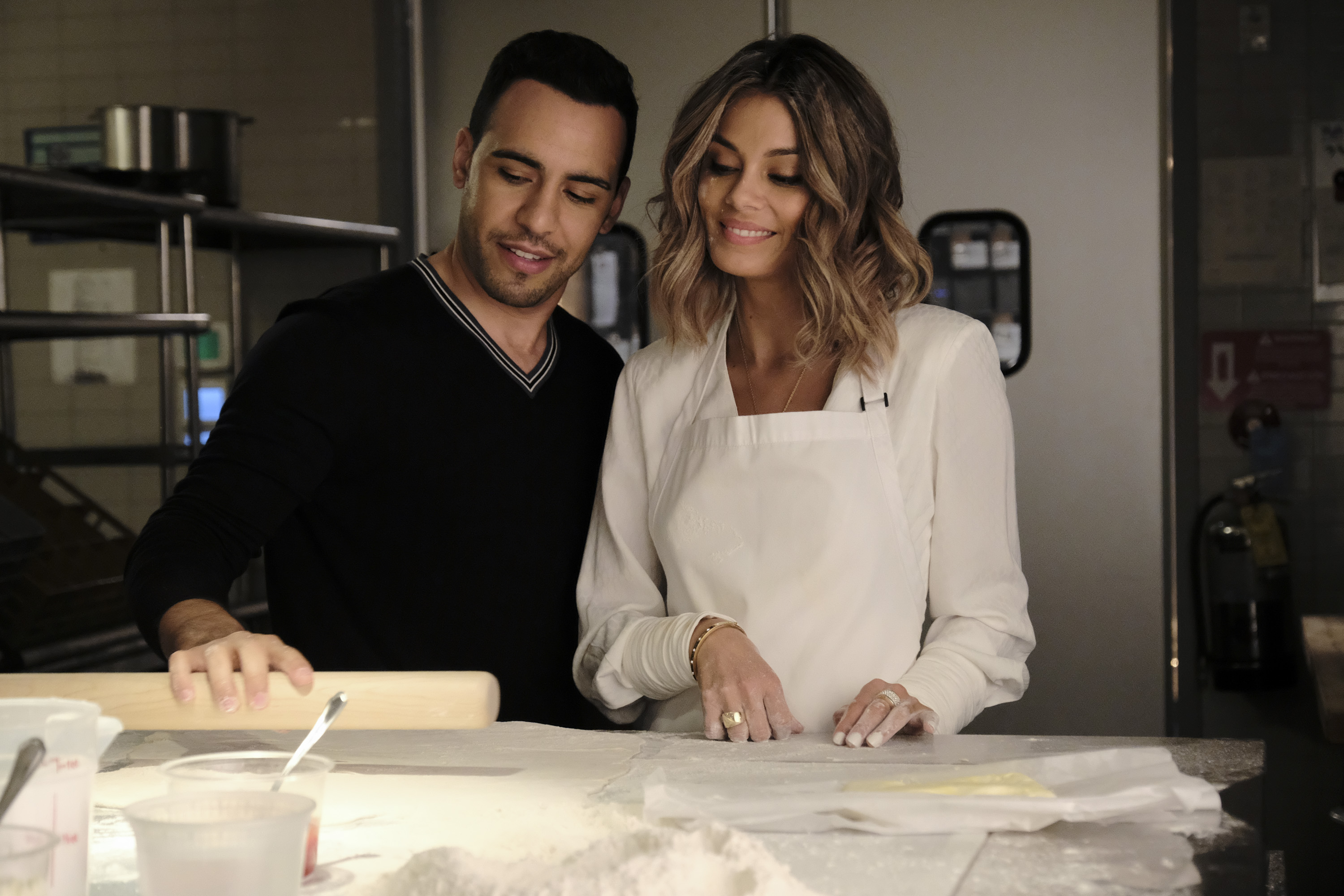 Dean Georgaris is the writer/executive producer and showrunner. David Frankel executive produces and directed the pilot and episode two. Becky Hartman Edwards executive produced the pilot and second episode. "The Baker and the Beauty" is based on the hit Israeli show created by Assi Azar, originally for Keshet Broadcasting. Keshet's Avi Nir, Alon Shtruzman, Peter Traugott and Rachel Kaplan are executive producers, along with Assi Azar. Jim Chory and Steve Pearlman also serve as executive producers. The series is produced by Universal Television and ABC Studios in association with Keshet Studios. Universal Television is a division of NBCUniversal Content Studios. ABC Studios is a part of Disney Television Studios, a collection of studios comprised of Twentieth Century Fox Television, ABC Studios and Fox 21 Television Studios.
THE CONNERS TO AIR LIVE THE NIGHT OF THE NEW HAMPSHIRE PRIMARY, TUESDAY, FEB. 11
ABC will air a special live episode of top-rated comedy "The Conners" the night of the New Hampshire primary, TUESDAY, FEB. 11 (8:00-8:30 p.m. EST). The cast will perform the episode live for both the East and West coast broadcasts. ABC News coverage of the first-in-the-nation New Hampshire primary will be incorporated into the story in real time as the results roll in during the evening.
The live episode will find Mark (Ames McNamara) watching the results of the primary for a school report with Harris (Emma Kenney), who is apathetic to the electoral process and believes money's influence in politics means real change is impossible. The rest of the Conners share their differing takes on why they all think everyone should vote, including their working-class perspective that you may have to vote for a candidate you don't love but one that will "screw you the least." All of this happens against the backdrop of romance when Louise (guest star Katey Sagal) gets an opportunity that might send her away from Lanford, prompting the family to interfere in Dan's (John Goodman) complicated relationship with her by throwing Louise a surprise going-away party, creating major new tensions between Dan and his daughters.
The series stars John Goodman as Dan Conner, Laurie Metcalf as Jackie Harris, Sara Gilbert as Darlene Conner, Lecy Goranson as Becky Conner-Healy, Michael Fishman as D.J. Conner, Emma Kenney as Harris Conner-Healy, Ames McNamara as Mark Conner-Healy and Jayden Rey as Mary Conner. Guest stars will include Katey Sagal as Louise. "The Conners" is executive produced by Tom Werner, along with Sara Gilbert, Bruce Helford, Dave Caplan, Bruce Rasmussen and Tony Hernandez. Bruce Helford, Dave Caplan and Bruce Rasmussen are also writers. The series is from Sara + Tom.
ABC JOINS FORCES WITH CELEBRATED EGOT WINNER MEL BROOKS FOR LATEST LIVE MUSICAL EVENT, YOUNG FRANKENSTEIN LIVE!
ABC announced that the network will debut its latest live musical event this fall with "Young Frankenstein Live!" (working title), produced by the legendary director, writer, actor, comedian, producer and composer, Mel Brooks. The announcement comes on the heels of the network's most recent hit musical spectacular, "The Wonderful World of Disney presents The Little Mermaid Live!," which marked the most-watched made-for-TV musical on any network in nearly four years and ranked as the week's No. 1 entertainment show.
Based on the Broadway stage version of "Young Frankenstein," "Young Frankenstein Live!" will follow Mel Brooks' and Gene Wilder's comedic reimagining of the Mary Shelley classic novel. The live production will feature music from the stage adaptation, originally composed by Brooks. An airdate and cast announcement will be made at a later date.
THE EMMYS® ARE BACK ON ABC
ABC and the Television Academy announced the return of the "72nd Emmy® Awards" to ABC, airing LIVE coast to coast from the Microsoft Theater at L.A. Live in Los Angeles on SUNDAY, SEPT. 20 (8:00-11:00 p.m. EDT/5:00-8:00 p.m. PDT). Host(s) and producers for the telecast will be announced at a later date.
Nominations for the 72nd Emmy Awards will be announced on TUESDAY, JULY 14. The 2020 Creative Arts Emmy Awards, honoring outstanding artistic and technical achievements in television, will take place over two consecutive nights on SATURDAY, SEPT. 12, and SUNDAY, SEPT. 13 at the Microsoft Theater in Los Angeles.
The Television Academy seeks to expand the horizons of television excellence. It strives to empower storytellers who shape the evolving television space through the programs, publications and events of the Academy and its Foundation. And it celebrates those who have led excellence by recording their stories and recognizing their achievements through accolades and awards, including television's most coveted prize, the Emmy Award.
HOW TO GET AWAY WITH MURDER SET TO AIR KILLER SERIES FINALE, THURSDAY, MAY 14
ABC announced the explosive series finale of "How to Get Away with Murder" will air THURSDAY, MAY 14 (10:01-11:00 p.m. EDT). The critically acclaimed series, which will return for its six-episode killer farewell event on THURSDAY, APRIL 2, is currently in its sixth and final season.
THE MOLE IS REVEALED IN THE FALL FINALE
In July, it was announced that season six of "How to Get Away with Murder" would be its last. This season follows Professor Annalise Keating's (Viola Davis) class through their final semester in law school – while the deception, fear and guilt-binding Professor Keating to her students proved deadlier than ever. The fall finale ended on a cliffhanger as Wes Gibbons (Alfred Enoch), who was previously presumed dead, was seen in a flash-forward at Annalise's funeral, fueling further speculation of "Who Killed Annalise?" The back-half of the season will pick up where the fall finale left off in the present-day storyline as Michaela Pratt (Aja Naomi King) and Connor Walsh (Jack Falahee) are arrested for the murder of Asher Millstone (Matt McGorry). Meanwhile, Annalise was last seen fleeing Philadelphia after the news broke that she is under criminal investigation.
During the series run, Viola Davis earned the 2015 Primetime Emmy® for Outstanding Lead Actress in a Drama Series, which cemented her name in history as the first woman of color to win an Emmy Award in the category. In addition, Davis has been honored with two SAG Awards, a People's Choice Award and an NAACP Image Award for her portrayal of Annalise Keating.
"How to Get Away with Murder" has been praised for its on-screen inclusivity, with storylines exploring racial dynamics, LGBTQ representation, gender inequality and sex positivity. Over the course of the first five seasons, the series has been awarded numerous accolades including an American Film Institute Award for Television Program of the Year, a GLAAD Media Award for Outstanding Drama Series and an NAACP Image Award for Outstanding Drama Series.
"How to Get Away with Murder" stars Academy Award® winner Viola Davis as Professor Annalise Keating, Billy Brown as Detective Nate Lahey, Jack Falahee as Connor Walsh, Aja Naomi King as Michaela Pratt, Matt McGorry as Asher Millstone, Charlie Weber as Frank Delfino, Liza Weil as Bonnie Winterbottom, Conrad Ricamora as Oliver Hampton, Rome Flynn as Gabriel Maddox and Amirah Vann as Tegan Price.
Shondaland's "How to Get Away with Murder" is created and executive produced by Pete Nowalk ("Scandal," "Grey's Anatomy"). Shonda Rhimes, Betsy Beers and Stephen Cragg also serve as executive producers. The show is produced by ABC Studios, a division of Disney Television Studios, which is a collection of studios comprised of 20th Century Fox Television, ABC Studios and Fox 21 Television Studios.
SHARK TANK AND AMERICAN HOUSEWIFE ARE ON THE MOVE
Friday nights are about to see some shark-infested waters when "Shark Tank," the critically acclaimed and multi-Emmy® Award-winning entrepreneurial-themed reality show currently in its 11th season, returns to its FRIDAY time slot on FEB. 28 (8:00-9:01 p.m. EST), while the hit comedy "American Housewife" moves to a new spot on the ABC comedy block beginning WEDNESDAY, APRIL 15 (9:00-9:30 p.m. EDT). Editor's note: "American Housewife" will air at 9:30 p.m. EDT starting March 18 before moving to 9:00 p.m. EDT on April 15. *All times listed below are in Eastern Time:
FRIDAY, FEB. 28
8:00-9:01 p.m. Shark Tank (NEW DAY/TIME)
WEDNESDAY, APRIL 15
9:00-9:30 p.m. American Housewife (NEW DAY/TIME)
SUPERMARKET SWEEP IS COMING TO ABC!
ABC is bringing back the classic TV game show "Supermarket Sweep," hosted and executive produced by Emmy® Award-nominated comedienne and actress Leslie Jones. Produced by Fremantle, the fast-paced and energetic series follows three teams of two as they battle it out using their grocery shopping skills and knowledge of merchandise to win big cash prizes. The original format aired on ABC from 1965-1967 and went on to become a global sensation. It was adapted in 13 international territories and, most recently, relaunched in the UK. Production on the 10-episode order is set to begin this spring. An airdate will be announced at a later date.
Leslie Jones is a three-time Emmy Award nominee and former SNL cast member. Her Netflix one-hour standup special, "Leslie Jones: Time Machine," launches on Jan. 14, 2020. She can be seen next on "Coming to America 2" for Paramount Pictures, set for a 2020 Christmas release. Jones is also set to shoot the film "Queenpins" later this year, opposite Kristen Bell, after having recently completed voicing the lead villain role in "Angry Birds 2" for Sony Pictures Animation. "Supermarket Sweep" is produced by Fremantle. Executive producers include Leslie Jones, Hunter Seidman and Jennifer Mullin, Alycia Rossiter and Wes Kauble.
THE BACHELOR: LISTEN TO YOUR HEART PREMIERES MONDAY, APRIL 13
The power of love knows no bounds as ABC further expands its hit-making Bachelor franchise with an all-new Bachelor Nation series, "The Bachelor: Listen to Your Heart," set to premiere MONDAY, APRIL 13 (8:00-10:00 p.m. EDT). This new project is announced on the heels of a successful summer run, with "The Bachelorette" ranking as summer's No. 1 TV series among Adults 18-49, and "Bachelor in Paradise" finishing as Monday's No. 2 series of the summer, behind only "The Bachelorette."
"The Bachelor: Listen to Your Heart" unites two of the most emotionally powerful forces in human life: music and love, as 20 single men and women embark on an incredible journey to find love through music. Singing well-known songs, both individually and as couples, they will look to form attractions through the melodies, find and reveal their feelings and ultimately, fall in love.
The eligible bachelors and bachelorettes will meet and explore their relationships while living together and going on Bachelor-style dates that focus on music. Once the couples commit to each other, it will be time to take their relationship to the next level. The harmony of the couples will be tested through musical challenges, including live performances judged by some of the biggest names in the music business. Ultimately, the couples whose performances reveal their love and devotion to one another will continue to be given a chance to further their relationships until only one couple is left standing.
"The Bachelor: Listen to Your Heart" is a production of Next Entertainment in association with Warner Horizon Unscripted Television. Mike Fleiss, Martin Hilton, Nicole Woods, Bennett Graebner, Peter Gust, Tim Warner, Louis Caric and Peter Geist will executive produce the series.
WHO WANTS TO BE A MILLIONAIRE RETURNS TO ABC PRIME TIME
In celebration of the 20th anniversary of Who Wants To Be a Millionaire, which debuted in the U.S. as a prime-time series in January 2000, ABC's celebrated late-night staple and Emmy® Award-winning producer Jimmy Kimmel will be stepping into prime time as host of a special run of episodes featuring celebrity contestants playing for charity. In addition, a new interactive game will allow viewers to play along from home. "Millionaire" is set to premiere on WEDNESDAY, APRIL 8.
For the first time in the history of the U.S. franchise, celebrities playing on "Millionaire" can invite a guest in the hot seat to help them answer questions. It could be a relative, a beloved teacher or a famed trivia expert – anyone they want – to help them win as much money as they can for the charity of their choice. Additionally, this special run of shows will be introducing a revolutionary, live, play-along app which will allow America to compete to win the same amount of money that celebrities are playing for on the show. Celebrities confirmed to appear will be announced at a later date. "Regis came to me in a dream, asked me to do this and promised my own line of neckties if I did. I had little choice but to say yes," said Jimmy Kimmel.
The original executive producer of "Millionaire," multiple Emmy Award winner Michael Davies, returns to run the series. "My professional career has been inextricably linked with Jimmy's since the days of 'Win Ben Stein's Money,' and he was one of the first-ever celebrity contestants on 'Millionaire' in its original run. I can't wait to work with him on this dynamic new version of the show that changed my life and the fortunes of so many who benefitted from and simply loved the game."
"Who Wants To Be A Millionaire" will be executive produced by Michael Davies, Jimmy Kimmel and Mike Richards, the three-time Emmy Award-winning former executive producer of "The Price Is Right," who is set to take over the helm of "Jeopardy!" and "Wheel of Fortune" later this year. The series is produced by Sony Pictures Television's Embassy Row, Kimmelot and Valleycrest Productions Ltd.
HERE COMES BRIDES
ABC has picked up a new drama from executive producer/writer Roberto Aguirre-Sacasa, Berlanti Productions and Warner Bros. Television to pilot, with Maggie Kiley set to direct. The Brides, a sexy contemporary reimagining of Dracula, is a family drama with a trio of powerful female leads. With strong horror elements, The Brides is a vampire soap about empowered, immortal women and the things they do to maintain wealth, prestige, legacy—and their family.
thirtysomething(else)
The sequel to the groundbreaking series thirtysomething received a pilot pickup from ABC. The show will follow an ensemble of new faces playing the grown-up, 30-something children of the original cast reprised by Ken Olin (Michael Steadman), Mel Harris (Hope Murdoch), Timothy Busfield (Elliot Weston) and Patty Wettig (Nancy Weston). Apparently, raising children (even grown children) never ends, but who could have known how hard it would be for them to raise their parents? During its original run from 1987–91, thirtysomething became a cultural phenomenon, garnering 13 Emmy Awards and two Golden Globe® Awards. Showrunners and creators Marshall Herskovitz and Edward Zwick return to bring thirtysomething(else) to life under their Bedford Falls Co. banner along with MGM Television, with Zwick also set to direct.
ABC programming can also be viewed on ABC.com, the ABC app and Hulu.