Part Three of 'Our America: Trouble on Tap' To Begin Airing Oct. 28
"Our America: Trouble on Tap" the thought-provoking three-part documentary series from ABC Owned Television Stations, ABC News and National Geographic draws to a close with the third episode in the series, "Drilling into California's Water Crisis" beginning, Saturday, Oct. 28. Hosted by Emmy® Award-winning Action News anchor Dale Yurong, the episode delves into the emerging water crisis that is putting the security of the state's water, food and economy at risk. With interviews with some of the leading experts working toward tenable solutions, the final episode of the series explores the following three key areas.
The Drought: California leads the U.S. in food production with over $51 billion in revenue and is the fifth largest supplier of food in the world; but with a state that's been dealing with a mega drought for decades, what does it mean for farmers? The episode examines the science behind California's increasing droughts and the impacts it has on every California resident.
Sinking Groundwater: California's largest source of water is in danger of running out due to the overreliance on pumping groundwater. There are 5,300 wells which have gone dry throughout the state since 2014. If over-pumping continues, over 9,200 wells could go dry by 2040, putting the most rural, disadvantaged communities in peril and without the water they need. Additionally, over-pumping causes subsidence leaving many areas susceptible to flooding.
Flooding: In 2023, California's wet season saw 31 atmospheric rivers bringing a record year of rainfall and snow. Several communities throughout the state were displaced due to power outages and flooding. In addition, hundreds of thousands of acres of farmland were destroyed by flooding, putting Central California's economy at risk and consumers seeing the impact at grocery stores throughout the country.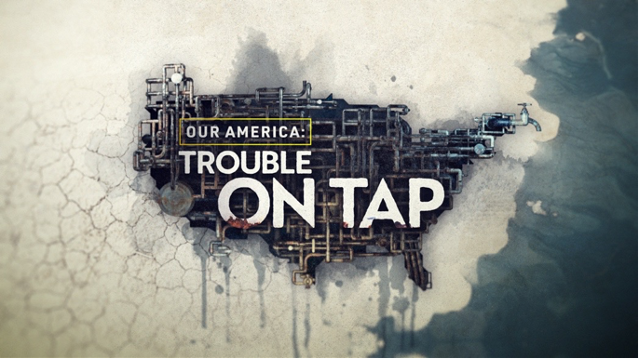 A trailer for the episode can be viewed here.
"Drilling into California's Water Crisis" airs on ABC Owned Television Stations' streaming and digital platforms and on linear on the following dates:
Saturday, Oct. 28
10:00 p.m. PDT ABC7/KABC-TV Los Angeles
10:00 p.m. PDT ABC30/KFSN-TV Fresno
11:00 p.m. CDT ABC7/WLS-TV Chicago
Sunday, Oct.29
12:00 a.m. CDT ABC13/KTRK-TV Houston
12:30 a.m. EDT 6abc/WPVI-TV Philadelphia
Monday, Oct. 30
8:00 p.m. EDT ABC Localish
Saturday, Nov. 4
8:30 p.m. PDT ABC7/KGO-TV San Francisco
Sunday, Nov. 5
2:00 p.m. EST ABC11/WTVD-TV Raleigh-Durham
Monday, Nov. 6
8:00 p.m. EST ABC Localish
Sunday, Dec. 31
1:00 p.m. EST ABC7/WABC-TV New York
"Our America: Trouble on Tap" utilizes data from ABC Owned Television Stations Data Journalism Unit to examine how the effects of environmental pollution, climate change and aging infrastructure are gradually eroding the ability of more and more communities across the United States to have access to free and potable drinking water.
The first episode, "Life with Forever Chemicals," looks at per- and polyfluoroalkyl substances contamination in North Carolina. This episode takes viewers to Cape Fear, North Carolina, often referred to as ground zero for PFAS water contamination or water polluted by toxic "forever chemicals." For decades, the drinking water supply for more than 250,000 people was contaminated as a result of a chemical company dumping toxic PFAS into the Cape Fear River. Years after the contamination was first publicly revealed, the region continues to grapple with ongoing health concerns, multiple lawsuits and constructing costly water treatment plants as it struggles to cope with decades of chronic exposure. It is available to watch here.
The second episode, "America's Lead Problem," examines the lasting impact of the use of lead pipes and the water infrastructure in America. Nearly 40 years after being banned as a plumbing material by the federal government, lead-based pipes are still carrying water to millions of homes across America, including Chicago, which has one of the highest concentrations of lead pipes in the country. But cities like Newark, New Jersey, which experienced high levels of lead in the water, replaced its lead service lines and is often used as a model of success in combating this public health issue. It is available to watch here.
"Our America: Trouble on Tap" is produced in partnership with Tracy J. Wholf, coordinating producer of the climate unit at ABC News, and Justin Allen, executive producer with ABC Owned Television Stations and National Geographic. ABC30/KFSN-TV, Central California's ABC television station's Tim Sarquis, Brandon Ridge, Jacqueline McLean and Ricky Courtney serve as executive producers for part three in the series "Drilling into California's Water Crisis."
Episodes are available on the 24/7 streaming platforms, 32 connected TV apps across streaming platforms Amazon Fire TV, Android TV, Apple TV and Roku.