Imagine Dragons & Khalid and Niall Horan to Perform at 2017 American Music Awards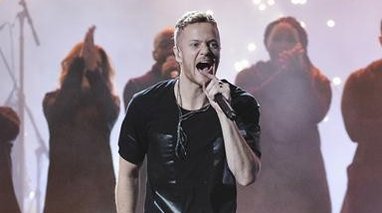 dick clark productions and ABC announced today that multiplatinum selling band, Imagine Dragons, and multiplatinum artist, Khalid, will collaborate for the first time ever on stage at the "2017 American Music Awards." Additionally, platinum-selling solo artist, Niall Horan is set to perform. The "2017 American Music Awards," the world's largest fan-voted awards show where music enthusiasts watch their favorite artists and pop culture icons come together to honor idols, newcomers and record-breakers in the contemporary music scene, will broadcast live from the Microsoft Theater in Los Angeles on Sunday, Nov. 19, at 8|7c on ABC.
Imagine Dragons first performed at the American Music Awards in 2013, treating fans to their Billboard Hot 100 smash hits "Demons" and "Radioactive," and returned again in 2014 for their television debut of their platinum selling single "I Bet My Life." Best-known for crafting stadium-ready anthems, the band took home the award for Favorite Artist – Alternative Rock in both 2013 and 2014, and are nominated again for the same award this year, as well as for Favorite Duo or Group – Pop/Rock. Chart-topping newcomer, Khalid, has taken the music scene by storm this year, having only released his first album, "American Teen," in March. His freshman album hit No. 1 on Billboard's R&B Albums chart, launching the smash Billboard Hot 100 single "Location," which is nominated this year for Favorite Song – Soul/R&B. Gracing the stage for his second American Music Awards performance as a solo artist, Niall Horan will treat fans to his funk-pop track "Slow Hands," which hit No. 1 on Billboard's Pop Songs airplay chart and is the second single from Horan's debut solo album "Flicker," which bowed at No. 1 on the Billboard 200 chart. Horan is nominated for his first American Music Award as a solo artist in the category of New Artist of the Year presented by T-Mobile.
Formed in 2009, Imagine Dragons first revealed their emotionally charged and inventive sensibilities with a series of independently released EPs that earned them a grassroots following. Signed to KIDinaKORNER/Interscope by hitmaking producer Alex Da Kid, the band greatly expanded their fanbase with the release of their multiplatinum breakthrough single "It's Time" (featured on the 2012 EP "Continued Silence"). Since making their full-length debut with 2012's multiplatinum "Night Visions," Imagine Dragons have drawn worldwide adoration for their anthemic yet moody alt-rock. With their past hits also including "Radioactive" (a diamond-selling smash that won Best Rock Performance at the 2014 Grammy Awards), Imagine Dragons went on to see "Smoke + Mirrors" debut at No. 1 on the Billboard 200 album chart upon its release in early 2015. On their third album "Evolve," which debuted at No. 1 on Billboard's Top Rock Albums chart, the Grammy Award-winning band shift perspective and take on a brighter but more layered emotional outlook. The album has launched two No. 1 hits on the Billboard Alternative songs chart: "Believer" and "Thunder." Both tracks also hit the top 10 of the all-genre Billboard Hot 100, making Imagine Dragons the only rock act to score two top 10 hits on the chart in 2017. On lead single "Believer," Imagine Dragons wholly embody the emotional dynamic at the heart of "Evolve." With its bold percussive vocals and hip-hop-inspired rhythms, the track offers a testament to gaining strength through adversity. In bringing "Believer" to life, Imagine Dragons joined forces with Swedish production duo Mattman & Robin and carved out a cleaner sound than they'd ever attempted before. In a departure from the largely self-produced "Night Visions" and its 2015 follow-up "Smoke + Mirrors," "Evolve" finds the band working closely with Mattman & Robin and producers like Joel Little (best known for helming the production of Lorde's "Pure Heroine"). Despite the minimalistic approach of "Evolve," Imagine Dragons achieve a rich complexity partly informed by their taking time out to recharge. After much soul-searching during a year-long break from touring, the band arrived at a new mindset and ultimately brought a greater sense of openness to their music.
Khalid released "Location" before his high school graduation and it garnered over 1.52 million plays in less than two months, which led to his major label deal with Right Hand Music Group/RCA Records. Khalid's debut album, "American Teen," has received mass critical acclaim with praise from The New York Times, TIME Magazine, Billboard, NYLON, and many more. Billboard stated, "…effortlessly excellent…the kid is still so young, but this body of work is beyond his years." Khalid has also performed on "The Tonight Show Starring Jimmy Fallon," "The Ellen DeGeneres Show," "Good Morning America," "The Late Late Show With James Corden," "Jimmy Kimmel Live," "The Late Show With Stephen Colbert," "The Today Show," and at this year's SXSW where he won MTV's Woodie To Watch Award. Additionally, Khalid embarked on his first-ever headlining tour in both the U.S. and select European cities where he sold-out every single date before the album was even released. In addition to his own headlining tours, Khalid has toured with the likes of Lorde and Travis Scott. He has also been featured on a number of collaborative songs including mega hits "1-800-273-8255" with Logic and Alessia Cara, and "Silence" with Marshmello. Khalid has over one billion streams worldwide across all partners, and he is one of two solo teenagers to reach the top 10 on the Billboard 200 in the last 12 months. This summer, Khalid was the face of Forever 21's Summer Digital Campaign, #F21xMusic, Men's Line, and was named MTV Push: Artist to Watch for the month of July. He was nominated for a 2017 BET Award for Best New Artist, a Teen Choice Award for Choice R&B/Hip-Hop Song for "Location," he recently won Best New Artist at the MTV Video Music Awards, and he has been nominated for a 2017 American Music Award for Favorite Song – Soul/R&B for "Location." He also recently landed on the cover of Billboard's 2018 Grammy Preview issue. Khalid's "Location" is officially certified triple platinum by the RIAA, and his latest single "Young Dumb & Broke" is now certified platinum.
Niall Horan's debut solo album, "Flicker" (Capitol Records), entered the Billboard 200 at No. 1 and topped the iTunes Top Albums chart in 61 countries. Rolling Stone observed, "[It] unveils a never-before-seen personal side of Horan," People selected it as one of its Picks of the Week and Entertainment Weekly declared "Flicker" a "must-listen." Horan, who has sold over 70 million records as part of the all-conquering One Direction, collaborated with a small team of producers on "Flicker," including Julian Bunetta, Jacquire King and Greg Kurstin. "This Town," the Platinum-certified first single, has earned more than three million track equivalent units globally and combined streams now surpass 450 million worldwide. The follow-up single, "Slow Hands," went straight to No. 1 in 44 countries and now has more than 820 million combined streams globally. It has been certified platinum in the U.S. and New Zealand, 4X platinum in Australia, 3X platinum in Ireland and Canada and 2X platinum in The Netherlands. "Slow Hands" reached No. 1 at Top 40 radio in the U.S. "Flicker" also includes Horan's latest single, "Too Much To Ask," and "Seeing Blind," his duet with country superstar Maren Morris. Horan has been honored with numerous awards in 2017, including People's Choice, Teen Choice, Radio Disney Music and iHeartRadio MMVA awards. His 2018 Flicker World Tour will see him performing to crowds in Europe, North America, South America and Australasia.
As previously announced, music legend Diana Ross will take the stage for a rare performance at the "2017 American Music Awards" and will be honored with the "American Music Award for Lifetime Achievement." Christina Aguilera will pay tribute to Whitney Houston and music from "The Bodyguard" with a performance in honor of the film's 25th anniversary, which falls on the same week as the awards ceremony. Other previously announced performers include BTS and Selena Gomez.
Other previously announced performers include Kelly Clarkson and Demi Lovato, and P!NK.
Nominations for the "2017 American Music Awards" were announced last month. Bruno Mars leads with eight nominations, including Artist of the Year, Video of the Year, and Favorite Male Artist – Pop/Rock. The Chainsmokers, Drake, Kendrick Lamar, Ed Sheeran and The Weeknd tied with five nominations each, while Justin Bieber, Daddy Yankee and Luis Fonsi received four nominations each. Additionally, Keith Urban earned three nominations, and Rihanna and Halsey earned two nominations each.
The American Music Awards winners are voted entirely by fans. Voting is now open in all categories.
The Artist of the Year nominees are Bruno Mars, The Chainsmokers, Drake, Kendrick Lamar and Ed Sheeran. Voting for Artist of the Year will close on Thursday, Nov. 16, at 8:59:59 p.m. PST. Voting for all other editorial categories closes on Monday, Nov. 13, at 8:59:59 a.m. PST.