Cher to Receive Coveted ICON Award and Perform at the 2017 Billboard Music Awards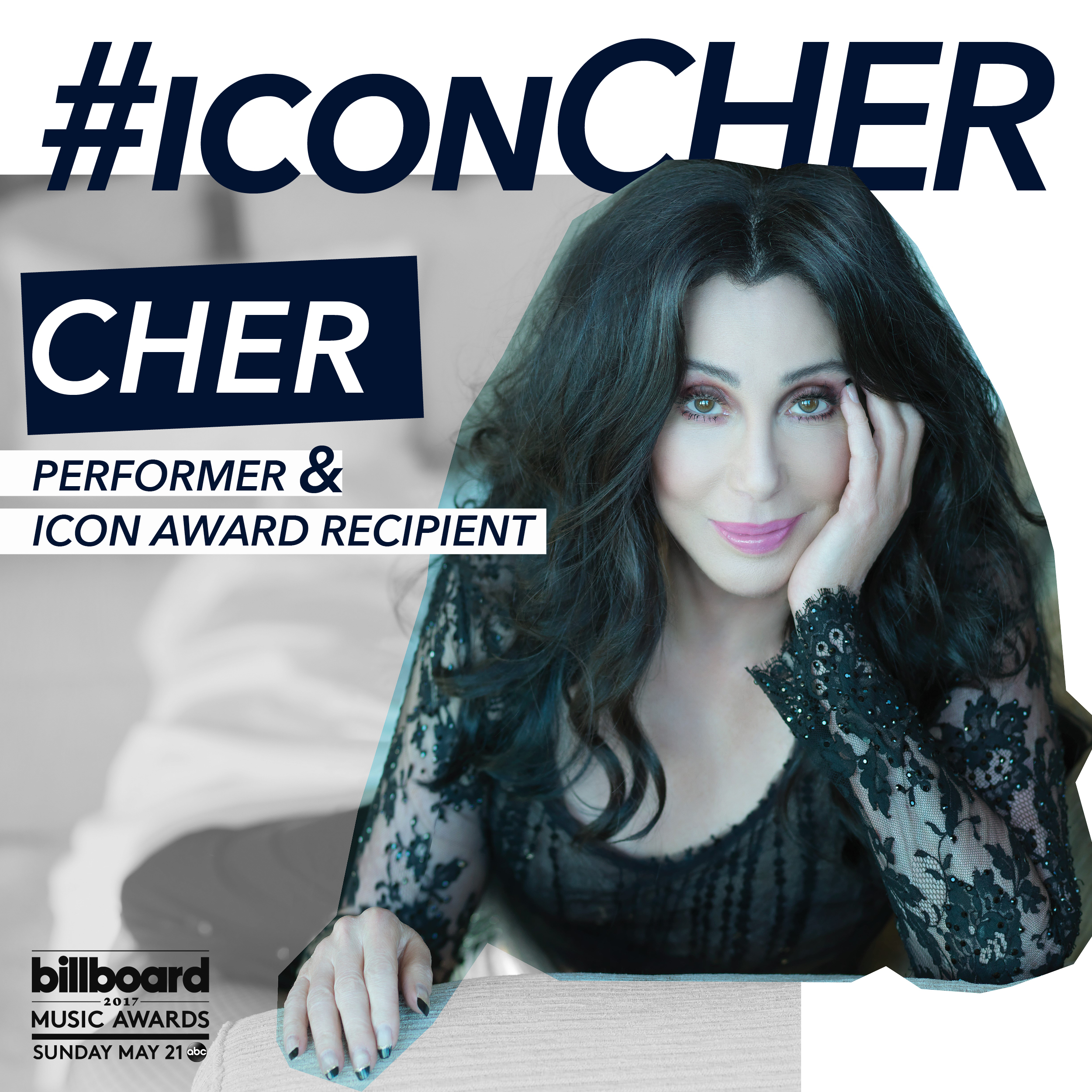 dick clark productions and ABC today announced Cher, the Oscar-winning pop music legend and three-time Billboard Music Awards winner, will be honored with the prestigious ICON Award at the 2017 Billboard Music Awards. One of the most dominant figures in music and entertainment for more than six decades, Cher became the first artist to have a No. 1 single on a Billboard chart in each decade from the 1960s to the 2010s. As part of her appearance, Cher will perform her 1998 single "Believe," from her 23rd album of the same name; the song, which spent four weeks at No. 1 and 31 weeks total on the Billboard Hot 100 chart, remains one of the best-selling singles of all time with sales of over 20 million worldwide. The 2017 Billboard Music Awards, which mark Cher's first awards show performance in over 15 years, will broadcast LIVE from T-Mobile Arena in Las Vegas on Sunday, May 21, at 8:00 p.m. EDT|5:00 p.m. PDT, on ABC.
Previous recipients of the ICON Award include Celine Dion, Jennifer Lopez, Prince, Stevie Wonder and Neil Diamond.
"I'm honored to receive the 2017 Billboard Music Awards ICON Award and take the stage to celebrate my love of music with my fans," said Cher. "Seeing so many powerful artists – especially female artists emerge and take their place in history through the years – has been incredible. I'm honored to be amongst the previous ICON Award winners and to celebrate this milestone achievement by performing 'Believe' on the show."
"Cher's incredible talent has inspired both audiences and other artists for more than six decades," said Allen Shapiro, CEO, dick clark productions. "Her impact on the industry has been monumental and unlike any other. We are honored to celebrate her exceptional career with the 2017 Billboard Music Awards ICON Award and look forward to what's sure to be an extraordinary, once-in-a-lifetime performance!"
A worldwide superstar and household name for more than 50 years, Cher has reigned supreme as one of the great performers of all time in realms ranging from recording, live concerts, film, television, directing and Broadway. The cultural icon has received an Academy Award®, a Grammy, an Emmy, three Golden Globes, a Cannes Film Festival Award and a People's Choice Award. She began her career as a backing singer, where she met fledgling producer Sonny Bono. Together they quickly hit the jackpot with their signature No. 1 song "I Got You Babe" in 1965 and their attention-grabbing hair and clothes – an early hint of Cher's subsequent influence on the world of fashion. Solo success soon followed with three more No. 1s in the early '70s: "Half Breed," "Dark Lady" and "Gypsies, Tramps and Thieves." At the same time, she was becoming a TV sensation on "The Sonny and Cher Comedy Hour," which captured the first of her Golden Globes. By the early 1980s, Cher was ready for a new challenge and turned her focus to acting. In 1982, she took a huge gamble in a Broadway production of "Come Back to the Five and Dime, Jimmy Dean, Jimmy Dean." But it paid off when Robert Altman cast her in the movie version, leading to a Golden Globe nomination. Next for Cher was "Silkwood" in 1983, alongside Meryl Streep, followed by "Mask" with Eric Stoltz and Sam Elliott. Four years later, Cher starred in three films, "The Witches of Eastwick" "Suspect" and "Moonstruck." Her role as the frumpy bookkeeper in "Moonstruck" won her the ultimate Hollywood accolade – the Academy Award for Best Actress, as well as a Golden Globe and People's Choice Award.
In 1987, Cher went back into the recording studio for the first time since the early '80s, beginning a more rock-oriented phase that led to such major hits as "I Found Someone," "We All Sleep Alone," "If I Could Turn Back Time" and three multiplatinum albums. Her 23rd studio album, the Grammy-winning "Believe," was a critical and commercial smash, reaching No. 1 around the world and selling an estimated 20 million copies. "Believe" made Cher the oldest woman (at 52) to have a No. 1 hit on the Hot 100. It made her the first female artist to have Top 10 hits in every decade from the 1980s to 2000s. "Believe" became the biggest selling single ever in the U.K. by a woman and took her back to the top of the U.S. Hot 100 for a month. The subsequent "Believe" tour was the most successful of her career at that point, but it would be eclipsed by the three-year, 325-show world "Farewell Tour" from 2003 to 2005. Playing to more than three million fans, and captured on film in an Emmy-winning NBC special, it would become, at the time, the highest grossing tour by a female artist.
Cher returned to film in the 2010 musical "Burlesque," with her soundtrack Diane Warren ballad "You Haven't Seen the Last of Me," winning a Golden Globe for Best Original Song. Simultaneously Las Vegas beckoned and "Cher at the Colosseum" at Caesars Palace ran for three years and almost 200 concerts before winding down in February of 2011. In 2013, her first new album in 12 years "Closer To The Truth" became her highest-charting U.S. solo album ever, debuting at No. 3 on the Billboard 200 chart. It was followed by the sold-out "D2K" North American concert tour. In 2017, the irrepressible superstar returned to the stage once again with "CLASSIC CHER," a critically acclaimed overview of her career at the Park Theater at Monte Carlo Resort and Casino in Las Vegas, and the MGM National Harbor Theater in Maryland. She continues her residency at the Park Theatre at the Monte Carlo Hotel through 2017.
Billboard Music Awards nominees are based on key fan interactions with music, including album and digital songs sales, streaming, radio airplay, touring and social engagement. These measurements are tracked year-round by Billboard and its data partners, including Nielsen Music and Next Big Sound. The awards are based on the reporting period of March 18, 2016, through March 16, 2017. Since 1940, the Billboard charts have been the go-to guide for ranking the popularity of songs and albums, and are the ultimate measure of success in music.
Fans can still vote online and on Twitter for the Billboard Chart Achievement Award Presented by Xfinity and Top Social Artist. Voting for both categories will remain open until May 21, 2017, at 9:00 p.m. EDT|6:00 p.m. PDT (one hour into the live broadcast).
Tickets are now on sale for the "2017 Billboard Music Awards." To purchase tickets online, fans should go to www.axs.com or www.t-mobilearena.com.