11 Very Scary Ways to Have Died in Castle
For a Halloween fright and compliments of Castle's in-house props photographer Ron P. Jaffe, we're shuddering back at some of the most terrifying Castle murders ever. Though these photos are all set makeup, viewer discretion is still advised. It's scary how real the crew was able to make these look!
1. High school senior Madison Beaumont was thrown against her bedroom ceiling by someone with superhuman strength. (Smells Like Teen Spirit)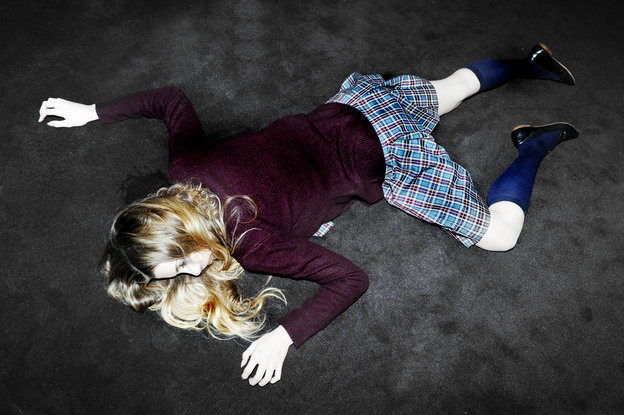 Watch the terrifying live chat of her murder go down right here:
2. Ex-child star Charlie Reynolds was pushed off a construction roof and impaled by a crane hook. (Need to Know)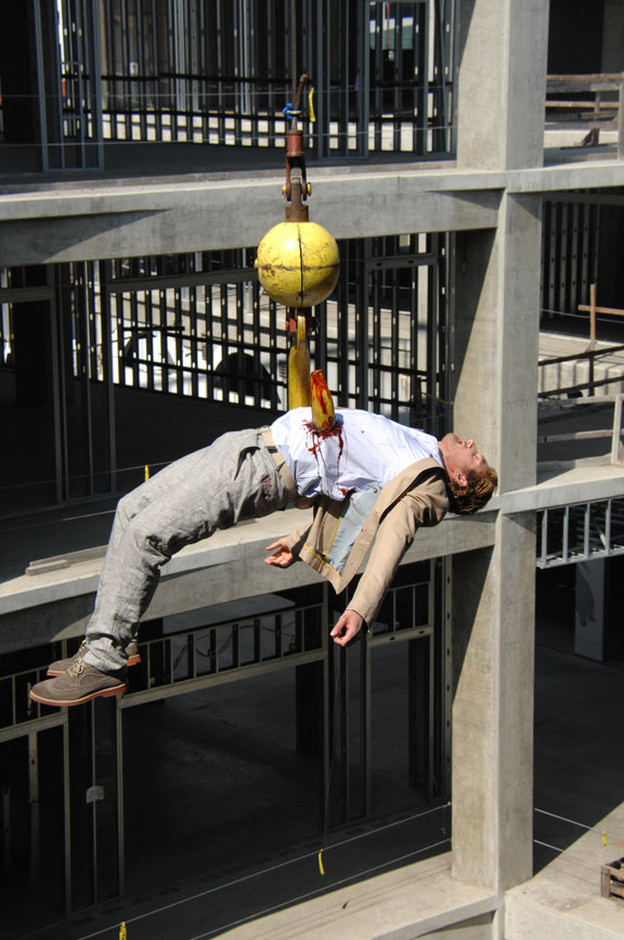 3. Currency trader David Lock likely died by blunt force trauma via his head hitting concrete when he was attacked in a parking garage at 4AM. That doesn't explain the savage bite marks on his forearm, though. (Undead Again)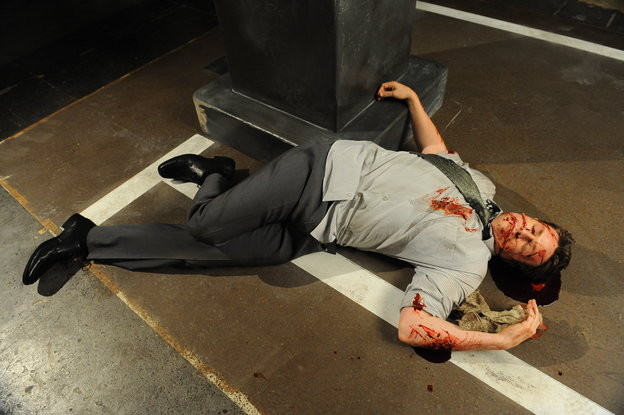 You can lighten the mood on this one by watching Castle take down the killer whilst dressed AS a zombie:
4. After college student Jane Herzfeld was shot to death, she was buried in concrete. (Kick the Ballistics)


We feel slightly avenged about her tragic death by how her love Ben Lee took down her murderer--his own brother--in this INCREDIBLE scene:
5. Waitress Wendy Dupree was found shot to death in a motel. Before her last breath, she had enough time to write a message in her own blood. (Secret's Safe with Me)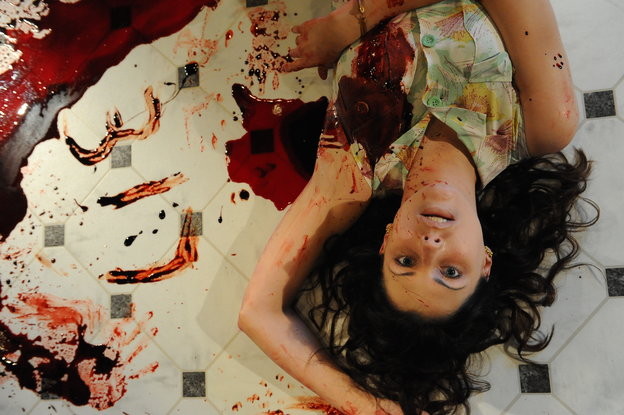 6. In The Blue Butterfly, it's eventually discovered that the two unlucky victims who were shot and burned in a car in an alley outside the Pennybaker Club were actually the scorned and vengeful Sally Scofield and her husband.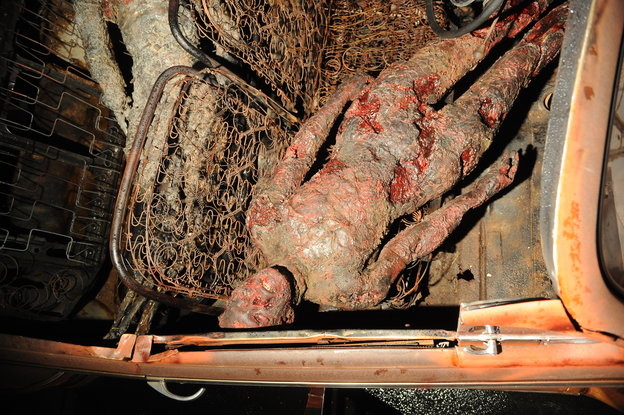 Who was Sally again? This young lady who duped 1940s P.I. Castle:
7. High-powered attorney Amy Morgan was found dead in Central Park at night clad in a Little Red Riding Hood outfit and with claw marks across her body. Her cause of death? She was drugged. (Once Upon a Crime)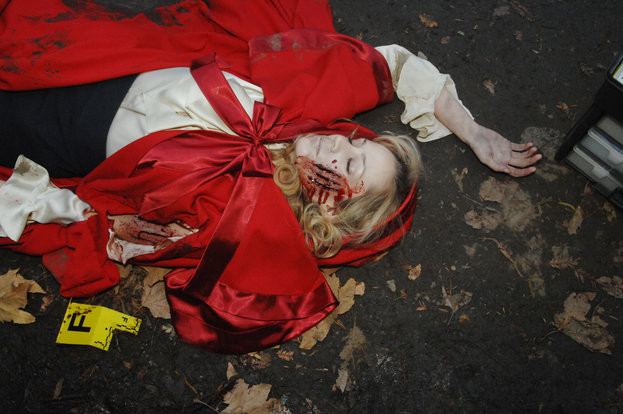 8. A bomb explosion during a protest in Boylan Plaza left 5 dead and many more injured. (47 Seconds)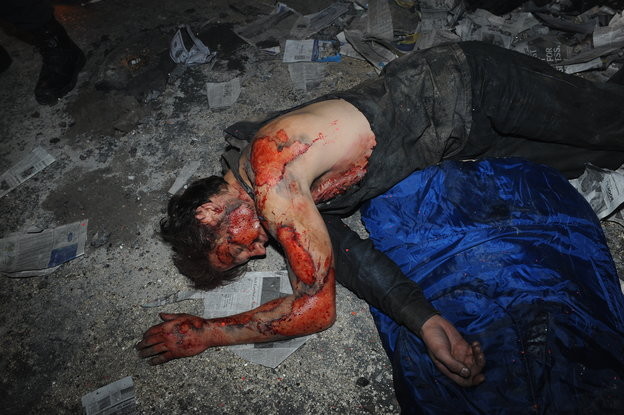 9. Unfortunate victim Tessa Horton was strangled, had a symbol carved into her forehead with a razor, and then tied to her ceiling with barbed wire. Yikes! (Probable Cause)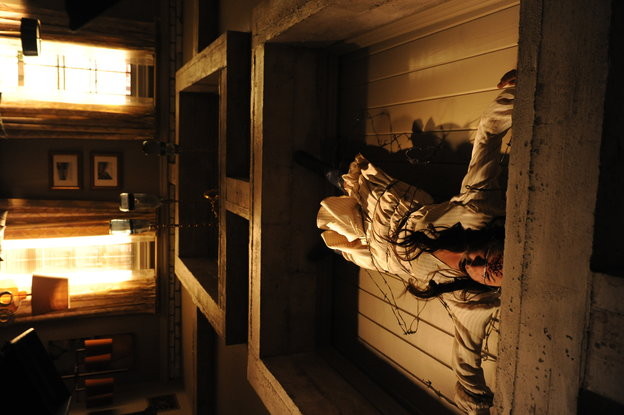 10. Part-time second-hand record store worker Ted Rollins was shot twice in the chest and then moved to his shower for the evidence to wash off. (Deep Cover)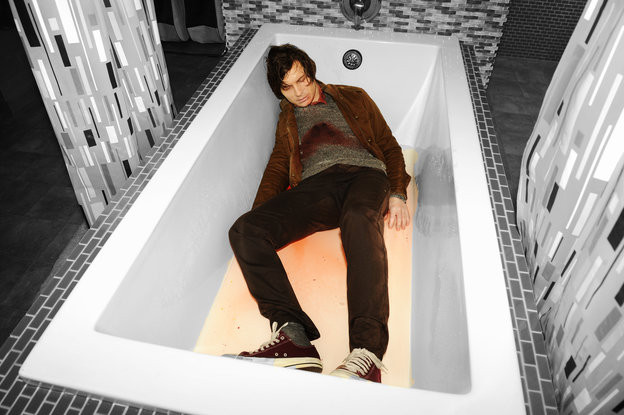 11. Art gallery worker Kristina Curtis was also found dead in a park in a fairy tale outfit. She was left as Snow White with an apple in her hand and "White as Snow, Red as Blood, Black as Ebony" scrawled aross her chest. She was also drugged before she died. (Once Upon a Crime)