Household Manual: Melissa and Joan Rivers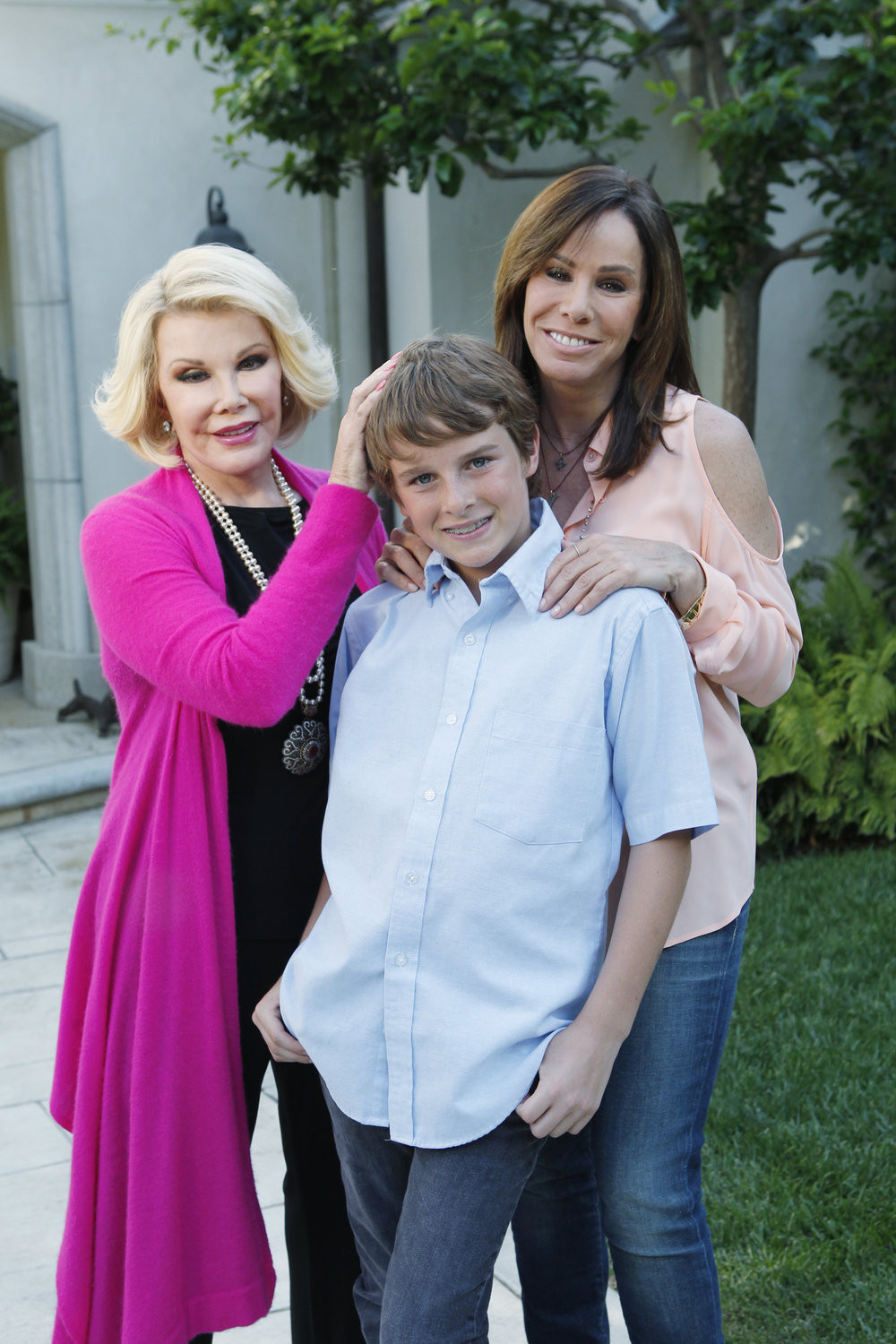 WELCOME TO THE RIVERS' HOME!
As of this moment, you are officially a member of TEAM RIVERS, so I hope you packed a pair of stylish high heels that you can run in! You might want to add a few hats to your wardrobe since I am an executive producer of three television shows on multiple networks and, most importantly, the mother of an amazing twelve-year-old boy. I am proud to be one of the few people in the world who can wrangle Joan Rivers, but I am most proud to be Cooper's mother! The harsh reality of my life leaves no time or energy for the glamorous Los Angeles lifestyle that most people think I live.
Managing a business that never shuts down and my son's activities can be challenging, but we have it down to a science. I have developed super powers when it comes to multi-tasking. Some days are a race against the clock, with ten things to do within the hour and decisions to be made on the spot. With everything I have going on trying to juggle work and motherhood, I cannot look as crazy as I feel. At any given time, I may be called into a meeting with network executives or fill in as a guest on one of our shows. And just as you would expect, before I go anywhere I can hear the voice of my mother saying, "That's what you're wearing?!" Then again, a lot of people fear my mother asking that same question.
No matter what, the key is to look the part. Here in Hollywood, most women are under severe scrutiny as it is, but when you're the executive producer of Fashion Police, you are not in the position to get caught "breaking the laws" of fashion. There is a lot of pressure to look good and never let them see you sweat. Fashion is our brand; it is our business; it is our life. We cannot afford to make it on the "Worst Dressed List." Remember, you're always working, even when you're not working, because everyone is always watching!
I was raised in a schedule-driven environment and that has carried into my adulthood. My home is the hub where all of our friends gather, our production studio runs, and my family lives. The lines can definitely get blurred. Even if we are on vacation, we never cut the lines of communication to the business. Amidst this entertainment circus, my son comes first. Without hesitation, I will move things around in my calendar to make sure that I am available for his activities and needs.
No matter how crazy and long a day can be, two of the most important rituals of my family's day are when we sit down for dinner together or, when my mother is staying with us, we always gather together to say good night.
HOUSEHOLD ROLES
We have more rituals than roles to follow. Ours is an unconventional family, but it works and there is plenty of laughter and love that fuels the structured chaos.
My ex-husband and I share custody of our son Cooper, splitting his time with us throughout the week. My role as a producer will always come second to my role as Cooper's mother. I don't miss a sporting or school event, even when he is staying with his father. I work alongside one of the busiest women in entertainment; yet, I schedule my responsibilities around my son's activities.
I'm more than just a soccer/lacrosse Mom on the sidelines… I have been known to assist my son's coach, help out as the team's physical trainer, and be on snack patrol for the team. You will need to get to the game on time and be prepared with juice, water, and snacks for the kids!
My mother flies in three days a week to live with us. Mom is a very involved, loving and caring grandmother to Cooper. She accompanies me to his games and loves him dearly. Be aware that my mother does try to undermine my role as his mother by letting him get away with certain things, such as allowing snacks before dinner. Nothing gives them more pleasure than conspiring against me to break one of my rules. I try to grab some alone time when I can get it, but it is rare. I may be able to read a book for an hour, but I'm also checking email and voicemail at the same time. It's not unusual for me to go one month without one full day off. I love being busy, knowing there is a break coming; and I love having a break, knowing that I will be returning to work. Running a major corporation and raising a teenage boy really does take a village of people. I am forever grateful that I have an amazing staff of people to make it all happen.
Melis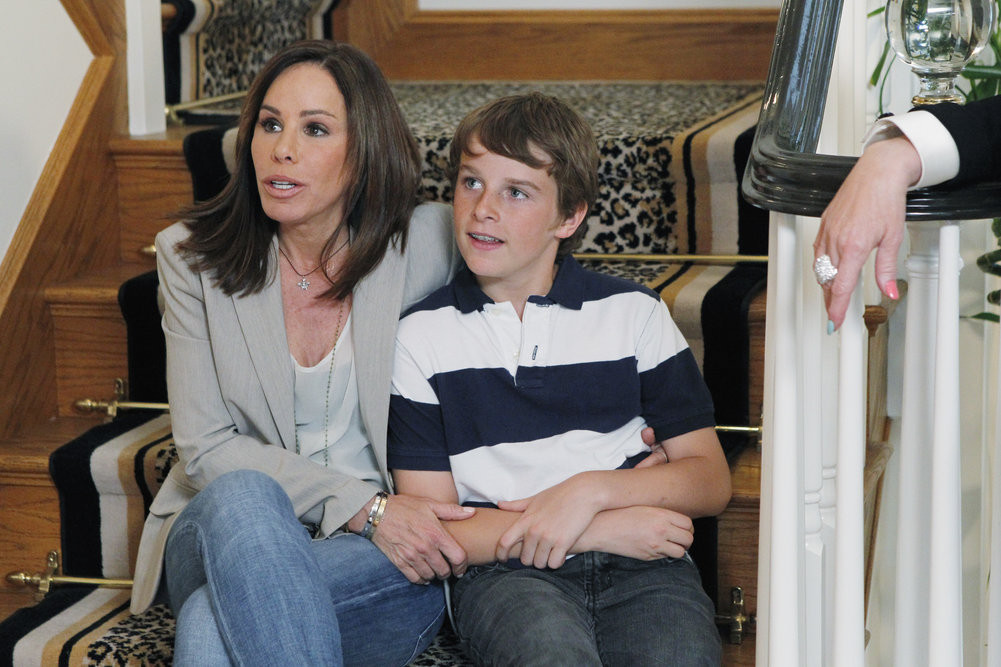 MY SON
Cooper is a funny, grounded, and smart twelve-year-old kid who is ALL BOY and surprisingly disciplined for his age. In many ways, he is your typical sixth grader who loves sports, but is very shy when it comes to talking about girls with his mother. Between his interests in lacrosse, soccer, and outdoor activities, Cooper can get downright filthy. Luckily, he does love his shower time and working on his hair. However, you will need to remind him of the importance of a washcloth and flossing his teeth. Additionally, my son's fingernails grow like crazy and if he does not cut them once a week, we are dealing with ninja fighting claws. I am willing to compromise on his clothing style, but I draw the line at dirt under the nails. This is NOT open for negotiation.
With everything going on around the house and the constant influx of people, Cooper is accustomed to the "production home" lifestyle that we have created in our 5,000 square foot house. Yet, he does mind the noise when he is trying to do his homework. Don't get me wrong; Cooper is not exactly chomping at the bit to do his homework and we are a family that truly values education and it's a top priority in this house. Cooper will need some coaxing in the areas of homework and cello practice, so don't be surprised if you hear him trying to put it off for "five more minutes." It is a requirement at his school to play an instrument, so we can't have his grades going down over the cello. Please quiz him if he has an upcoming test, check to see if he completes all of his homework, and help him if he needs it. His math is already beyond me and good luck helping him learn Chinese.
You may want to be aware of some of his quirks. He loves to show off his bruises and oftentimes goes to my room to use my shower and hair brush. I am not sure what that is about, but it is not a battle that I feel is necessary to take on with him.
My son is my joy and when I am with him, I am on FULL-TIME MOM DUTY. Cooper comes first.
MY MOTHER
Joan Rivers. Where do I begin? There is much more to my mother than what most people see. The greatest difference between us, that most people may not realize, is that she is old school formal and I am much more laid back. When it comes to fashion, I work in a variety of settings so what I wear to work must be versatile and fashionable.
Even though she has her own space, my mother has a way of taking over the house when she arrives. My home becomes the West Coast Headquarters of Joan and Melissa, INC. As her daughter, I have certain standards to live up to. Joan Rivers knows what she wants. I will do my best to give you fair warning about how to deal with her, but if all else fails, you can always use my secret weapon: my son, Cooper. He calms her down!
It is important to know what makes Joan tick and what ticks her off. My mother is opinionated, but not unreasonable. If you feel a battle is worth taking on, just be sure that you have a good argument! Words to the wise: be prepared and anticipate the answers. Do your homework; check your facts; think on your feet; and don't show fear. As a team, we are ALWAYS connected to work, whether it is checking email, making calls, or prepping a show. And, yes, she will always be looking at what you're wearing.
The best mother/daughter quality time that we get seems to happen when we get manicures and pedicures or when we are in the car. DO NOT LET MY MOTHER DRIVE UNDER ANY CIRCUMSTANCES! My mother is under the impression that certain rules of the road are simply recommendations and do not actually apply to her, such as the line down the middle. She believes that if she straddles it, she will never get hit. You can just imagine Joan Rivers driving down the highway with show tunes blasting and ignoring the "suggested speed limit." There is usually a convoy of angry drivers behind us just waiting for their opportunities to salute the queen of comedy with their middle fingers.
Actually, my mother is not much better as a backseat driver. Nothing frustrates her more than traffic and being late. With a tight schedule to follow, there is no time for detours; however, my mother loves stopping along the way to shop. Not only will my mother not take responsibility for making us late, she will become irritable that we are late. This is simply a no-win situation; live with it. "Joan knows best." (wink)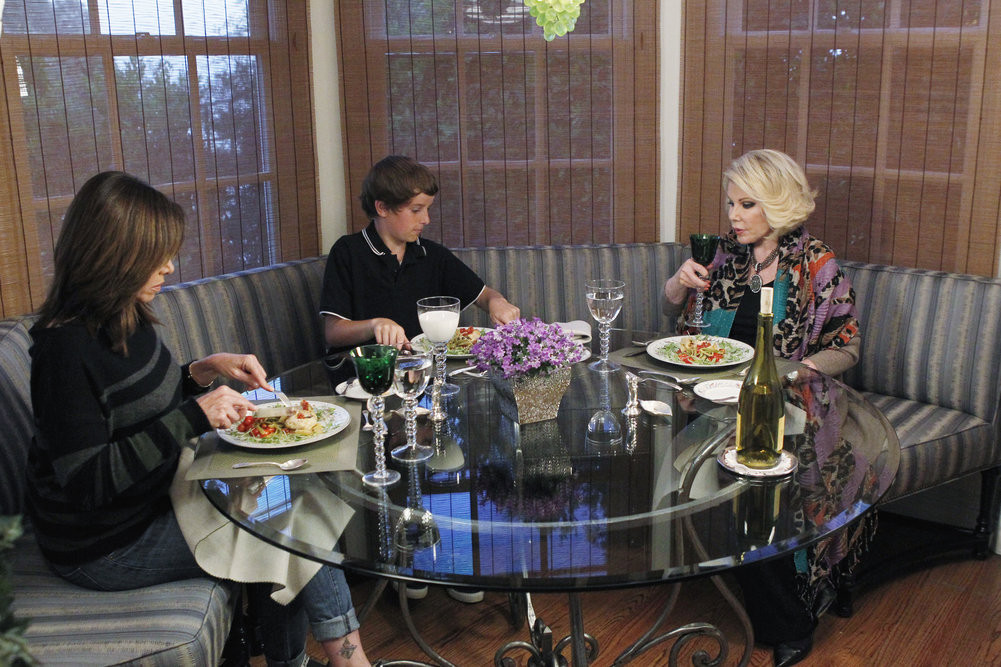 COOKING & EATING HABITS
There is just no beating around the bush here. I DON'T COOK. To be honest, I CANNOT COOK A LICK. I do, however, make a serious Lean Cuisine… I can stab that plastic like the best of them AND press the right buttons on the microwave! But as far as cooking something more complicated than eggs, it is best that I focus my energies elsewhere and leave that up to the professionals. I am very health conscience. The mere thought of chicken breast with skin on it makes me gag.
Our housekeeper is also a chef and caterer. She gives us meal options and if meetings and shooting run late, she will put out snacks to hold us over until we are done working. Ordering out and craft services also sustain us. Cooper would tell you that raiding the craft services would have to be one of the one major perks of shooting a show in your home. He seems to like to hoard the candy!
There is one consistent part of our routine that is a tradition that I grew up with; we always shut off the TV and eat dinner together. It doesn't matter if we are eating out of containers at the counter or enjoying a meal at the kitchen table, the table is set, napkins are in our laps, and we enjoy quality time together. As busy as our schedule-packed lives are, carving out this family time is a priority to us.
I am capable of food shopping, but this is not an activity that is scheduled into my itinerary. I do, however, LOVE Costco and have been known to do some serious damage after a shopping spree full of impractical purchases such as 1,700 straws or a 20-pack of toothbrushes.
CLEANING
I am not your typical Hollywood housewife who makes daily, chauffeur-driven trips to Rodeo Drive with her yappy, three-pound dog in toe, but let's be clear, I don't clean my own house. I wear my mother, producer, and daughter hats simultaneously on many days, so I am not ashamed to ask for help where it is needed. We have a live-in nanny for the days that Cooper is home, as well as a housekeeper/chef and gardener.
It's a challenge for any parent to keep their kids' things in their rooms and my son is no exception. Cooper is expected to pick up after himself, clear the table, and clean his bedroom. I don't know if this is a "boy thing," but getting his dirty clothes to actually make it into the hamper seems to be his greatest challenge at this age. Picking up wet towels, as well as closing cabinets and drawers are not second nature to my son.
APPEARANCES
My two golden rules are to always stay pulled together and look "event appropriate." If I have to leave the house on a Sunday morning at 7:15 AM for one of Cooper's games, it is very tempting to roll out of bed and throw on an old pair of baggy sweats. Instead, I will wear a nice pair of jeans, sweatshirt, and a pair of Converse sneakers. For dinner parties, the jeans get put away and the heels and a dress come out of the dressing room. During the work day, it is important to pick a pair of heels that will not only look good, but also be practical enough to get you through the long day on your feet.
My son has his own distinct style. He is a cool, skater dude who wears skinny jeans or baggy basketball shorts, a T-shirt, and a baseball hat. He does NOT match. Not one color goes. I try not to get into it with him, but we will negotiate one clothing item change. Thankfully, he is required to wear a uniform to private school.
DAILY ROUTINE
Each night, you will receive an itinerary on your bed for the following day's events. The schedule is never carved in stone since things come up that require us to work around.
Cooper gets up at 6:45 AM, which is already pushing it since we have to leave the house at 7:10 AM to drive him to school. He will do anything to get a few minutes of extra sleep in the morning, which means eating breakfast in the car and setting out his school and sports supplies the night before. My son is less than charming in the morning; he is downright CRABBY.
Cooper packs his bag for games; however, I am responsible for double-checking his bag for water, the correct jersey, snacks, and cleats. Showing up to practice on time is as important as showing up for a show on time. Upon arrival, he will suit up, and then warm up, while we sit in the stands. After the games, Cooper is filthy! He will shower, finish his homework before dinner, and if there is time before bed, he likes to spend time on the computer. He's surprisingly pretty good about respecting his 9:30 PM bed time.
During the weekdays, at any given time, there are 12-15 people in our home. Production and writers' meetings can last as long as six hours. We wake up at 4:30 AM on days of production. Joan is present for these meetings and writes the scripts. Taping shows can last up to three or more hours, depending on the guest.
On top of jam-packed days, I find it difficult to find time to socialize. I realize that keeping up with this workload is not the ideal life for everyone, but I am grateful to be able to do what I love and have my family by my side.
As a part of our inner circle, I wish you the best of luck. Regardless of what is going on around you, don't forget that a little lipstick, good hair, and the right shoes can carry you through just about anything. Life shuts down when we sleep; so try to keep up, look your best, and don't forget to laugh along the way!
-- Melissa Rivers