Instant Vanilla Soft Serve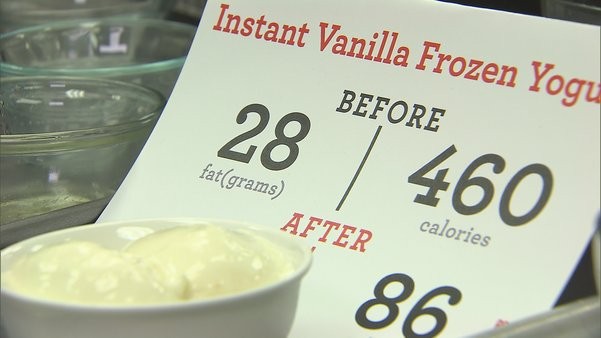 Instant Vanilla Soft Serve
Italian ice is enjoyed all over America at different events and street fairs. Italian ice is made like sorbet, which is to say it is frozen flavored sugar water. I use Greek yogurt and vanilla pudding in this recipe to get a great creamy soft serve texture. With the addition of xanthan gum and natural sweeteners, I have eliminated all processed sugar.
Fat Calories
Before: 28 460
After: 2.2 79
Yield: 4 four-ounce desserts
Prep Time: about 15 minutes Freeze Time: 6 hours
Ingredients:
2 sugar free, low fat vanilla pudding snack packs (Jell-O®)
6 ounces 2% Greek yogurt (Fage 2%®)
8 packets 100% natural stevia powder (Stevia in the Raw®)
2 teaspoons xanthan gum
1 cup unsweetened vanilla almond milk (Almond Breeze®)
1 vanilla bean, split in half lengthwise
2 teaspoons vanilla extract
Method:
Freeze the pudding and yogurt in their containers until hard, at least 6 hours.
Mix the stevia and xanthan gum together in a small mixing bowl and set aside. Pour the almond milk into a blender and scrape the insides of the vanilla bean into the milk. Cover and blend on medium speed for 30 seconds. Add the vanilla extract and turn on the lowest setting. Sprinkle the stevia and xanthan mixture slowly and evenly directly into the vortex in the blender and blend until thickened, about 30 seconds. Turn off the blender. Add the frozen pudding and yogurt and blend on high until smooth. Serve immediately.
Tips:
Put the canister of the blender in the freezer before you make this recipe to help combat the heat generated during blending. This will help keep your ice cream nice and frozen.
Per serving:
79 calories, 2.2g fat (1g sat, 0g mono, 0g poly), 3mg cholesterol, 163 mg sodium, 11g carbohydrate, 2g fiber, 5g protein
Nutrient Content Claims:
Low Fat
Low Saturated Fat
Trans Fat Free
Low Cholesterol
Reduced Sugar
Gluten Free
Resource for before nutritionals:
http://www.calorieking.com/foods/calories-in-ice-cream-original-vanilla_f-ZmlkPTEwNDk5Mw.html