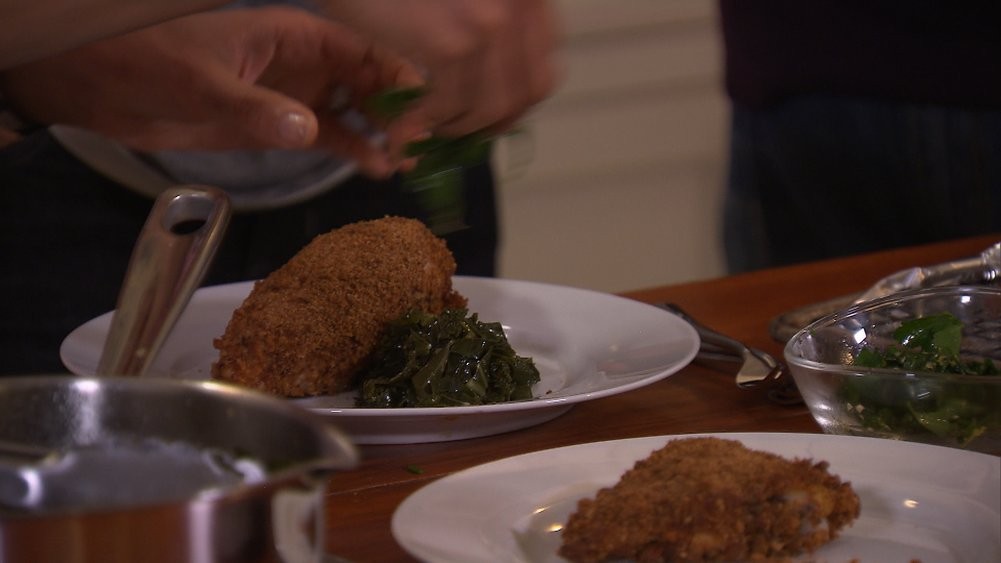 Country Greens
Serves 8
No Southern meal is complete without greens. Traditionally, they're simmered long and slow until melty and soft. I love 'em that way, but actually prefer a little bite to them—both in their mustardy flavor and hearty leafy texture.
Growing up in the South, I learned that the greens were sometimes besides the point. The pot likker—the leftover cooking broth—is what really mattered. At least as much as the greens themselves. Traditionally, salt pork simmers alongside the greens to flavor the likker. I use smoked turkey wings to get a broth that's just as tasty but has even more complex gamey, savory flavors. Be sure to serve this with Skillet Cornbread (page 000) for sopping and to save any leftover likker to make soup.
2 pounds smoked turkey wings
4 garlic cloves thinly sliced
1-2 teaspoon crushed red pepper flakes
2 tablespoons apple cider vinegar
2 pounds collard greens
2 pounds kale
Kosher salt and freshly ground black pepper
1. In a large pot, combine the turkey, garlic, red pepper flakes, and 1 quart water. Bring to a boil over high heat, then reduce the heat to simmer for 30 minutes.
2. Meanwhile, prepare the collards: Working in batches, hold the stems with one hand and the leaves with the other, folding up the leaves together like the wings on a butterfly. Pull the leaves down, leaving the stem clean. If the leaves are really large, cut them down the center. Stack some of the leaves, then roll them like a cigar. Slice the rolls thinly. Repeat with the kale.
3. Add the sliced greens to the pot and simmer until tender, about 20 minutes. Season to taste with salt and pepper. Pull the meat from the turkey wings, discard the bones, and return the meat to the pot. Serve hot.