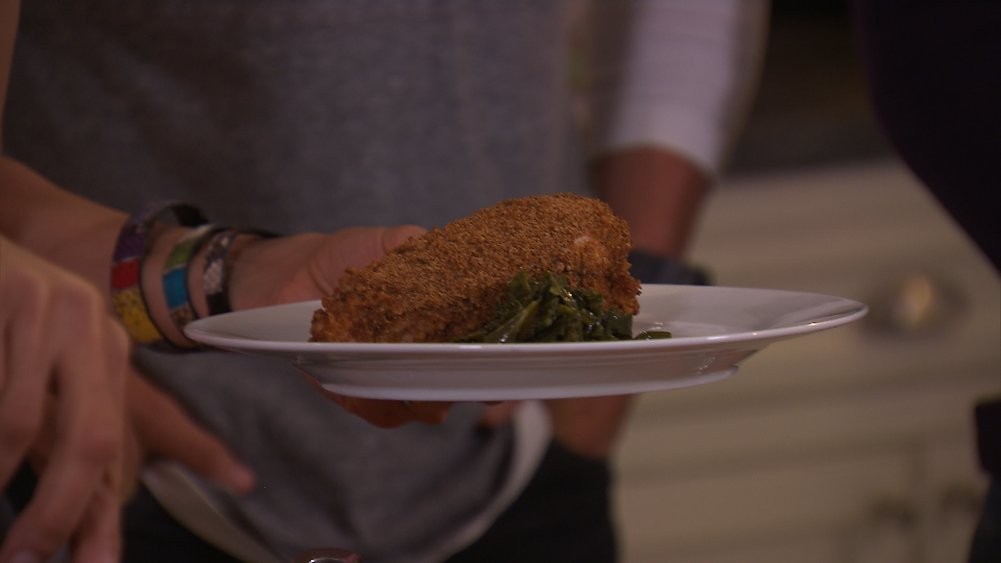 Oven Fried Chicken
Serves 4
Kosher salt and freshly ground black pepper
2 pounds skinless, bone-in chicken thighs and breasts
2 garlic cloves, minced and smashed to a paste
1 tablespoon vinegar
1 1/2 cups buttermilk
1 1/2 teaspoons sweet paprika
1 1/2 teaspoons cayenne pepper
8 slices whole wheat bread
olive oil spray
1 teaspoon fresh or dried thyme
1. Combine the vinegar and garlic in a small bowl and set aside. Sprinkle salt and pepper all over the chicken, then rub the vinegar-garlic paste onto the chicken. Let sit for 15 minutes at room temperature.
2. Combine buttermilk, paprika, cayenne and salt in a medium bowl. Add chicken and let sit for 20 minutes at room temperature or 3-6 hours refrigerated.
3. Preheat oven to 375 degrees. While the chicken is marinating, prepare the bread crumbs. Tear the whole wheat bread into small pieces and place them in a food processor fitted with a metal blade. Pulse several times until the bread is crumbled evenly. Remove crumbs from food processor and place on sheet pan. Spray the bread crumbs lightly with the olive oil spray.Bake for 12-15 minutes or until the crumbs are toasted and browned lightly. Toss the crumbs halfway through cooking time. Let cool. Season breadcrumbs with thyme.
4. Prepare a sheet pan with foil and cooling rack. Shake excess buttermilk off chicken pieces, then roll in breadcrumbs. Placechicken on rack. Bake for 30 - 40 minutes or until golden and cooked to 160 degrees internal temperature. Enjoy.