Special Companion Piece Editions of Extreme Weight Loss "Love Can't Weight" to Premiere June 23 on ABC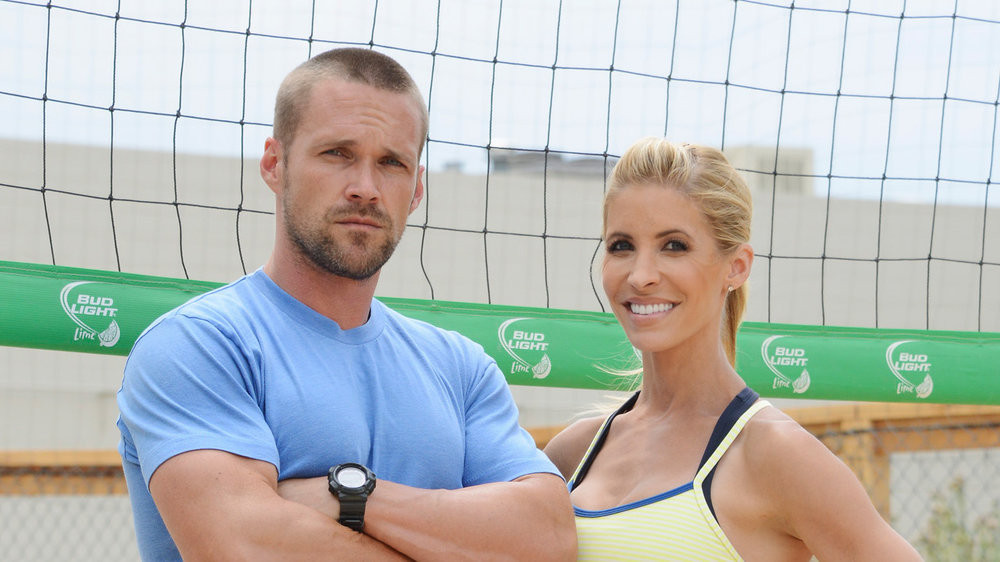 Chris Powell to Transform the Grooms and Heidi Powell to Transform the Brides
David Tutera (Planning), Rocco DiSpirito (Catering), "Duff" Goldman (Cakes) Added as the "Wedding Dream Team"
For Season 5 of the hit series "Extreme Weight Loss," there are three special companion piece editions -- "Love Can't Weight" -- in which hosts and trainers Chris and Heidi Powell will help three obese couples get in shape, both physically and emotionally, for each of their weddings. The couples will spend their first three months together at boot camp, and then will be unexpectedly separated for the next three months -- not able to see each other until their wedding day! "Extreme Weight Loss: Love Can't Weight" will premiere on TUESDAY, JUNE 23 (9:00-11:00 p.m., ET/PT) on the ABC Television Network.
Guest-starring as the couple's "Wedding Dream Team" are David Tutera ("David Tutera's CELEBrations" on WE tv) who will serve as wedding planner, Rocco DiSpirito ("Extreme Weight Loss" Healthy Food Coach and bestselling author of "Cook Your Butt Off!") who will cater the weddings, and "Duff" Goldman (owner of Charm City Cakes and Food Network star) who will design the wedding decadence.
The hit show "Extreme Weight Loss" – making its season premiere on TUESDAY, MAY 26 (9:00-11:00 p.m., ET/PT) -- is a unique and riveting docu-series about weight loss that takes viewers on the unprecedented 365-day journeys of courageous and resilient "super obese" people. For the LCW special companion piece editions, the format will consist of two phases: (1) participants will spend the first 90 days of boot camp at the University of Colorado Anschutz Health and Wellness Center in Aurora, CO to hit their three month goals and learn to work better as a team; (2) they will then spend three months apart, working separately to reach their individual goal weights and learn how to exist independent from each other. These editions will end with each couple's much anticipated wedding ceremony, boasting jaw-dropping reveals as they see each other again for the first time in three months! In that time, two couples find the strength in themselves and each other to walk down the aisle towards wedding bliss, while another finds the strength to walk away – six days before the wedding! Though all three couples won't make it to the altar, they will all lose an incredible amount of weight at their final weigh-ins (one couple will lose more than 300 pounds combined!).
Here are the three couples (their full bios are at ABC.com) and airdates for "Extreme Weight Loss: Love Can't Weight":
Cain & Tiffany (New Orleans, LA; JUNE 23) used to be the thin, athletic, life-of-the-party couple. During their four-year relationship, they have gained a combined 150 pounds. Cain wants to lose weight so he can find the confidence to propose, while Tiffany wants to find the confidence to say "yes."
Bryce & Amber (Garden Grove & Buena Park, CA; JUNE 30) met through online dating and quickly fell in love. Their quirky personalities, willingness to be silly and love of food brought them together. Amber's diet is 100% fast food, and Bryce is always looking for his next meal. It is their dream to become married and celebrate their new life together…trim and healthy.
Shane & Marissa (Plant City, FL; JULY 7) met in 2007 and have not been apart for more than five days. They got engaged nine months ago, but both hate their weight gain and have decided to put their marriage on hold. They want to lose their excess weight so that they can get married and actually wrap their arms around each other for their first dance.
At the renowned University of Colorado Anschutz Health and Wellness Center in Aurora, CO, Chris and Heidi, along with CU Anschutz Health and Wellness Center Medical Director and CU School of Medicine Associate Professor Holly Wyatt, MD, will guide participants on their journeys to safely lose up to half their body weight, as well as the emotional baggage that often holds one back. The CU Anschutz Health and Wellness Center offers some of the country's most advanced research and science-based expertise, focusing on a comprehensive weight loss and weight loss management approach, including fitness, nutrition and wellness services.
Separately, "Extreme Weight Loss: Destination Boot Camp" – where people work with some of the top medical experts from the show, was recently launched at the CU Anschutz Health and Wellness Center, which operates the program.
"Extreme Weight Loss: Love Can't Weight" is produced by 3 Ball Entertainment. JD Roth, Todd A. Nelson, Matt Assmus and Brant Pinvidic are the executive producers.