Zachary Garred Donates His Hair to Locks of Love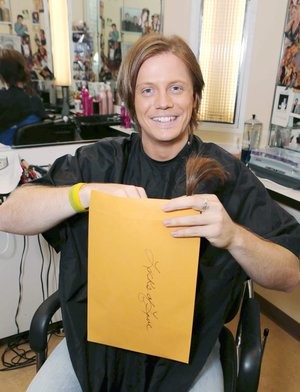 1312494|Zachary Garred||3323|4339|0
Levi Dunkleman may be up to no good but Zachary Garred has a heart of gold.
We caught up with Zachary Garred and had some questions about his new 'do and his infamous character Levi Dunkleman.
Why did you cut your hair?
Given the revelations with Levi's character it only seemed appropriate that he completely ditched the guise. Frank suggested some ideas to me and I jumped at the chance to cut my hair.
What attracted you to Locks of Love?
I had always wanted to do something for charity with my hair and Locks of Love was the perfect choice. Fans often asked if my hair was a wig, so it was only fitting that it went on to help in some way. I also donated some money to Canteen in Australia, an association that takes care of kids and teenagers dealing with cancer. A very dear mate of mine had a brother who was treated for cancer, Canteen did so much for him and his family to help during chemo. I have always wanted to do something like this for such wonderful organizations so it's great that some good came out of Levi's nefarious ways.
Have you ever done this before?
I haven't but have always wanted to!
Who do you think has the best head of hair on GH?
This is a tough one...the woman on GH all have stellar hair, as for the blokes I reckon the Conrinthos clan have some fine coifs, and Ryan Paevey's sculpted locks too obviously.
What does this new haircut mean for your character?
It is the revelation of the real Levi. The bloke under the hair and hippy guise who has been so manipulative. But given how underhanded he has been maybe this isn't the last incarnation Levi takes...
Any words for your fans?
To the fans who love him and love to hate him it is wonderful getting messages on both sides of the Levi fence every day. He's a complex character and to get such varied and passionate responses is a wonderful payoff for the work that is put in from Ron, the director's and the other actors I work with to help shape him.
His new hairdo made its TV debut today on GH. In case you missed the scene, check it out now:
Levi's New Haircut|Levi cuts his hair after shedding his hippie disguise.|Now that Levi has shed his hippie disguise, he cuts his hair short. Maxie and Lulu promptly insult his new look.