Grey's Anatomy Sneak Peek: Can Meredith Work with Penny?
On the last episode of Grey's Anatomy, Episode 5, "Guess Who's Coming to Dinner," Callie brings her new girlfriend to Meredith, Amelia, and Maggie's dinner party, which quickly becomes the world's most awkward dinner party when Meredith reveals that Penny is the doctor who killed Derek. The news is upsetting for everyone, especially Callie, who had no idea who Penny was, and Amelia, who was furious that Meredith didn't tell her immediately. Read the Episode 5 recap now! Coming up on the November 5, 2015 episode, Season 12, Episode 6, "The Me Nobody Knows," Grey Sloan Memorial Hospital welcomes its controversial new transfer resident, Penny Blake. Also having a bad day is the patient (a pastor) who accidentally sent his sex tape to his entire congregation. Meanwhile, Richard wrestles with how to address his relationship with Maggie when an old friend visits the hospital. And April tries to enlist help from the other doctors in the case of a young boy she met in the Middle East. In the first Grey's Anatomy sneak peek below, it's Penny's first day and she's assigned to Meredith's service. Meredith is struggling to be mature about the situation, but when Amelia finds out, she's seething. Meredith explains she's trying to rise above, and Amelia should, too. "No, you should have ended it. That night!" Amelia snaps back. Watch now!
SNEAK PEEK: Can Meredith Rise Above This?
In the second sneak peek from Episode 6, Meredith has been trying to work with Penny all day, but she's having a hard time coping. Every time the new resident makes a mistake, Meredith lashes out at her, and finally becomes so fed up that she decides she's had enough. She blames Penny for messing up the pastor's post-op care, and becomes so angry that she throws Blake off her service. Watch the dramatic scene below:
SNEAK PEEK: Meredith Kicks Penny Out
Meredith and Amelia disagree about Penny working at the hospital, on the Season 12 episode, "The Me Nobody Knows."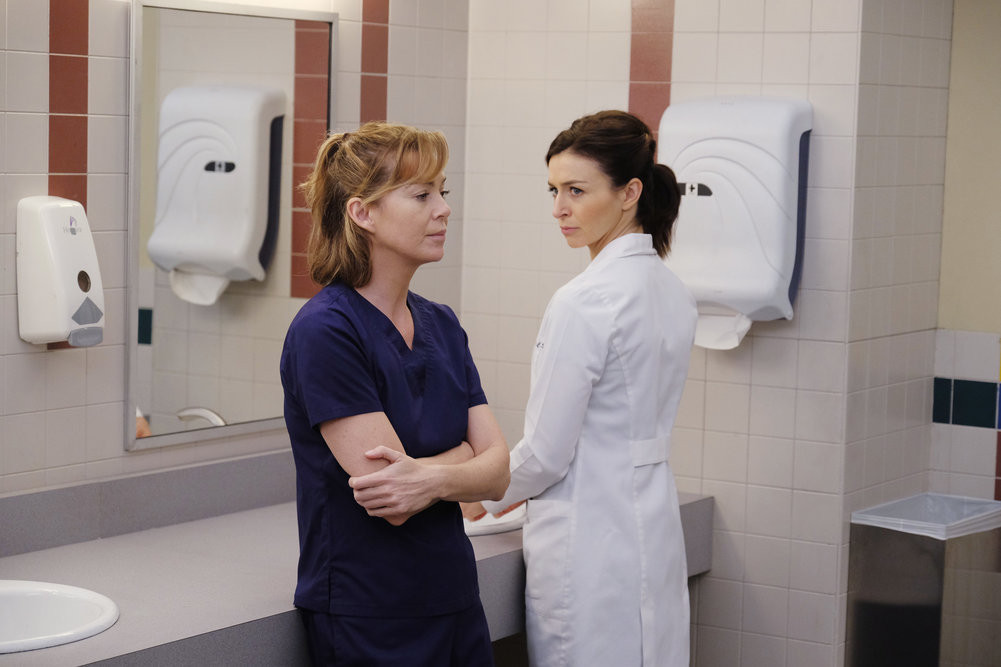 Tune in to see the Season 12 episode "The Me Nobody Knows" THURSDAY NOVEMBER 5 8|7c during TGIT on ABC and catch up on Season 12 episodes of Grey's Anatomy now!
GREY'S ANATOMY CHARACTER 101s