Agent Carter Fashion: The Blitzkrieg Button


Each week, Marvel's Agent Carter costume Designer Giovanna "Gigi" Ottobre-Melton shares the inside scoop on the wardrobe. This week she talks with us about the costumes seen in episode 4, "The Blitzkrieg Button."


In this episode, Peggy and Jarvis take on a group of men from the seedy underworld. How did you come up with the wardrobe for this scene?
For this look, I designed a 2-piece utility-style dress so popular in the 1940s and perfect for a mission. The outfit was constructed in teal wool gabardine with a 1/4" chalk pinstripe accented trimmed with crème-colored rayon crepe trim on the collar and a two-tone belt with a brown leather buckle. The buttons were grey mother of pearl shank style.
We saw the return of Howard Stark in this episode. What challenges does this character bring?
Stark is on the run, so I design him to be rich, comfortable, and sexy all rolled up into one. I have a lot of fun with it.
Unlike most men in this period, Howard Stark shuns a tie while hiding away. In this episode, he wore a custom-made two-tone loafer jacket of grey merino wool and black and grey wool check. His casual shirt is also custom designed using a blue/grey shirt weight wool. Both the jacket and shirt were accented with hand-stitch finishes. For the bottom he wore vintage black gabardine pants.


Tell us about Peggy's other looks in this episode. We loved to see her switch up her usual red lips for a plum color to go with the beautiful burgundy dress!
For Peggy's second look, the dress I designed was constructed in burgundy wool crepe. The hand carved belt buckle was a great find in vintage mother of pearl. It's really a beautiful accent at the waist.
Peggy's suit for her third change was designed in navy wool with a strong red pinstripe. I had found this wool fabric at the top of the season and really loved it for the character. However, I was waiting for the right time to use it. The pinstripes I felt had the perfect strength for the scene where she is hiding Steve's blood. Her skirt for this suit is a straight cut with a beautiful kick pleat center back. The navy buttons on the jacket were hand made in France. To coordinate with the suit, I designed a lavender silk blouse. Besides really complimenting the suit, the color lavender has many meanings including wisdom, devotion, dignity, as well as mourning.
How much of Jarvis's wardrobe was custom?
Except for one navy Harris tweed suit in his show closet, all of Jarvis's suits have been designed and constructed for his show character.
Plaids were very popular in the '40s and Jarvis's suits really highlight the amazing types of plaids and textures that were popular during the era.
For his first change, Jarvis wore his custom 3-piece grey glen plaid suit.
This kind of plaid is also known as a Prince of Wales check. I love that name and seems so fitting for his character.
For the change two look, I designed a 2-piece belted Norfolk-style suit in a beautiful brown plaid wool. It's the only suit in his closet that doesn't have a vest. Norfolk jackets have so much detail and style to them, and generally are worn closed because of the belt. So a vest is unnecessary.
For Jarvis's third change, he returns to his vested suit look. This suit was designed in olive wool with subtle a gold and orange plaid pattern running through it.
We saw a very different side of Dottie this episode, but she still looks the part of a wide-eyed farm girl. How does her wardrobe compare to Peggy's?
Peggy's wardrobe is sophisticated, tailored and I use saturated colors on her.
Dottie, on the other hand, has an unstructured softness to her look with bits of lace and floral embroidery. A good example is the vintage burgundy hand-knit sweater seen in the last episode. In this episode, she wore a blouse constructed in crème rayon crepe detailed with pleated detail and lace, for another feminine but modest look.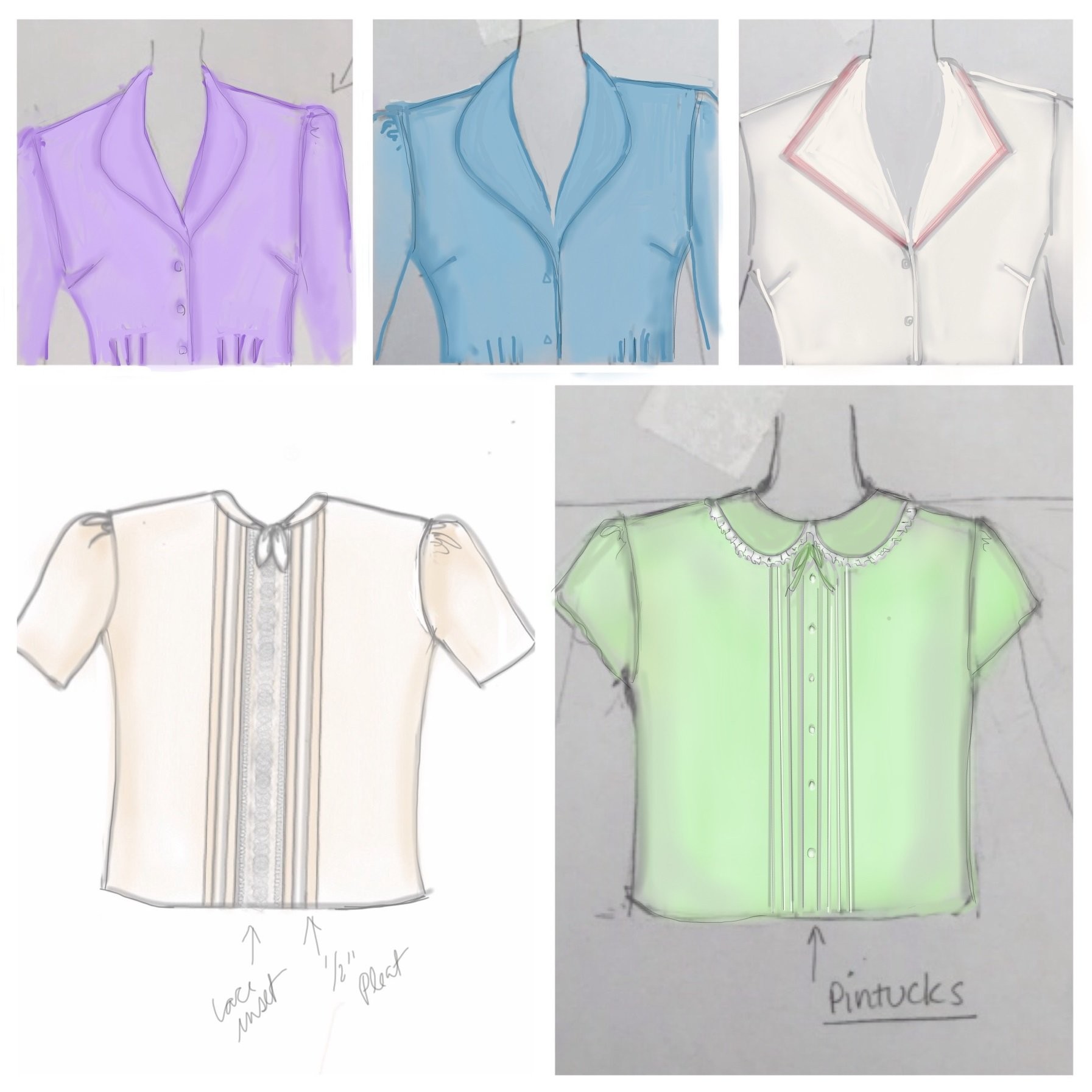 These sketches by costume designer Gigi Ottobre-Melton show the clear differences of style between the more tailored Peggy (top row) and the sweet Iowa farm girl Dottie (bottom row).
Tune in Tuesday FEB 3 9|8c for the next episode of Marvel's Agent Carter. Plus, come back each week for Gigi's behind the scenes look at the incredible fashion of Marvel's Agent Carter.
MORE:
Agent Carter Fashion: Inside the Premiere
Agent Carter Fashion: Time and Tide