Agent Carter Fashion: The Iron Ceiling
Each week, Marvel's Agent Carter costume Designer Giovanna "Gigi" Ottobre-Melton shares the inside scoop on the wardrobe. This week she talks with us about the costumes seen in episode 5, "The Iron Ceiling."
This episode holds a big step for Peggy: she finally gets to go on a real mission with her colleagues. How did you prepare Peggy for her big moment?
For Peggy's first change, I felt she needed a power pinstripe that still reflected the somber tone of the scene. With that in mind, I designed a coat dress in a rich teal wool with a 1" chalk pinstripe. The waist is accented with a wide brown leather belt that was custom made by a local leather company. Not only did the belt accentuate the waist, it represented power and strength.
With no time to spare, our hero team suit up immediately in their tactical mission gear. There isn't a separate locker room for Peggy, so she changes to one side of the room. In a brief moment, Peggy is caught by Sousa in her gorgeous fitted black rayon and lace slip. It is incredibly sexy moment, dampened by the realization that the scars on her shoulder, reveal she is the woman in the gold dress.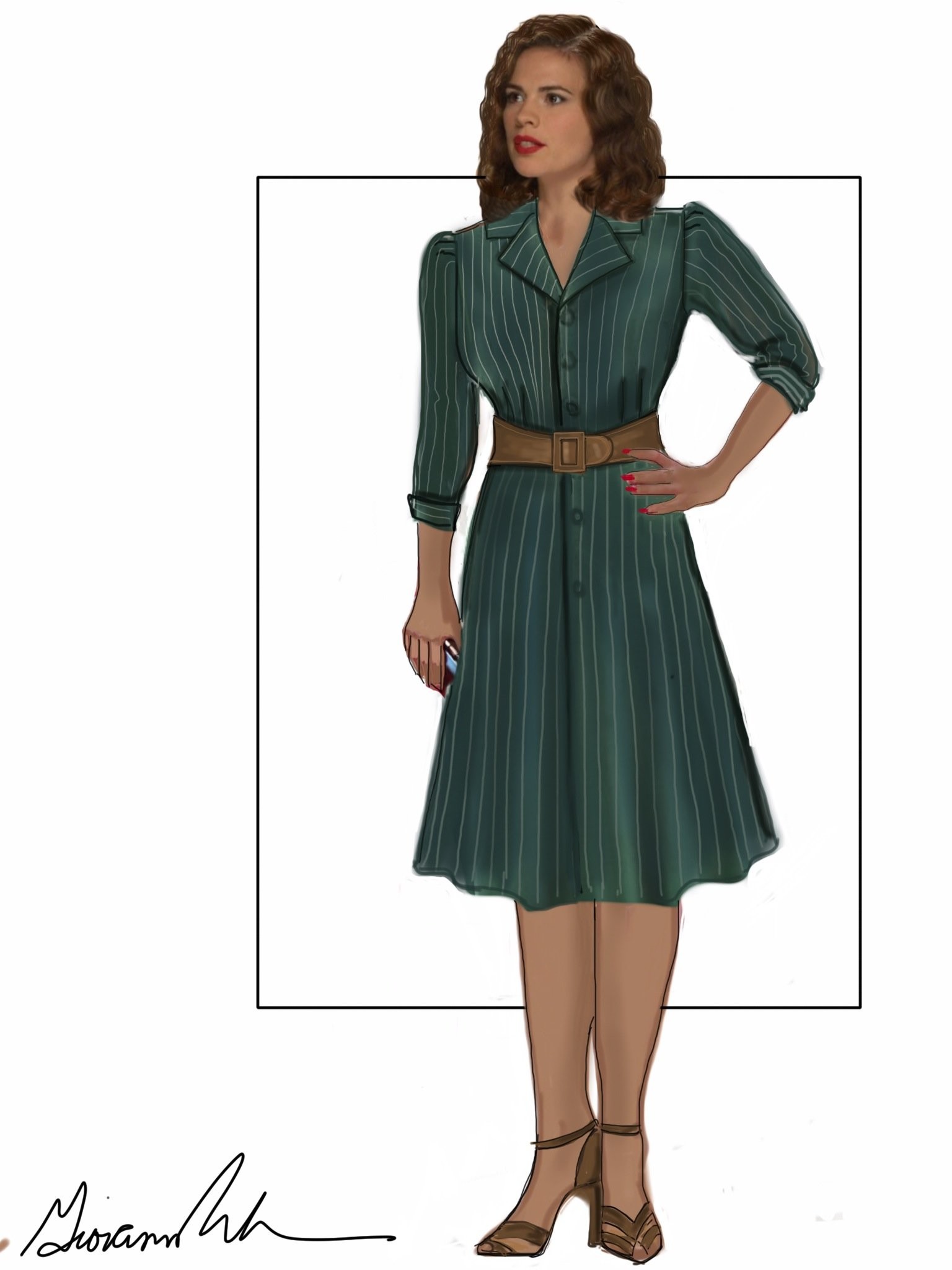 Sketches of Peggy's power pinstripe wool coat by costume Designer Gigi Ottobre-Melton.
Much of the episode takes place in the combat field in Russia. Uniforms can often be depicted as bland and rarely leave room for creativity. How did you get around that?
This is our first opportunity to see the SSR tactical uniform. My thought behind this clandestine uniform design was a pseudo-military meets World War II underground. The uniform had to be realistic and versatile for these kinds of missions. From the locker room, the next time we see our agents they are flying over Russia, about to parachute in.
The tactical black jacket is a four-pocket field style with epaulets, and is lined in a subtle olive wool plaid. The belt is a thick military black cotton web and metal buckle. The shirts were designed in a classic military winter olive wool with epaulets. The olive wool ties are actual World War II military ties. The cargo pants were constructed in olive Harris tweed wool with beautiful flecks of color. The uniform pants are tucked into dark brown leather boots. For Peggy's boots, I chose boots with leather straps that wrap around the calf – it was a hybrid nod to the World War II military spats and puttee cloth wraps of World War I.
While in Russia we meet up with the Howling Commandos, Dum Dum Dugan, Happy Sam Sawyer, Pinkie Pinkerton, and Junior Juniper, who work side by side with our SSR agents. For their look I wanted to keep a threaded continuity to the Howling Commando's style to how they have been seen in the past. A number of multiple uniforms were created for all the action sequences in this episode.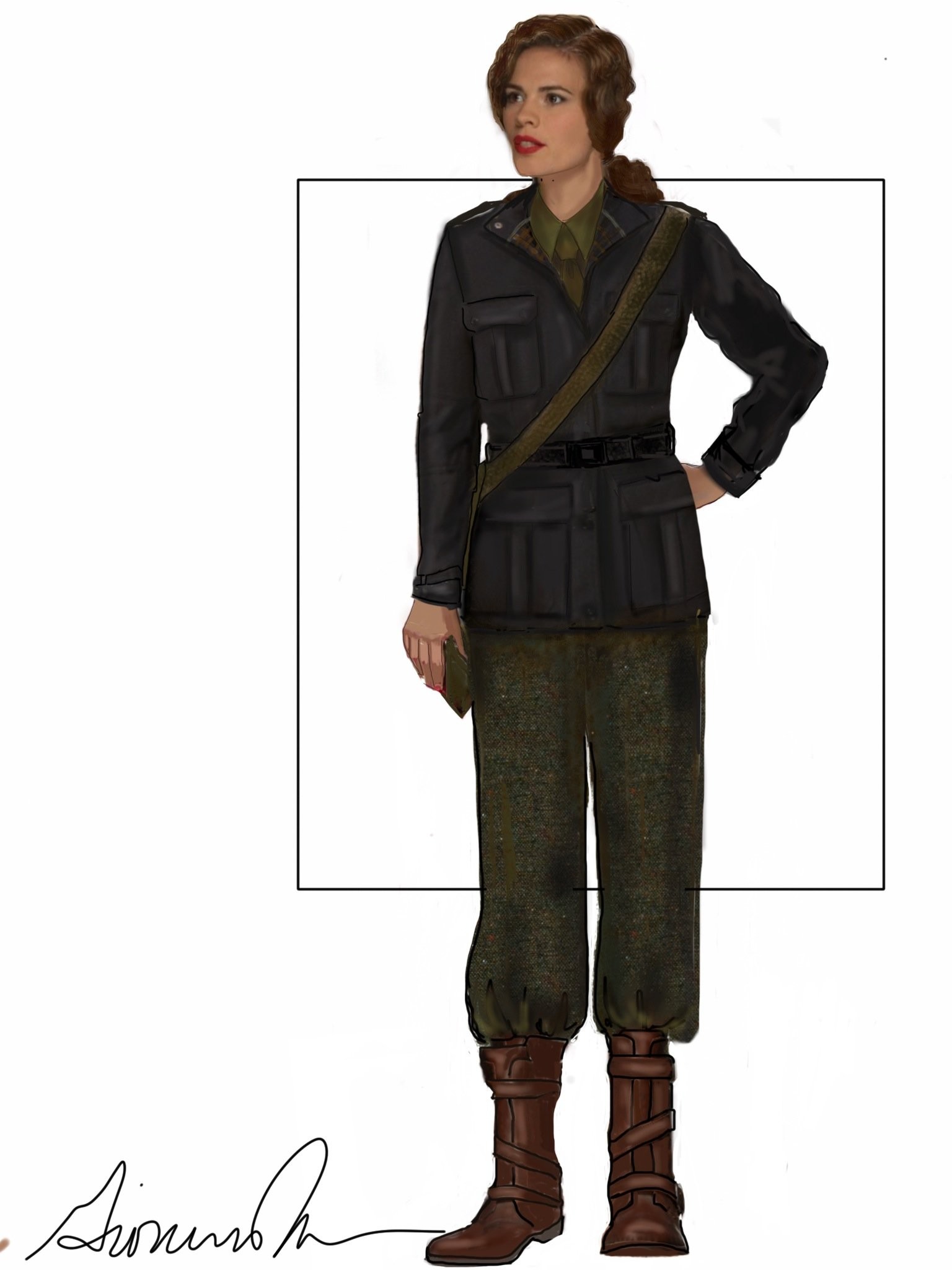 Sketches of Peggy's SSR tactical uniform by costume Designer Gigi Ottobre-Melton.
We get to see the beginnings of Dottie in this episode, who isn't quite who she says she is. Tell us about your wardrobe choices for such a complex character.
In a flashback, we meet Dottie as a young girl living in a training school. For the dormitory scene, I chose plain stark muslin nightgowns for the young girls. In the main classroom, the uniform was created using a classic white short sleeve blouse, accented with a blood red tie, and a black pleated mid-calf skirt. For their physical training scene, I used black wool knitted shorts and white cotton tank tops, accented with a small red branding design. For their teacher, she was dressed in stark grey and black vintage sourced uniforms also using a red scarf accent. All of these looks were rooted in research from boarding schools that specialized in mind control education for children.
Flash-forward to 1946: our SSR and Commandos stumble upon this same Russian girls school. It is here we meet a young girl who appeared to be abandoned at the school. She is wearing a black knitted wool pullover with red shoulder epaulets, matched with the uniform black pleated skirt and black stockings. Her shoes are a black ankle strap flat.
Tune in TUESDAY FEB 10 9|8c for the next installment of Marvel's Agent Carter. Plus, come back each week for Gigi's behind the scenes look at the incredible fashion of Marvel's Agent Carter.
MORE: