Stan Lee Appears on Marvel's Agent Carter
Marvel legend Stan Lee surprised audiences with a cameo appearance on the latest Marvel's Agent Carter episode.
In "The Blitzkrieg Button," Jarvis meets up with Howard Stark to express his disdain for keeping Peggy in the dark about Captain America's blood. But who's the man seated next to them behind the newspaper? Watch the clip see Stan Lee make his Marvel's Agent Carter debut.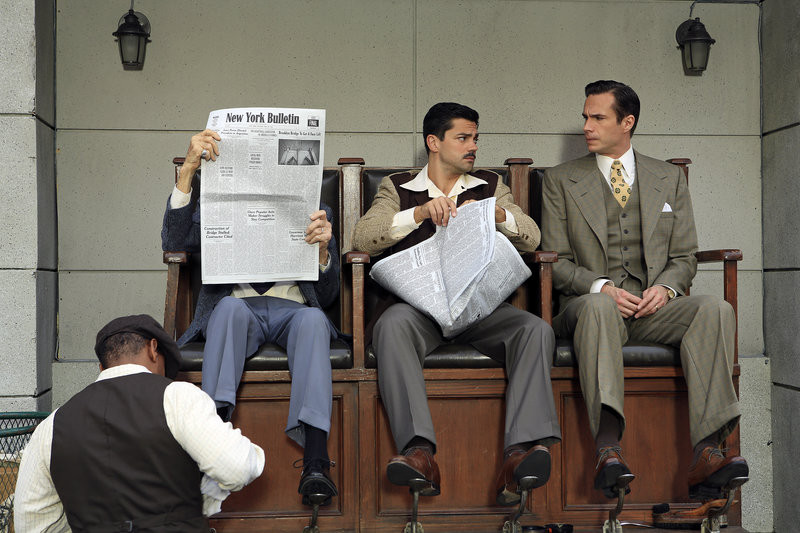 Check out more moments from "The Blitzkreig Button" below.
Off the Grid: Jarvis is in the middle of a shakedown right up until the moment Peggy Carter takes down the hired guns. The smuggled package Peggy and Jarvis are there to retrieve is none other than Howard Stark, who needs something of his back.
Every Button Must be Pressed: After a strained conversation with Jarvis, Peggy breaks into the SSR lab to find Howard Stark's invention. Following her instincts, she nervously presses the button on the device. See what happens next.
A Vile Man: There's no power failure when Peggy activates Stark's device, for the only thing inside is a vile. Peggy punches Howard upon learning the truth about what's in it - upon learning the truth about Captain America.
Stan the Man: Peggy is furious at Howard for his questionable ways. She's also ticked at Jarvis, who tells his boss that the way they've treated Peggy stinks. Howard digests this as the man sitting next to him, who looks very familiar, asks for the sports page.
Hold Your Applause: With Chief Dooley following a lead in Europe, Thompson makes it known that he's in charge. He has Peggy nervous that he knows her secret. He also supervises as an angry drifter named Frank is questioned by Sousa, who tries to relate to him as a vet.
A Simple Girl from Iowa: Bad man Otto Mink sneaks into the Griffith. He orders bubbly Dottie Underwood, who we first met in "Time and Tide," to go back into the room. He's startled when she recognizes that his gun is an automatic. Mink has no time to react when Dottie springs into action.
Blood Oath: Dottie has killed a fellow Griffith resident while maintaining her cheery façade to another. Chief Dooley returns from his European trip to find something interesting happening with a confiscated item. As for Peggy, she knows exactly what she needs to do now that she's in possession of the blood of a super soldier.
Read the detailed report for "The Blitzkreig Button."
Past Field Reports: