Behind the Scenes of May's Kick-Ass Fight...with Herself
Dancing with Coulson, undercover flirting, and an epic fight with herself — it was quite a mission for Agent Melinda May!

Ann Foley, Costume Designer for Marvel's Agents of S.H.I.E.L.D., gives us an inside look at "Face My Enemy" and the behind the scenes work that went into that incredible silver dress.
"One of the challenges with the dress is that we needed so many of them, because May needs to dance with Coulson, and then she is going to be fighting later in the episode — and not only fighting, but fighting herself," Foley says. "So we decided to make the dress so that we could meet all of those challenges. We had five dresses: one "hero" that stays pretty, one to fight in that had stretch panels, one for Agent 33, and one for each of Ming-Na Wen's two stunt doubles."
melinda_may_dress_2_ white|||800|640|2
WATCH: An undercover mission leads May and Coulson onto the dance floor.
Foley says putting May in a dress was a fun task. "Agent May in a dress? Let's hashtag that!" she jokes.
"Nothing better than May kicking ass in a to-die-for dress," agrees Transmedia Producer Geoffrey Colo.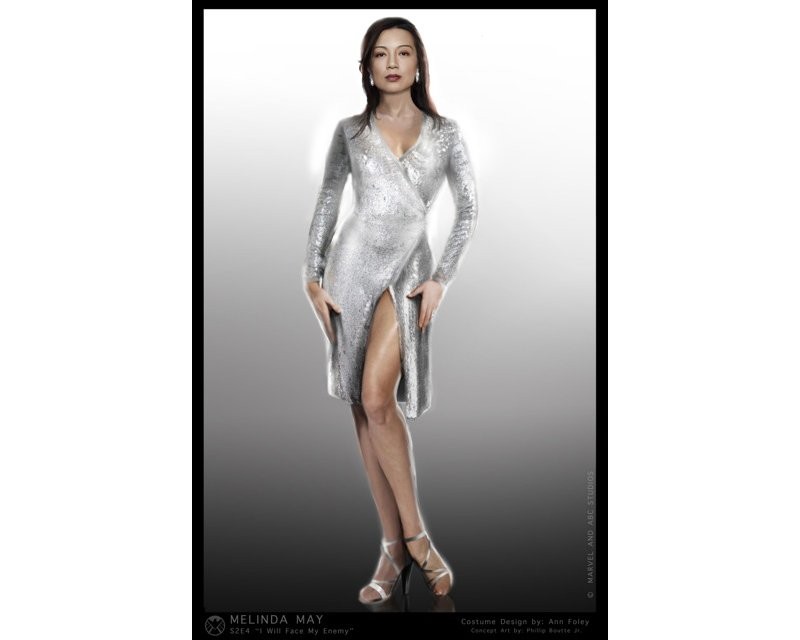 Sneak Peek: Coulson Plans for the Worst|Preview the next episode of Marvel's Agents of S.H.I.E.L.D.|Coulson tells May she needs to have a plan in case he goes the way of Garrett. Watch this preview from the Season 2 episode "Face My Enemy" and don't miss all-new episodes of Marvel's Agents of S.H.I.E.L.D. TUESDAYS 9|8c.
"I decided to do a wrap dress so that she could easily dance. It already had a slit sort of built into it, so that gave her freedom of movement," Foley explains. "My goal is always to make sure that the actors are comfortable in their costumes, that they can move freely and do their stunts, and that nothing is too restrictive. And that they also look amazing at the same time."
So how long did it take to create not one, but five of these stunning dresses? "I had probably 10 days notice. We had about a week to actually make it and manufacture the multiples. Short notice, but that's typical. We made her catsuit from last season — three of those — in five days."
But the remnants will last much longer. Foley says with a laugh, "we'll be finding tiny silver sequins in our office for years to come."
WATCH: May and her imposter go head-to-head.
The unusual fight scene posed more challenges. "We needed long sleeves so that she could have pads on underneath the dress for when she was fighting. And then of course she's got the crazy fight where she's fighting herself," says Foley. "Agent 33 has the nano mask on, so Agent May is fighting Agent May. It is a pretty intense girl fight...she needed serious freedom of movement in that dress, so we built panels that had stretch, and put them in several areas on her arms and her sides, so that it moved with her as she punched...herself."
After this intense episode, what is Foley looking forward to? She hints about an upcoming appearance, saying it's one of the most fun costumes of the season. "I'm very excited about Mockingbird. And Adrianne Palicki wears it well."
We can't wait to see it!