Modern Family's Most Frightfully Funny Moments
It doesn't have to be Halloween for this Modern Family to scare up the laughs. Still, they always seem to make the most of trick-or-treat time. Enjoy the below compilation of Halloween fun with some memorable moments that are so funny, it's scary!


The Haunting of Phil's House: The Dunphys are known for hosting a Halloween House of Horrors. Phil says, "Claire and I are going as Corpse Bride and Groom. As if there's any other kind. Am I right?" As for his loving wife, Claire is a big fan of Halloween. She once caused a neighbor to literally have a heart attack on her front porch thanks to a prank. Good times. Good times.
Modern Family Halloween|Scare up some Halloween highlights.|Claire scares, Gloria gets mad and more frightful fun from the Halloween episode, "Open House of Horrors."
The Birds: One has to wonder if the classic Hitchock flick would have been as terrifying if those fine-feathered frighteners had gone up against Phil Dunphy instead of Tippi Hedren. You be the judge after watching this clip:
Phil's Robot Kills a Nest of Birds|Gutter done!|Phil shows off his gutter-cleaning robot that wipes out a nest of baby birds in front of Haley and Alex.
It Happens: Stephen King may have created a killer clown called Pennywise, but Cameron is the man behind the greasepaint worn by "Fizbo." Even though this clown is a gentle, asexual creature, he completely freaks out Phil Dunphy. It could be because Phil found a dead clown in the woods when he was a kid. But that's just a theory. Take a look at this movie trailer that proves Phil's fears may be horrifyingly justified.
MODERN FAMILY RECUT - HORROR TRAILER|MODERN FAMILY IS THE SCARIEST MOVIE YOU NEVER SAW|Fizbo the Clown is the kind of clown that will twist you like a balloon animal! MODERN FAMILY HORROR MOVIE Coming soon.
Night of the Living Head Case: Cameron has always had difficulty with Halloween. When he was 10, a kid named Timmy framed him as a candy thief. It's been a traumatic day for him ever since. Cam says, "Everyone one was screaming -- that's him! Get Quasimodo! And then the townspeople started chasing me and that's when I wet my pants. I wet my pants! I wet my pants!"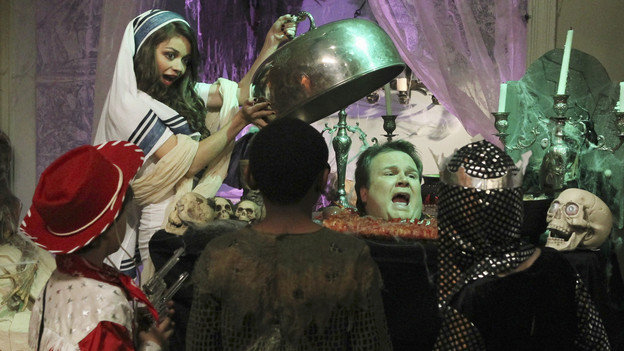 Get ready for Modern Family Halloween 2016 Wednesday, October 26: "Halloween 4: The Revenge of Rod Skyhook" – Luke's Halloween party isn't the monster bash he dreamed of, and he is at risk of having the worst party of the year. Sensing trouble, the rest of the Dunphys realize that all his party needs is a visit from Rod Skyhook, a little promotion and some adult supervision to get it started. Meanwhile, at the Tucker-Pritchett home, Cam faces off with his Halloween nemesis, while Lily and Mitchell try to save the day and work to keep him from going to the dark side. Finally, when Jay finds out that Manny is going to a party at the home of an old enemy, he enlists him to deliver a trick he will never forget. (9:00–9:30 p.m.)