Claire's Scare-Meter: How Frightening Was She This Halloween?
Claire (Julie Bowen) has a morbid love for Halloween, so when Phil (Ty Burrell) takes over decorating duties and turns their front yard into "AwesomeLand" it brings out the scariest in Claire. Here's a rundown of how scary she gets in Season 6, Episode 6 of Modern Family, "Halloween 3: AwesomeLand."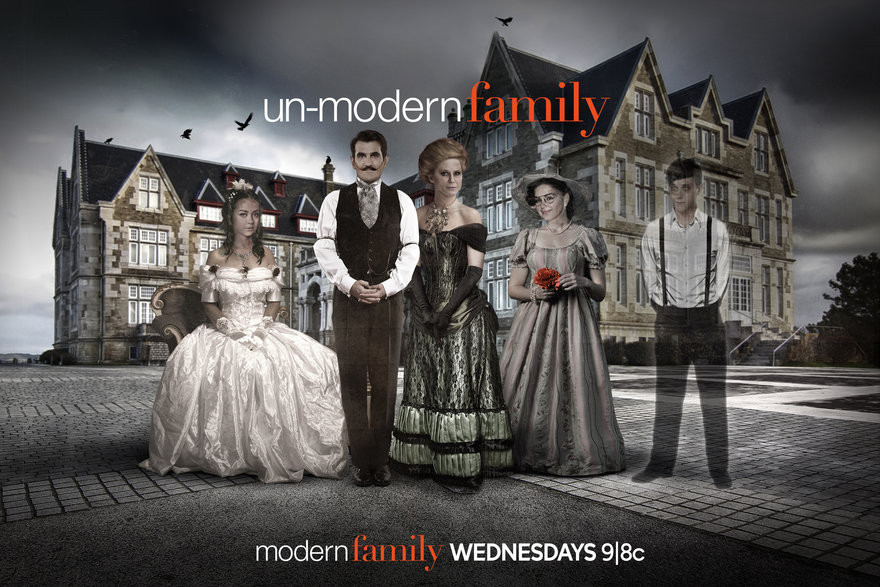 Claire Wants to Revamp AwesomeLand
CLAIRE SCARY-METER RATING: 5
When neighbors Ronnie (guest star Steve Zahn) and Amber (guest star Andrea Anders) reveal they've started a contest to reward the scariest house on the street, Claire can't resist going to her scary side and decides to redecorate. She gets particularly frightening when deciding what to do with the giant, cute bunny Phil has used to decorate AwesomeLand.
Claire Unveils the Haunted Insane Asylum
CLAIRE SCARY-METER RATING: 6
Claire transforms Phil's kid-friendly "AwesomeLand" into a "Haunted Insane Asylum." Claire is sure it will win her the "Scariest House on the Street" contest until Ronnie and Amber say they find it offensive.
Claire Lets Phil Run AwesomeLand
CLAIRE SCARY-METER RATING: 3
Claire lets Phil go through with his kid-friendly AwesomeLand theme, complete with puppies. Alex (Ariel Winter), dressed as Tess McGill from the movie Working Girl, helps her mom realize that putting on a scary Halloween is what helps Claire feel edgy and not like a boring mom.
Claire Apologizes then Realizes She Was Tricked
CLAIRE SCARY-METER RATING: 10
Claire thinks her "Haunted Insane Asylum" Halloween decorations offended her new neighbors Amber and Ronnie. Claire politely apologizes but she gets scary when she discovers the neighbors tricked her.