Nashville Recap: "Is the Better Part Over" Juliette's Intervention and a Liver for Deacon on Season 3 Episode 21
This week on Nashville Season 3, Episode 21 "Is the Better Part Over" (air date: 05/06/2015): Juliette has taken her bold, surprise rooftop concert strategy on the road, and she's riding high on the publicity and attention she's receiving. She's starting to feel like her old self again, and becomes obsessed with putting out a new album to maintain the momentum. But her behavior becomes increasingly manic, and Avery and her team start to worry.

Meanwhile, the news of Deacon's cancer diagnosis has leaked to the press, and he finds out via the radio. Rayna struggles to maintain her composure as her phone starts ringing off the hook, and nearly breaks down when she receives an envelope from Beverly, with her million-dollar incentive check torn to pieces. She'd called Juliette into her office to discuss the fallout from her rogue rooftop concerts, but can't keep it together in the face of Juliette's hostility. Rayna walks out on Juliette, who is irate.


VIDEO: Rayna Walks Out on Juliette
Deacon finds Rayna at home, crying. She confesses that she went to Natchez, Mississipi, to try to change Beverly's mind about donating her liver, but failed. Rayna can't imagine her future without Deacon, and can't face losing him. They struggle to accept the real possibility that their time together might be cut short.
Tensions are high between Gunnar and Scarlett with the return of Kiley, and they argue about what label to sign with. Highway 65 has offered them an amazing deal, but Scarlett wants to keep looking. They grow closer to a blow up as Gunnar, Kiley, Scarlett, and Dr. Caleb Rand gather at the Bluebird Cafe to support Deacon's show that night. But when Deacon calls to cancel, asking Scarlett and Gunnar to fill in for him, they put their differences aside for the show. Their obvious on-stage chemistry has both Caleb and Kiley questioning just what the deal is with those two.
VIDEO: Scarlett & Gunnar Sing "Something's Gotta Give"
After Emily finds Juliette at home, hyper-focused on a new song, having ignored her baby for the last few hours, she calls Avery with the news that something is very wrong with Juliette. He calls Juliette home, where he's assembled Emily, Glenn, and Juliette's doctor. Juliette is not receptive to the intervention, and quickly becomes defensive. She storms out, furious.
VIDEO: Juliette's Intervention Is a Disaster
Layla, unaware that Jeff sabotaged her and got her fired from Jade St. John's tour, believes it's her fault. She lets Jeff embroil her in a very public Twitter war with Jade, ruining Layla's relationship with the powerful pop star. But fame-obsessed Layla only sees the publicity she's getting, and lets him take control of her career. Jeff manipulates Layla into signing a binding contract that benefits him for the rest of her career as an artist.
Teddy learns that the Feds have enough to put him away for years, unless he helps them catch bigger fish. Teddy wears a wire and initiates contact with a politician who the government is hoping to catch.
Will's estranged father shows up in town, and wants to make amends for kicking Will out as a teenager. Will's marriage to Layla and public persona as a straight guy has even convinced his father. And Will, desperate for his father's love and approval, doesn't tell him the truth. Kevin tries to make Will see what a bad idea it is to welcome his father back into his life, and they fight. Hours later, Luke gets word that a tabloid has photos of Will and Kevin, and plans to out the country star.
After finding strength in each other, Rayna and Deacon show up at the Bluebird after all. They take the stage to perform a romantic duet, "Surrender." Scarlett admits to Gunnar that she's scared of signing with Rayna's label and screwing up again, but he reassures her, and they officially sign with Highway 65.
RELATED: Nashville: On the Record Goes Behind the Scenes of "Surrender"
The night is winding to a close, and Rayna and Deacon are enjoying being together. Suddenly, Beverly walks through the door and announces she's changed her mind. Beverly wants to have the surgery, and to save Deacon's life. Deacon and Rayna are overjoyed.
VIDEO: Beverly Wants to Save Deacon
Deacon and Rayna at the Bluebird in Season 3 Episode 21 "Is the Better Part Over."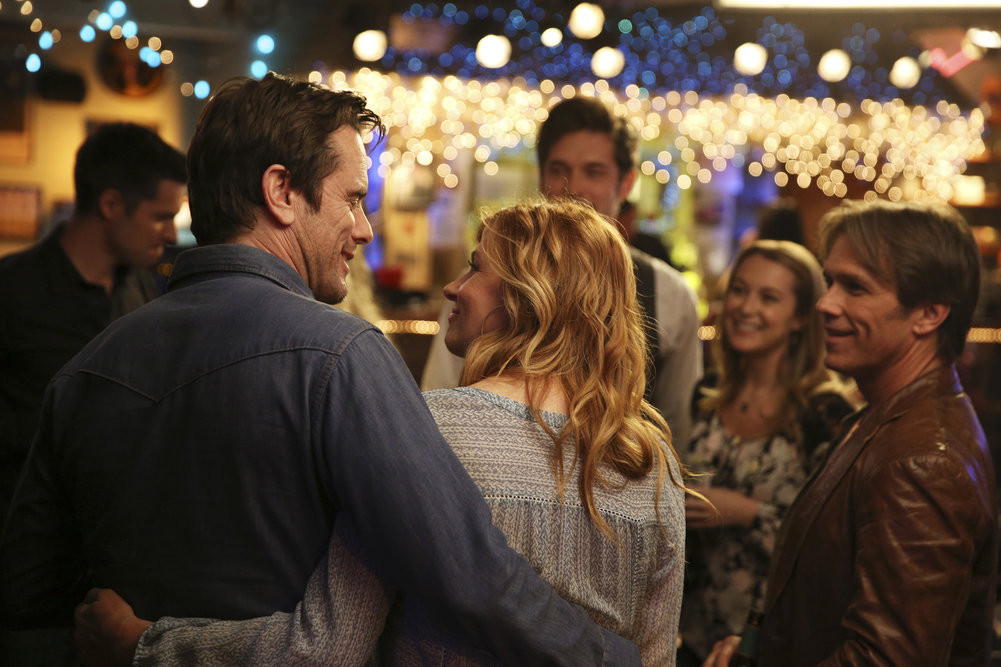 Watch Nashville WEDNESDAYS 10|9c!
Nashville Season 3 Recaps:
Episode 20: "Time Changes Things"
Episode 19: "The Storm Has Just Begun"
Episode 18: "Nobody Knows But Me"
Episode 17: "This Just Ain't a Good Day for Leavin'"
Episode 16 "I Can't Keep Away From You"
Episode 15 "That's the Way Love Goes"
Episode 14 "Somebody Pick Up My Pieces"
Episode 13 "I'm Lost Between Right and Wrong"
Episode 12 "I've Got Reasons to Hate You"
Episode 11 "I'm Not That Good at Goodbye"
Episode 10 "First to Have a Second Chance"
Episode 9 "Two Sides to Every Story"
Episode 8 "You're Lookin' at Country"
Episode 7 "I'm Coming Home to You"
Episode 6 "Nobody Said It Was Going to be Easy"
Episode 4 "I Feel Sorry for Me"
Episode 3 "I Can't Get Over You to Save My Life"
Episode 2 "How Far Down Can I Go"