Nashville Season 3 Finale Recap: Deacon Fights for His Life and Will Lexington Comes Out in "Before You Go Make Sure You Know"
On the Nashville Season 3 Finale, "Before You Go Make Sure You Know" (air date: 05/13/2015): As Deacon's transplant surgery approaches, Rayna does her best to bring the family together and set aside her tension with Deacon's sister, but Beverly is still holding a grudge. Rayna is unpleasantly surprised when Beverly tells Maddie and Daphne that she's thinking of staying in Nashville after the operation. Deacon is anxious and unable to shake a growing premonition that something will go horribly wrong during surgery.


VIDEO: Beverly, Maddie, and Daphne sing "Anywhere from Here"

Deacon's Dr. Rand asks Scarlett to move in with him, and she agrees. She's writing a new song, inspired by Deacon and Rayna, and sends the lyrics to Gunnar so he can work on the music.
Having just completed her album, Juliette pushes full steam ahead to set a release date and get out on tour. But a confrontation with Rayna leads her to grab her album and leave Highway 65. During an argument over her priorities with Avery, she hurls a snowglobe at him and baby Cadence, and he tells her to leave. Later he finds out she's fired Glenn, and done the unthinkable by hiring Jeff Fordham as her new manager.
Layla finally gets clued into Jeff's manipulative and controlling ways, and discovers he intentionally sabotaged her job and relationship with pop diva Jade St. John. She confronts him, after violently attacking his car with a golf club. But his explanation that he did it all because he was afraid of losing her seems to work, because she forgives him.
Will asks Kevin to lie to the media at a press conference after a tabloid publishes photos of them together, outing him. But after watching Kevin lie to everyone, Will realizes it's time to tell the truth. He comes out, sending shockwaves through Nashville, and his father walks out on him again. But Will seems relieved and happy, and tells Kevin he loves him.
VIDEO: Will Lexington Comes Out
Jeff brings Juliette to sign with Luke and his Wheelin' Dealin' Records, and Luke gives her Will's spot on his tour. Juliette's return to the stage is a huge success and she's overjoyed. But her behavior has completely alienated Avery. He confronts her about hiring Jeff, the man she cheated on him with, but Juliette clearly cares more about her career than anything else. Avery grabs a bag and leaves.
VIDEO: Avery Leaves Juliette
In the hospital, Deacon is still a mess. He flashes back to his premonition as Beverly gets wheeled away to the operating room, and then proposes to Rayna. He begs her to marry him before his surgery. Rayna refuses, but recites wedding vows with him and he calms down.
VIDEO: Rayna and Deacon Exchange Wedding Vows
Kylie is still staying with Gunnar, and she asks him to go with her to visit Micah in Texas. He agrees, with the caveat that their relationship remain platonic to protect Micah's feelings. Before they leave, he makes a stop at the hospital where Deacon is still in surgery. He plays the song for Scarlett, and then asks her to sing it for him. By the end of the song, the pair is dangerously close to kissing.
VIDEO: Gunnar and Scarlett Sing "I Will Never Let You Know"
Meanwhile, someone is flatlining on the operating table. Dr. Rand walks into the waiting room and tells Rayna he has bad news for her. Meanwhile, on the TV screen behind her is breaking news coverage of Mayor Teddy Conrad's arrest on corruption charges.
VIDEO: Season 3 Finale Cliffhanger: Did Deacon or Beverly Flatline?
Deacon proposes to Rayna at the hospital in the Season 3 Finale, "Before You Go Make Sure You Know"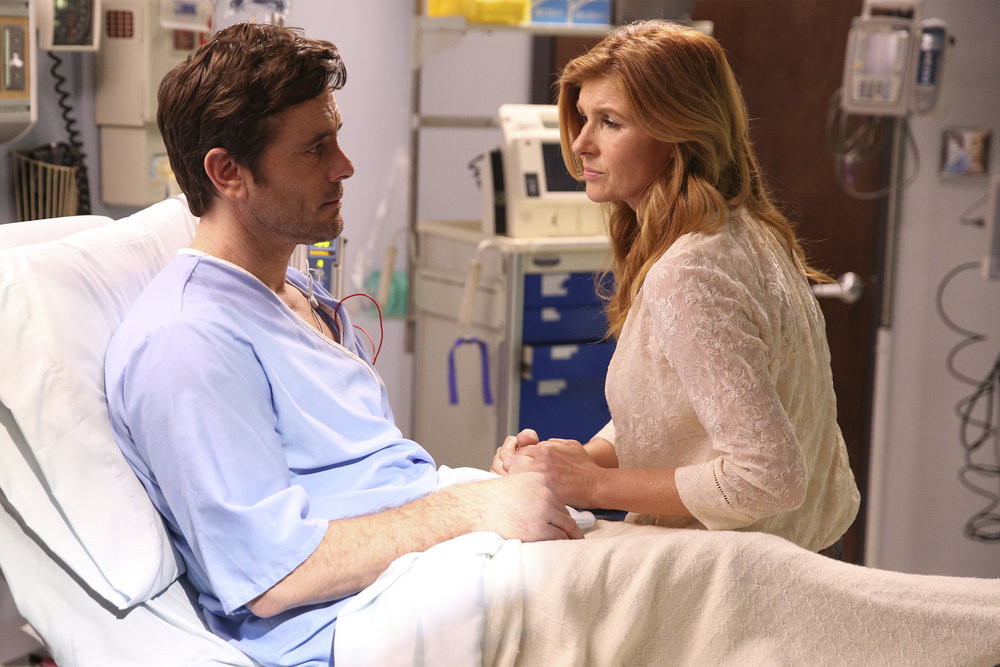 Watch Nashville WEDNESDAYS 10|9c!
Nashville Season 3 Recaps:
Episode 21: "Is the Better Part Over"
Episode 20: "Time Changes Things"
Episode 19: "The Storm Has Just Begun"
Episode 18: "Nobody Knows But Me"
Episode 17: "This Just Ain't a Good Day for Leavin'"
Episode 16 "I Can't Keep Away From You"
Episode 15 "That's the Way Love Goes"
Episode 14 "Somebody Pick Up My Pieces"
Episode 13 "I'm Lost Between Right and Wrong"
Episode 12 "I've Got Reasons to Hate You"
Episode 11 "I'm Not That Good at Goodbye"
Episode 10 "First to Have a Second Chance"
Episode 9 "Two Sides to Every Story"
Episode 8 "You're Lookin' at Country"
Episode 7 "I'm Coming Home to You"
Episode 6 "Nobody Said It Was Going to be Easy"
Episode 4 "I Feel Sorry for Me"
Episode 3 "I Can't Get Over You to Save My Life"
Episode 2 "How Far Down Can I Go"