Nashville Season 4 Premiere Date Announced
Nashville's Season 4 premiere date has been announced! Your favorite country music stars and all their drama are returning to ABC on WEDNESDAY, SEPTEMBER 23 at 10|9c, for the 2015-2016 television season. Season 3 ended with a cliffhanger, as Deacon and his sister Beverly were both undergoing surgery and one of them flatlined on the operating table. Meanwhile, Scarlett and Gunnar seemed to be on the verge of acknowledging their feelings, Teddy was being arrested for corruption, and in a shocking move, Avery took baby Cadence and left Juliette! With so many outrageous events taking place in the finale, the wait for the Season 4 premiere seems much too long.
Season 3 Cliffhanger: Did Deacon or Beverly Flatline?
In the meantime, to soothe your Nashville cravings, you can watch Season 3 highlights, or catch up with the last five episodes of the season, available on WATCH ABC!
Season 3 Finale, "Before You Go Make Sure You Know": Deacon receives a liver transplant from his sister, and Juliette puts her music career ahead of everything else.

Season 3, Episode 21, "Is the Better Part Over": Juliette's team worries she is suffering from postpartum depression, and Beverly has a change of heart about saving Deacon.

Season 3, Episode 20, "Time Changes Things": Rayna tries to convince Beverly to help Deacon, and Jade St. John (guest star Christina Aguilera) invites Luke, Jeff, and Layla to an all-night bash at her Malibu beach house.

Season 3, Episode 19, "The Storm Has Just Begun": Pop diva Jade St. John (guest star Christina Aguilera) makes waves in Nashville and faces off with Juliette Barnes at a charity gala for Teddy's music education initiative. Meanwhile, Deacon gets some life-changing news.

Season 3, Episode 18, "Nobody Knows But Me": Jeff is forced to revisit his past when his ex-fiancee Jade St. John (guest star Christina Aguilera) comes to Nashville on tour.
RELATED: ABC Announces 2015-2016 Fall Series Premiere Dates
Rayna comforts Deacon at the hospital before his transplant surgery, in the Nashville Season 3 finale, "Before You Go Make Sure You Know."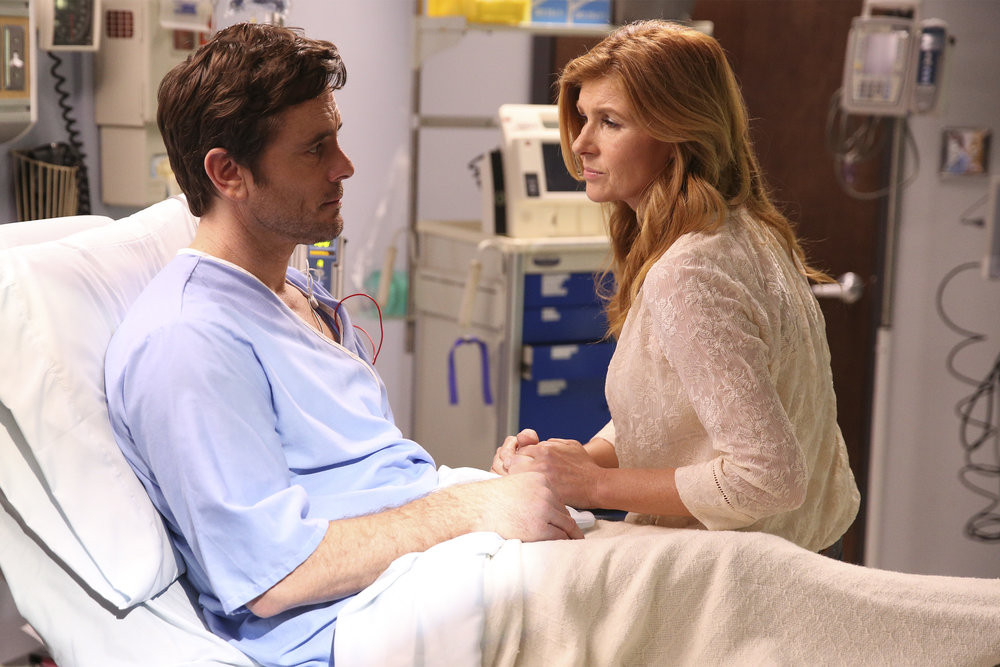 Watch Nashville WEDNESDAYS 10|9c
MORE NASHVILLE
QUIZ: Who Said It? "This Just Ain't a Good Day for Leavin'"
QUIZ: Which Nashville Character Are You?

POLL: Deacon Claybourne vs. Luke Wheeler

Nashville stars Connie Britton as Rayna James, Hayden Panettiere as Juliette Barnes, Charles Esten as Deacon Claybourne, Jonathan Jackson as Avery Barkley, Eric Close as Teddy Conrad, Clare Bowen as Scarlett O'Connor, Chris Carmack as Will Lexington, Lennon Stella as Maddie Conrad, Sam Palladio as Gunnar Scott, Maisy Stella as Daphne Conrad, Oliver Hudson as Jeff Fordham, and Will Chase as Luke Wheeler.