For the second consecutive year, Good Morning America co-anchor Robin Roberts and ABC late-night host Jimmy Kimmel joined forces on a one-hour prime-time special to pay tribute to the legendary stars and icons the world lost this year and the legacies they left behind. 2018: In Memoriam celebrates icons who passed away with tributes from those who knew them best. The one-hour prime-time special aired Monday, Dec. 17 (10:00 – 11:00 p.m. EST) on ABC. Watch on the ABC app from your smartphone and tablet (iOS and Android), computer on ABC.com and connected devices (Roku, AppleTV and Amazon Fire TV)
2018: In Memoriam, hosted by Roberts and executive produced by Kimmel and Roberts, celebrates the lives of beloved stars through stories shared by those closest to them, including Patti LaBelle, Gladys Knight, Kelly Clarkson and Smokey Robinson, honoring Queen of Soul Aretha Franklin; John Schneider, Marilu Henner, Lee Corso and an exclusive interview with Loni Anderson, remembering her ex-husband and award-winning actor Burt Reynolds; Condoleezza Rice, Dwight Howard, Reba McEntire and an exclusive interview with Barbara Pierce Bush, honoring her grandmother and former first lady Barbara Bush; Sen. Lindsey Graham, Sen. Joe Lieberman, Larry Fitzgerald and Cindy McCain, paying tribute to American war hero Sen. John McCain; Hank Azaria and Benedict Cumberbatch celebrating physicist and pop-culture icon Stephen Hawking.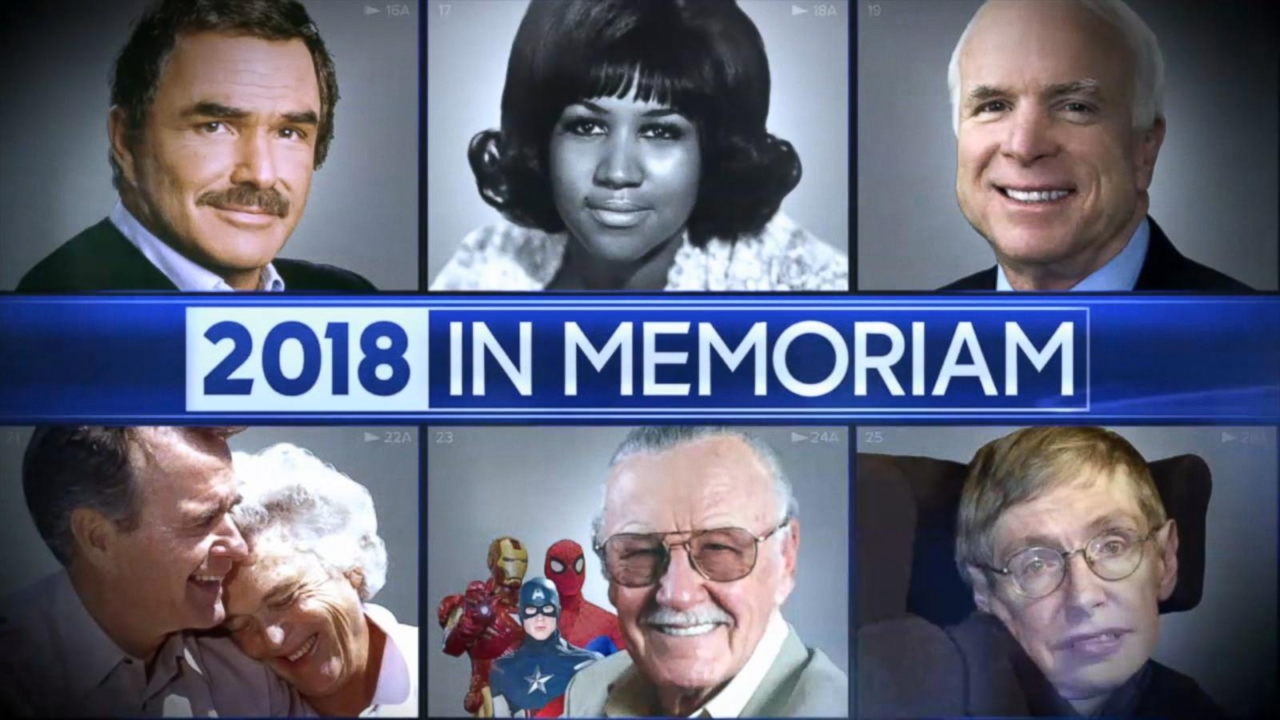 "What I appreciate about the special is you not only celebrate the lives and legacies of these iconic figures, but you learn even more about them through their friends and family. It's a wonderful way to honor their memory," said Robin Roberts, co-anchor, Good Morning America. "I totally agree with what Robin said," concludes Jimmy Kimmel, host of Jimmy Kimmel Live! Jimmy Kimmel, Robin Roberts and John R. Green are the executive producers of "2018: In Memoriam" with co-executive producer Seth Weidner and senior producer Evelyn Seijido. It is a co-production of Lincoln Square Productions, Rock'n Robin Productions and Smoking Baby Productions.