Josh and Ginnifer's Fairy Tale Wedding!
Snow White and Prince Charming are married in real life! Once upon a time, Ginnifer Goodwin and Josh Dallas got a call to do a fairy tale TV show which led to a real-life romance. These two continued to share true love's kiss long after the cameras stopped rolling. TV's Snow White tied the knot with her Prince Charming in April of 2014. As we said, this was a true fairy tale romance that we actually saw play out in a way on Once Upon a Time. To celebrate Ginnifer and Josh's magical news, take a look at some of this charming duo's most heartfelt moments as we make our way toward the wicked cool season finale.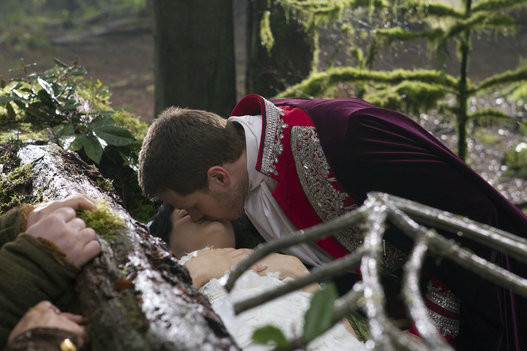 Love
OUT101013|123904_1695||3000|2000|2
Reunited Now, United Forever: Not even the most impossible obstacles, direst of circumstances or darkest magic can keep true love away. Snow White and Prince Charming continue to fight the good fight. They don't always win the day, but their love for each other will never fade away.
The Truest Heart: There was a time when Mary Margaret felt as though she couldn't go on. She believed her heart was becoming black because of her past deeds. David saw things differently. For if there's one person in this world who knows what's in your heart, it's your true love.
Heartache and Heartbreak: True love is never easy. Sacrifices must be made and dreams are sometimes dashed. Snow White and Prince Charming did what they had to do to save their daughter, Emma, when she was born. It wasn't what they wanted though. They wanted to be a family. Mary Margaret felt cheated after having lost out on so many years together. She wanted a do-over. David would have loved that, but he revealed it would be impossible.
Love Potion: Did we say Mary Margaret's wish was an impossible one? Nonsense. Nothing is impossible when it comes to true love. With a little help from Mr. Gold, David was able to ditch dream shade poison in his system and focus on fulfilling his true love's wish. But first they needed to share true love's kiss. Again!
Snow White and Prince Charming. Their love truly is the kind you find in fairy tales, and sometimes real life. Right, Ginnifer and Josh? Congrats to the happy, growing family. Yes, a baby is on the way in multiple worlds. How will this all play out in the fairy tale one? We'll just have to keep watching Once Upon a Time right up to the Season 3 finale SUNDAY MAY 11 8|7c only on ABC! As for Ginnifer and Josh, feel free to send them some "happily ever after" wishes in the comments below.