Priyanka Chopra Stars in ABC's "Quantico"
Bollywood star Priyanka Chopra is coming to ABC SUNDAYS 10|9c this Fall on the new show Quantico. Priyanka makes her American television debut in the role of Alex Parrish on the highly-anticipated drama. The actress, recording artist, and former Miss World posted on Twitter that she recently began her first day of shooting on the set of Quantico.
Day one ready.. Here we go!! #Quantico #AlexParrish https://t.co/rQejrL2gqV

— PRIYANKA (@priyankachopra) July 27, 2015
Priyanka's debut single, "In My City," featured will.i.am, and was the voice of the NFL Network's Thursday Night Football franchise for the 2012-13 seasons. She has appeared in numerous ad campaigns for companies including Beats by Dr. Dre and its Pill XL speakers. Chopra is also the first Indian Guess Girl appearing in ads for the iconic American brand in their recent holiday campaign.
On top of her many accomplishments in the entertainment industry, Priyanka is a humanitarian who serves as a UNICEF Goodwill Ambassador, United Nations Girl Up Champion, and is involved in a number of efforts to protect children's rights and promote the education of girls in India, including her namesake charity, The Priyanka Chopra Foundation.
Priyanka is also a passionate writer, and contributes monthly to her column on Elle.com, "Pret-a-Priyanka." She has also authored essays for The New York Times and the Hindustan Times.
Chopra splits her time between Los Angeles, New York and Mumbai – but is quick to point out that she mainly lives on airplanes.
Watch Priyanka, who plays a new FBI recruit named Alex Parrish, tell her story in the trailer.
Alex's narration begins over a shot of her waking up, dusty and disheveled, in the rubble of a building in the aftermath of an explosion. "Protecting our country had always been my dream," she says. "But my life took a very drastic turn."
Alex goes back to when it all started, on her way to the FBI Academy. She's a member of a diverse group of recruits just arrived at the FBI Quantico Base for training. Her fellow trainees, including Ryan (Jake McLaughlin), Nimah (Yasmine Al Massri), Shelby (Johanna Braddy), Simon (Tate Ellington), and Caleb (Graham Rogers), come from all walks of life.
From the first day, the trainees are pitted against each other. The goal is to push the new recruits beyond their limits, so that one by one, they are weeded out, until only the best remain.
But even the best and the brightest didn't see the attack coming. An anonymous tip claims the explosion was an inside job, and the investigation turns to the new recruits. Suddenly, Alex is the FBI's main suspect in what is called the most devastating terrorist attack on American soil since 9/11. "I never thought before I could save our country, I'd have to save myself," she says.
An FBI instructor (Aunjanue Ellis) informs Alex the attack is being pinned on her, and only she can fix it. Can Alex use her skills and FBI training to expose the truth and clear her name? Quantico premieres SUNDAY SEPT 27 10|9c on ABC.
Alex (Priyanka Chopra) and Ryan (Jake McLaughlin) report for FBI training at Quantico.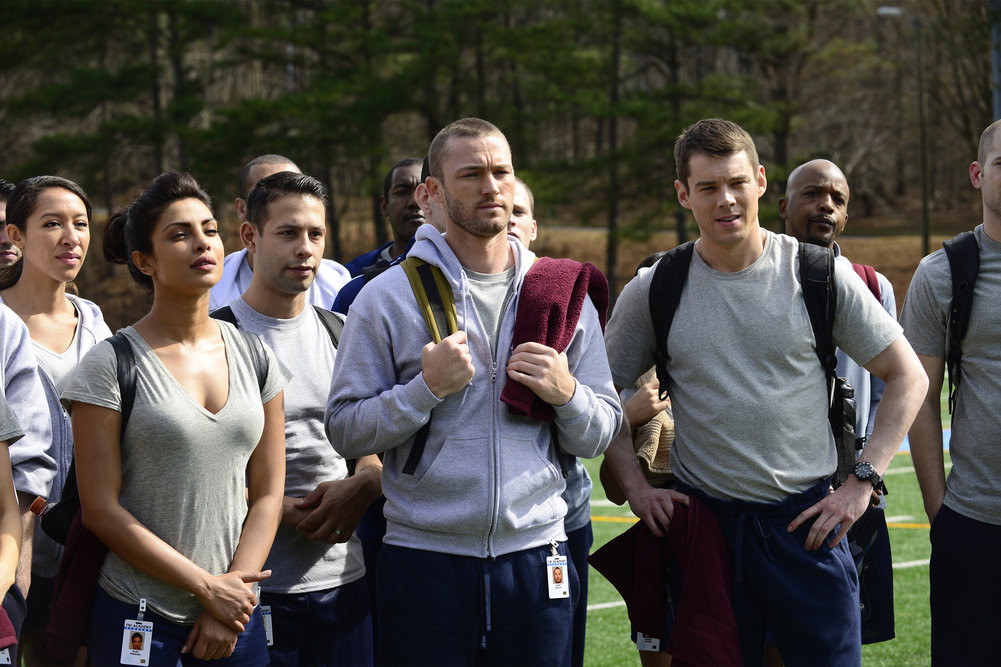 New FBI recruits (L-R) Shelby (Johanna Braddy), Nimah (Yasmine Al Massri), and Alex (Priyanka Chopra) from ABC's Quantico.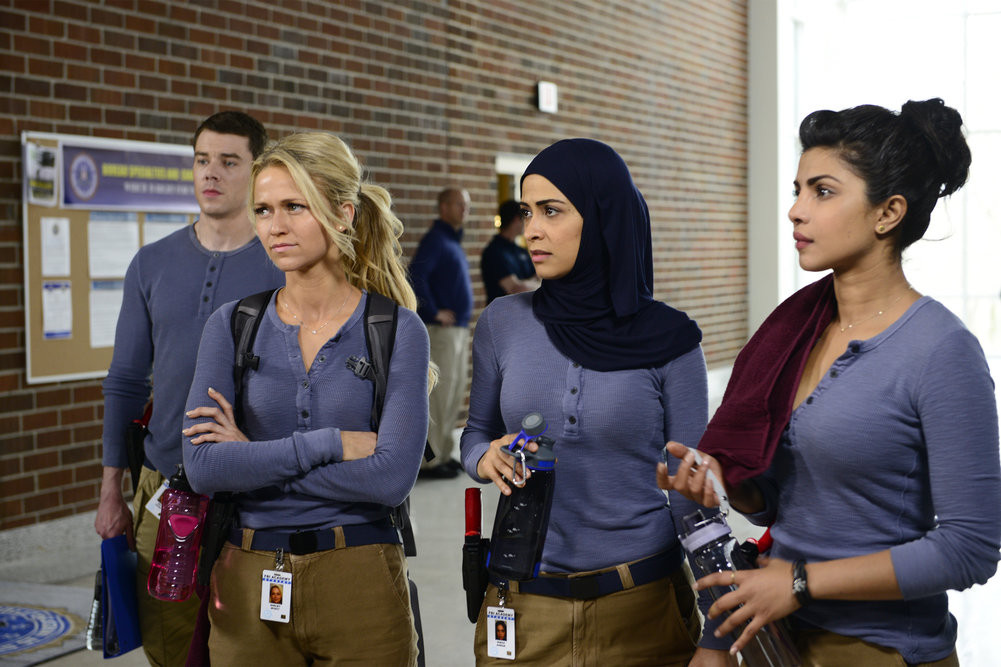 RELATED: Quantico Series Premiere Date Announced
ABC's new series Quantico stars Priyanka Chopra as Alex, Jake McLaughlin as Ryan, Aunjanue Ellis as Miranda, Yasmine Al Massri as Nimah, Johanna Braddy as Shelby, Tate Ellington as Simon and Graham Rogers as Caleb. Quantico was written by Josh Safran. Executive producers are Josh Safran, Mark Gordon and Nick Pepper. Quantico is produced by ABC Studios.