Gladiator Report: Episode 301 "It's Handled"
Welcome to the debut edition of the Gladiator Report. This is a quick look at what recently went down in the scandalous world of Olivia Pope and Associates. There's no way we can list all of the juicy, jaw-dropping, rant-filled moments from each episode. There are way too many! So feel free to add anything we missed in the comments section below. Now, onto the highlights of the Season 3 opener "It's Handled."
Most Confusing, Complex, Cheek-Cupping Father-Daughter Exchange Ever: Olivia's dear old dad always tried to teach her a valuable life lesson. You have to be twice as good as them to get half of what they have. Makes sense if you do the math. Rowan asked his daughter if she had to be so mediocre before gently looking to cup her cheek. It was a complex, unsettling, head-scratching back-and-forth. See for yoursefl:
That's So Harrison: At least once each episode, Harrison lets loose a verbal parade of slick sayings, cool catchphrases and impassioned pleas without ever coming up for air. His "It can't be Liv" phone call to Cyrus oozed all the usual coolness of a typical Harrison diatribe.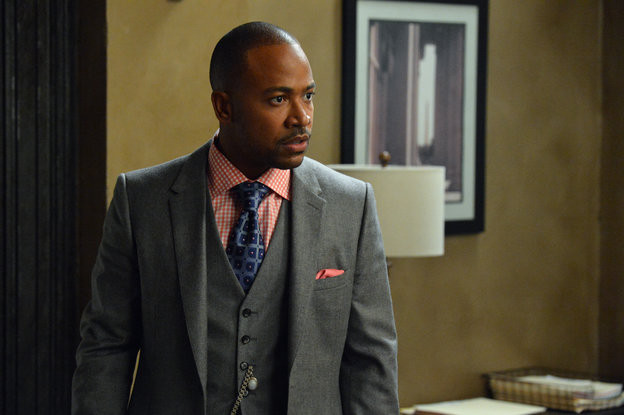 Rant of the Day: Normally, you'd think this honor would go to Cyrus on a weekly basis, but Rowan takes the cake this week with his speech about the freedom he makes possible after Olivia asked about Jake Ballard. This guy could give Colonel "You Can't Handle the Truth" Jessup a run for his money. Rowan warns, "No one refuses an order in my business." Well, that's not entirely true. Olivia did get off his plane. Still, it was a scary-good speech. Check it out:
Mellie Being Mellie: Did you catch the look Mellie had after Secret Service agent Hal told her she deserves better than how her hubby treats her? She was caught completely off guard, but only for a moment. Then she went right back into Mellie-mode. Loved it!
The Old Switcheroo: The President admitted to Sally that he slept with someone that's not his wife. He sincerely apologized for not living up to his promise to being the best man he could be. This had Sally agreeing to give him a little time before he tells the world the truth. Of course, then he didn't. Sally never saw it coming. If she had, she likely wouldn't have bared her soul like she did here:
White Hat Moment: Hard to find one in this episode, but it probably has to be the great risk Fitz took to free Olivia from Mellie's clutches. See if you agree after watching the following clip:
The Quotes Are In:
Please, Register to Vote: Cyrus (after Sally Langston declares she is the Lord's witness): "The Lord did not fill out his voter registration card. So, guess what? The Lord does not have the right to vote in the United States of America!"
A Simple Request: Olivia: "Mellie, I know the situation is difficult. I do. And I'm so, so sorry. But we have a job to do here and in order for me to do my part effectively, I'm gonna need for you to refrain from referring to me as a whore. At least in front of my face."
Whatever Works:
Olivia: "It works. The truth works."
Fitz: "The irony."
History Lesson: Mellie: "If all we had to talk about was a blue dress with a stain and a cigar that had been in interesting places, I'd be fine."
Recurring Line:
Fitz: "Hi."
Olivia: "Hi."
Resistance is Futile: Once Mellie leaves that top secret room, Fitz tries to comfort Olivia with a hug. As usual, she finds it impossible to resist his embrace. See their exchange:
Will there be more embraces, more tears, more rants in next week's "Guess Who's Coming to Dinner" episode? We have no idea. Well, we have some idea. There will likely be more rants. See you next time, Gladiators!