Scandal: Top 5 OMG Presidential Election Moments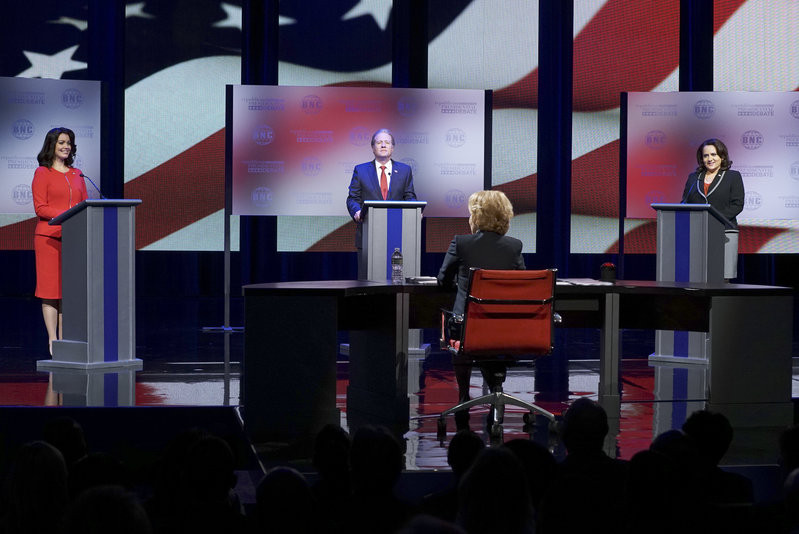 With the 2016 presidential election approaching, President Fitzgerald Grant's final days in the White House are numbered. The 2016 election season is really heating up on Scandal Season 5! Even though the primary race is only just beginning, there has been a lot of note-worthy action. Between surprise candidates and Scandal-ous secrets, it is not going to be an easy road to see which person wins your vote, Gladiators. Here are the Top 5 OMG Scandal Election Moments...so far!
5. Cyrus Makes a Candidate
While the tension has been mounting for quite some time, Cyrus' exit from the Oval Office couldn't have been predicted. A White House without Cyrus? It almost doesn't seem possible. More shocking than Abby firing Fitz's Chief of Staff is the way Cyrus meticulously executed a plan to make Pennsylvania Governor Francisco Vargas America's hero-turned Democratic presidential candidate.
4. Edison Teams with Papa Pope
There's nothing worse than an ex that just won't go away. Olivia thought she had an ally when seeking advice from dear ol' dad on whether or not to take Governor Vargas' brother's dirt on Susan Ross in exchange for some on Edison Davis, but she was dead wrong. Papa Pope discouraging his daughter from hurting someone who never did anything but be nice to her later suddenly made much more sense. Proving once again Papa Pope is always one step ahead, it is revealed he is backing Edison for president!
3. Hollis Doyle Gets in the Game
No one, especially Mellie Grant, was prepared for greasy, oil tycoon Hollis Doyle to throw his hat in the Republican race and steal way more than just a campaign slogan. The American public couldn't possibly want an anti-feminist, anti-immigration, gun-toting conservative to run the country over Mellie could they? Time will tell.
2. Mellie Grant's Burger-Gate
Senator Mellie Grant has failed miserably in her efforts to try to appear like a woman of the people. Things go quite well at Gettysburger...until Mellie makes a major fumble saying she visits the establishment every Sunday, the only day the Civil War-themed burger joint is closed. Oops! Better luck next time, Mellie.
1. Susan Ross Has a Secret
Vice President Susan Ross definitely has the likeability factor down, but a secret from her past might be enough to ruin it all. As one could imagine, it takes a lot to shock Olivia Pope. Whatever information Olivia gets on Susan is a real doozy based on her expression when opening the ever-elusive folder. Will it be scandal-ous enough to take Susan out of the race?
Find out on an all-new episode of Scandal, "The Miseducation of Susan Ross," airing THURSDAY 9|8c, right before an all-new episode of The Catch!