5 Times Scandal's Abby Whelan Was on Fire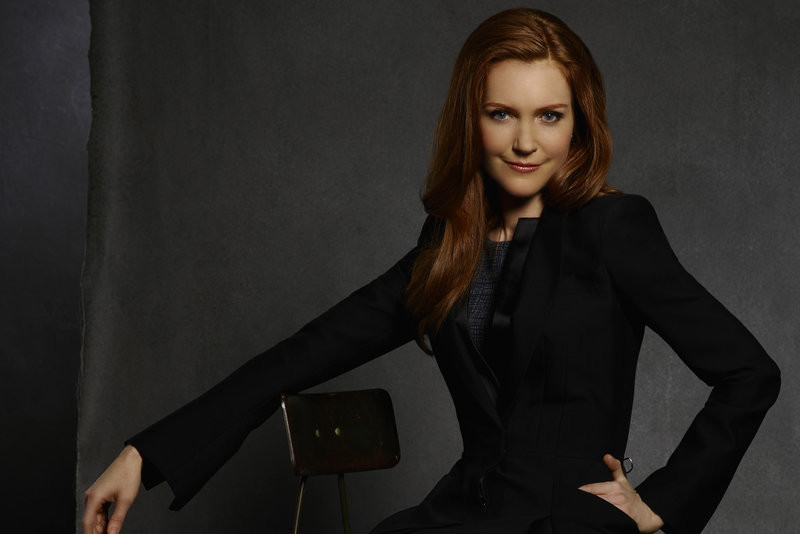 Abby Whelan (Darby Stanchfield) is the smart, confident and sassy new Chief of Staff on Scandal. This former Gladiator is known for her trademark red hair and a fiery personality that won't back down, whether she's donning a White Hat or embracing her inner monster. From compelling moments where she shares the truth about women in power to confronting her abusive ex, here are five unforgettable Scandal scenes where Abby shows her true colors — and lets those around her know who is boss.
5. I'm Going to Shoot You
Abby Pulls a Gun on Her Ex|Chalk it up to PTSD, Chip.|Abby's abusive ex-husband and now Senate candidate Chip approaches her in the parking lot to talk about how far they've come and that it's time to kiss and make up. Abby threatens to shoot him in the face. Watch this intense scene from Season 4 Episode 4: Baby Made a Mess.
When Abby's abusive ex-husband approaches her in an empty parking lot to talk about how far they've come, Abby makes it clear they are never going to kiss and make up. He stole her chance at normal a long time ago. Now it's her turn to take aim.
RELATED: Scandal Season 5 Q&A with Darby Stanchfield
4. She's My Best Friend!
Abby Blows Up at David about Liv|"You have to tell me my only friend's been kidnapped!"|After Fitz tells Abby the truth about Liv's situation, Abby confronts David about not telling her. He replies technically that there was no reason to tell her, but after Abby's emotions fly, David warms up to comfort her. Watch this sweet scene from Scandal Season 4 Episode 12: Gladiators Don't Run.
After Fitz tells Abby the truth about Olivia's kidnapping, Abby confronts her ex David Rosen and emotions fly. She's furious he didn't tell her about the fate of her best… no, only friend.
3. Women In Power
Abby Tells the Truth about Women in Power|Do they talk about your clothes? Write about your thighs?|When it looks like Leo will be caught up in a DC sex scandal, Abby believes her own career is over. She begins typing her resignation letter and explains all the reasons why to Leo. She stands at the most powerful podium in the world, but that doesn?t stop the press from reporting on her appearance and her love life. It?s like being Leo?s girlfriend validates her or gives her an identity, despite her work, accomplishment and awards. Watch this scene from Scandal Season 4, Episode 16: It?s Good to Be Kink.
Abby believes her career as White House Press Secretary is over when Leo gets caught up in a D.C. sex scandal. She may stand at the most powerful podium in the world, but that doesn't change the fact that things are different for her than they are for her beau. Why? Well, because she's a woman.
2. Goodbye, White Hat
Abby Becomes Fitz's New Chief of Staff|I'll be the scariest monster you never knew you needed.|Abby tells Fitz that Cyrus is working for Vargas. She wants Fitz to fire Cyrus and hire her as Chief of Staff. Fitz agrees, but Abby has to fire Cy. After all, it's her job now. From Season 5, Episode 14, "I See You" of Scandal, which airs THURSDAYS 9|8c on ABC.
Abby discovers that Cyrus is working for Frankie Vargas and seizes the opportunity to get herself some power. Liv warns her that once she takes off the White Hat, there's no putting it back on, but Abby Whelan's ready to be a big dog. She's ready to be the scariest monster Fitz never knew he needed. Introducing the new Chief of Staff!
1. You Work for Me
Most recently, Abby was red hot as she crossed the one-and-only Olivia Pope. When it looks like President Fitzgerald Grant is going to take the blame in the Andrew Nichols fiasco, Abby turns to her friend – and former boss – for help. Liv doesn't exactly tell her what she wants to hear, so she takes matters into her own hands. That's one way to handle it.
What will Abby do next? And what does this mean for her friendship with Olivia? Scandal returns with all-new episodes THURSDAY, APRIL 21 9|8c! Do you have a favorite Sassy Abby moment that didn't make the list? Share it in the comments section below!
MORE SCANDAL
The Mighty Quinn Perkins: A Walk Down Scandal Memory Lane
Scandal's Marcus Walker: 5 Lessons in Becoming a Gladiator

7 Unforgettable Olivia Pope Quotes from Scandal
Watch Scandal Full Episodes Online for Free
OMG Scandal Moments from Season 5
Scandal: 7 Best White House Balcony Scenes