Scandal: Who Is Andrew Nichols?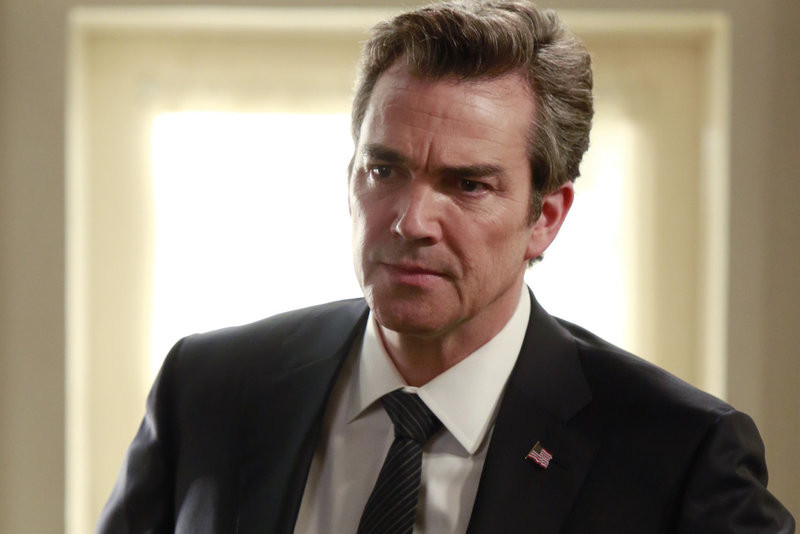 Who is Andrew on Scandal? Well, in "Ride, Sally, Ride," Olivia Pope filled in the team on Fitz's pick for his new vice president after Sally Langston (Kate Burton). The current governor of California, Andrew Nichols (Jon Tenney), is a bit of a playboy but he makes it work for him. He's basically clean and is polling well. Nevertheless, Olivia believes putting Nichols on the ticket is a bad move. Who knew how right she'd turn out to be? Let's take a look back at some of the former governor/vice president's most scandalous moments right here, right now.
Touchy Subject: In "We Do Not Touch the First Ladies," When Andrew jokes that he could steal the White House portrait of Jackie Kennedy, Mellie warns that we do not touch the first ladies. That's too bad because Andrew really wants to kiss her. Nevetheless, we do not touch the first ladies. However, no one said anything about the first lady touching him.
Pulling Out the Big Guns: In "Kiss, Kiss, Bang, Bang," Mellie and Andrew have an impromptu gun debate over drinks. The spirited conversation ends the moment they start kissing and rolling around on the floor.
Uncle Andrew?: In "Mama Said Knock You Out," Fitz is blindsided by Karen's claim that his wife is "doing it" with the man his daughter calls "Uncle Andrew." This sends the president storming through the White House halls. He finds his old pal in the middle of a big meeting and proceeds to sucker punch him in the face.
He Da Bomb: In "The Last Supper," Vice President Andrew Nichols takes a moment to shake hands with the kitchen staff at the hotel where he was giving a speech. BOOM! The car he was headed toward before his unplanned detour is blown up in a terrorist act. Andrew is okay. If his injuries were more severe, he wouldn't be able to straddle the First Lady like he does.
This Means War: In "Where the Sun Don't Shine," Olivia Pope is suddenly gone. A spilt glass of wine stains the sofa. Back in the White House, Andrew asks Fitz about the one thing in the world he can't live without. Fitz realizes what he's saying. He wants to know what he did with Olivia. Andrew responds, "How you likin' that war now, Sir?"
What the Huck: In "No More Blood," Andrew accepts his amnesty agreement along with the fact that he may never be president. He lets Mellie know that she'll never get there either thanks to all the secrets he knows about her. This has the First Lady turning to Elizabeth to help her shut down the vice president. This has Elizabeth turning to Huck. She wants Andrew to hurt for his crimes. That's not something Huck does anymore.
What happens now that the Andrew situation has been...um...handled? Scandal returns with all-new episodes THURSDAY, APRIL 21 9|8c!
MORE SCANDAL
5 Times Abby Whelan Was on Fire
Scandal's Marcus Walker: 5 Lessons in Becoming a Gladiator

7 Unforgettable Olivia Pope Quotes from Scandal
Watch Scandal Full Episodes Online for Free
OMG Scandal Moments from Season 5