Secrets of Scandal: Say Hello to My Little Friend
Hello, Gladiators! Last season, I posted a blog about how the Scandal writers come up with our cases of the week. In it, I wrote that our storylines aren't typically ripped from the headlines. This week's episode may have you questioning the truth of that claim, with a story about sexy text messages (or sexts, for those in the know) sent by a man who calls himself Redwood Johnson, with a wife who's standing by him. Sound a little bit familiar?
Of course, it's undeniable that the Anthony Weiner case was an inspiration for this episode. A quick refresher, for anyone who's been hiding under a rock for the last couple years: back in 2011, Weiner stepped down from his Congressional post after accidentally posting a sexually suggestive picture of himself on his Twitter account. Turns out he had been exchanging sexy messages and pictures with several women for some time.
Earlier this year, Weiner and his wife, Hillary Clinton aide Huma Abedin, gave a number of interviews, including one to the New York Times Magazine, in an attempt to rehab their image. This led to Weiner launching a campaign in the New York mayoral race, which seemed to be going reasonably well until brand new allegations of sexting with a woman named Sydney Leathers came to light. (Weiner allegedly had been writing to Ms. Leathers under the username Carlos Danger.) The allegations tanked Weiner's campaign and he unsurprisingly ended up with less than five percent of the vote in the mayoral race.
While the dirty details of "Carlos Danger" may have fascinated the news media and the public for months, a few sexy exchanges are simply not enough to warrant bringing in Olivia Pope. Even a juicy real-life scandal has to be adapted for television.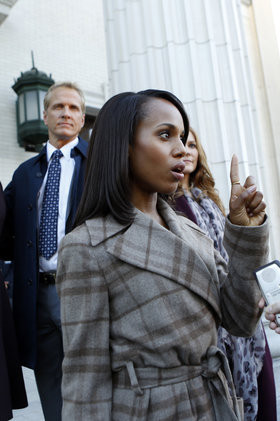 So, for our take on this case, we placed a sexting story in the context of a murder trial. Senator Richard Meyers, is accused of murdering a young woman named Desiree Oaks with whom he was texting, in order to cover up their dalliance. Meyers already has a defense attorney, but Olivia is brought in to manage the public perception of the case.
While various young women take the stand to testify about naughty texts sent from Senator Meyers, Olivia and her associates work behind the scenes to dig up dirt on the dead girl. But a major obstacle in the case comes when it is revealed that Meyers has continued to sext women even as the trial is ongoing. If Anthony Weiner's behavior is any indication, sexting can be an addiction – and the Senator just can't stop!
This, of course, sends Mrs. Meyers packing. Shelley has stood by her husband throughout the whole ordeal, but this additional evidence seems to be the breaking point for her. Olivia tracks Shelley down at a ritzy DC hotel, and gives one of her famous, rousing speeches to convince her to take the stand. Even though Shelley hates her husband, she knows he didn't kill anyone, and Olivia does convince her to defend his innocence in court.
But it turns out Shelley's knowledge that her husband didn't kill Desiree may come from a surprising place. Shelley was lying about being her husband's alibi – but not to protect him; it was to protect herself. Shelley was in fact the one to kill Desiree Oaks, in an attempt to put an end to her husband's sexting problem. But the jury will never know that, and they let both of the Meyers off scot-free.
Our episode ends with Senator Meyers launching his re-election campaign while working on his marriage. For Anthony Weiner, there may be little hope of ever launching a successful campaign again in the future. That is, of course, unless Weiner can find himself a real-life Olivia Pope. Judy?