The Bachelor 2019 Recap, Week 2: Demi Makes Moves, Billy Eichner Grills Colton
With the all-important first night under his belt, Colton Underwood is ready to continue his search for love on The Bachelor 2019. This week, Colton gets star-studded advice from Megan Mullally and Nick Offerman while some of Colton's bachelorettes share personal stories. Later, the hilarious Billy Eichner gives the Bachelor some wisdom while they host "Camp Bachelor," featuring classic summer contests like a tug-of-war. It doesn't take long for things to get heated, as tensions between the women flare up, and Colton himself notes that his awkward 1-on-1 Date wasn't going the way he'd hoped. Will the two pageant queens be at each other's throats? Will everyone else be at Demi's throat? You can watch The Bachelor season 23, episode 2 right here on ABC.com or in the ABC app, or read on for highlights and spoilers to find out who went home on The Bachelor!
RELATED: Join the Bachelor Fantasy League for a chance to win a trip for two to attend "The Bachelorette: After the Final Rose" in Los Angeles!
First Things First
When you've only got a few weeks to figure out which of the 23 women you're dating to marry—and who hasn't found themselves in that situation?—your best bet is to get into the personal stuff quickly. So Colton takes the first Group Date to a theater, where superstars and Bachelor fans Megan Mullally and Nick Offerman are there to help coach the ladies in revealing some personal stories of notable "firsts" in their lives on stage in front of an audience. To show them the ropes, here are Megan and Nick showing the ladies how it's done:
For her part, Demi gets right into the swing of things, and makes her story a bit of performance art:
As you can see, her stunt probably didn't make her any friends in the house. Tracy definitely didn't seem to appreciate it. Despite her confident approach, Demi didn't receive the Group Date Rose there—Elyse did.
Hannah B's Turbulent Episode
Miss Alabama Hannah B had herself a rollercoaster of an episode with plenty of good news and bad news.
Good news: She received the 1-on-1 Date Card
Bad news: It goes pretty terribly, with Colton expressing regret at one point.
Good news: She gets things back on track by sharing her nerves and opening up to Colton, and receives a rose for her trouble.
Bad news: It appears she and Caelynn haven't always gotten along—will that affect things going forward? Watch this clip for a hint at what appears to be a rivalry that goes back to their time at the Miss USA pageant:
Colton seems to really like both Hannah B and Caelynn, so the dynamic between these two women promises to be interesting as the season progresses.
Welcome to Camp Bachelor
Then it was time for Group Date #2: Camp Bachelor. Billy Eichner showed up to give Colton some advice and see how his search for love was going so far—and of course, crack a bunch of jokes:
Colton and this group of ladies had a cookout, played a few games, and then it was time to get serious: The women were split into two teams to compete in a three-legged race, a tug of war, and other camp-themed challenges. The winning team stays overnight with Colton; the losing team goes home.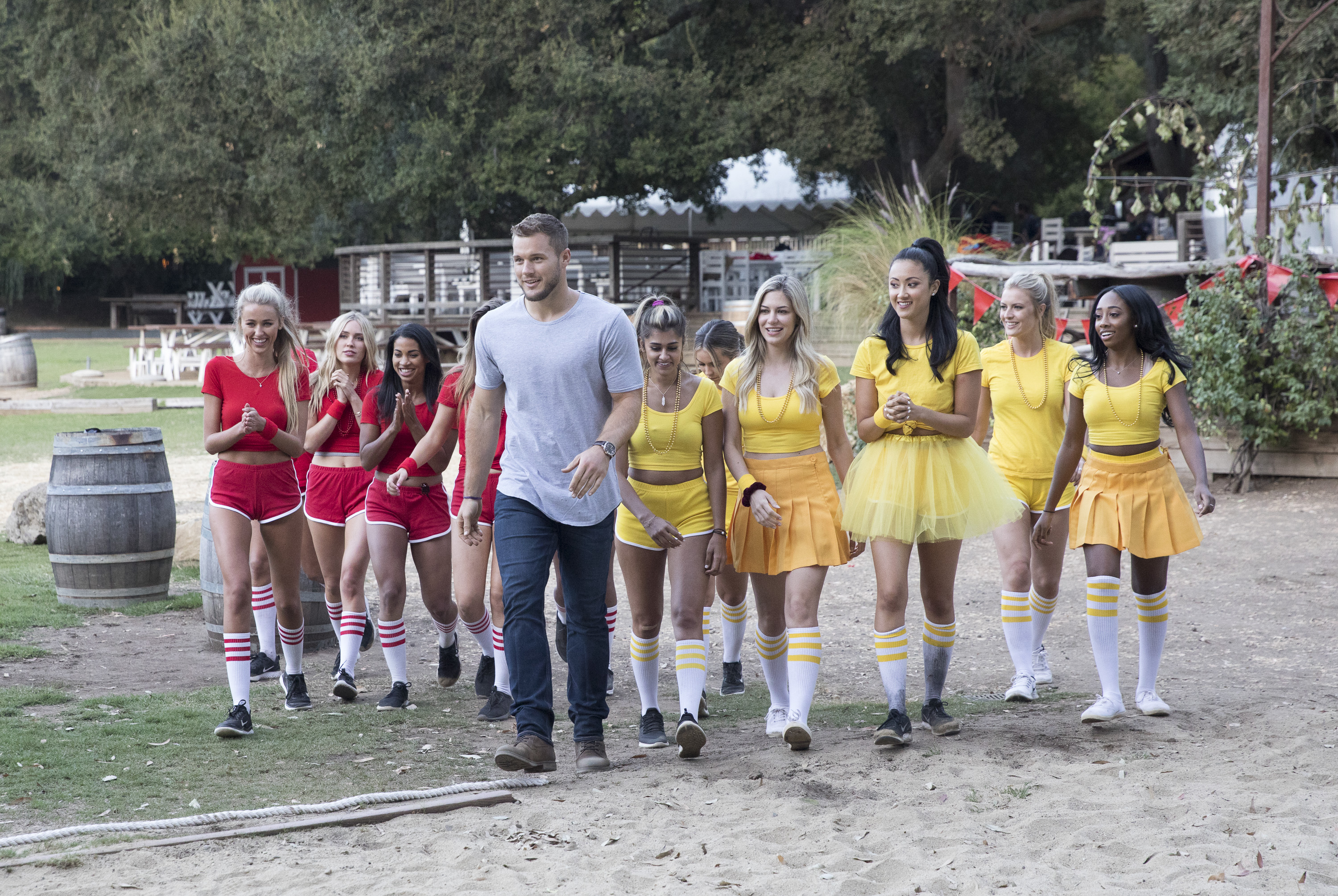 Alex B, Caelynn, Cassie, Heather, Katie and Tayshia were the victors, and Heather in particular used her extra time with Colton wisely. You see, while Colton may be a virgin, so is Heather—and she has even less experience than he does, since she's never even kissed anyone. Here's Heather telling Colton:
Colton handles it pretty gracefully, and Heather seems happy with the outcome of that conversation.
Who Went Home?
Naturally, Colton had to say goodbye to a few women this week, and after the cocktail party had ended, and the roses were handed out, Colton decided that he didn't have the connection with Alex B, Angelique, Annie, and Erika.
So after two episodes, Colton has narrowed the field from 30 bachelorettes to 19. As the relationships get more intense, so too does the drama. Don't miss The Bachelor MONDAYS 8|7c on ABC!