The Bachelor 2019 Recap, Week 3: The Caelynn and Hannah B Rivalry
With two Rose Ceremonies under his belt, you might think that things would be getting easier for Colton Underwood on The Bachelor 2019, but unfortunately for our muscular love-seeker, that's just not how things work. This week, Colton enlists a gang of pirates to help him figure out which one of the bachelorettes he should marry. He also gets a visit from stars Terry and Rebecca Crews as well as comedian Fred Willard in figuring out who might be the Bachelor's strongest woman in a competition that is quite aptly titled Bachelor's Strongest Woman. Once again, Demi stirs up some drama, and the simmering rivalry between Caelynn and Hannah B boils over into harsh accusations and one confused Bachelor. You can watch The Bachelor season 23, episode 3 right here on ABC.com or in the ABC app, or read on for highlights and spoilers to find out who went home on The Bachelor!
RELATED: Join the Bachelor Fantasy League for a chance to win a trip for two to attend "The Bachelorette: After the Final Rose" in Los Angeles!
A Shot Across the Bow
Colton's first group date found the ladies donning pirate gear and literally learning the ropes so they could perform in a pirate-themed dinner show. Caelynn and Hannah B are both on this date, and before it gets going we learn that though Caelynn and Hannah B were roommates at the Miss USA competition, there was some sort of falling out. When Caelynn gets announced as a hero that will save Colton in the show, here's Hannah B's response: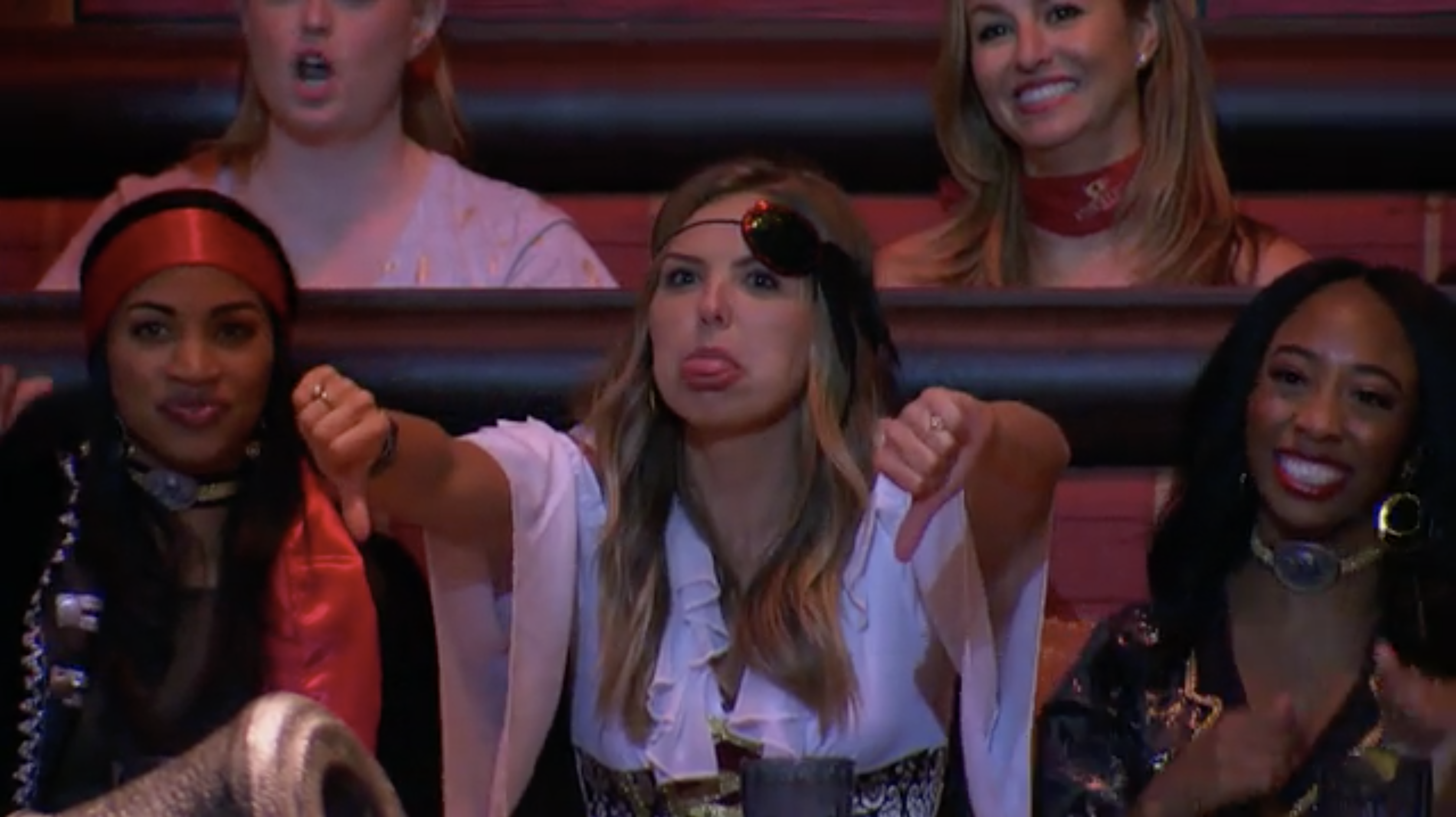 We feel pretty comfortable saying they don't seem like pals anymore.
Likewise, there's not a lot of love lost between Demi and Tracy, who had a bit of a tiff in Week 2. This week they were once again arguing about age and maturity, and then Demi blew off some steam by spanking Colton (as one often does):
Later that night, Hannah B intimates to Colton that Caelynn is not who he thinks she is. Colton brings it up to Caelynn, who's hurt by the accusation, and despite Hannah B's alert, Colton gives Caelynn the Group Date Rose. The rivalry is in full swing.
Step Right Up
Next up was Colton's 1-on-1 Date with Elyse, who received a group date rose last week. After a helicopter ride to San Diego, Colton tells Elyse that despite all appearances, this is actually a group date. She's not pleased:
Okay so that was possibly the cutest thing ever in the history of The Bachelor. Elyse certainly seemed to agree.
Strong Personalities
On the next group date, Terry and Rebecca Crews hosted the "Bachelor's Strongest Woman" competition on a group date. Chris Harrison and guest star Fred Willard provide commentary. We could describe this competition for you in great detail, but you know what they say: A video is worth 387 words in a Bachelor recap. So yeah, just watch the competition here:
But that strong performance wasn't the most dramatic moment of the night. That would the part where Colton sat down to chat with Caitlin. Their conversation was a bit stiff, which wasn't exactly a high crime, but it turned out that Colton was already thinking that maybe their connection just wasn't there:
Nicole took home the group date rose in there, so that's good news for her at least.
Gasping for Air at the Pool Party
If Caelynn and Hannah B's business is talking about each other and making Colton uncomfortable, then business is good. After Caelynn tells Colton that Hannah B is deceitful and manipulative, Colton talks to Hannah B...who calls Caelynn deceitful and manipulative. Faced with these conflicting stories, Colton doesn't know who to believe:
Meanwhile, most of the other women are just bummed that they didn't get to talk to Colton because he'd had most of his pool party time occupied by the drama.
As it turned out, both Caelynn and Hannah B were safe come Rose Ceremony time, but Bri, Catherine, and Nina were sent home this week, in addition to Caitlin's early exit.
Colton is down to 15 bachelorettes—exactly one half of the suitors that began this journey. Next week the crew is headed to Singapore for some exotic food, terrifying dates, a ton of ridiculously romantic settings, and of course, more drama. Don't miss The Bachelor, MONDAYS 8|7c on ABC!