The Bachelor 2019 Recap, Week 6: Who Isn't Here for the Right Reasons?
When we left off at the end of Week 5 of The Bachelor, Bachelor Colton Underwood stumbled upon Onyeka and Nicole arguing over who was a bully and who was there for the Right Reasonstm, and Colton finally just said Foop this Soup and took off, leaving the cocktail party and sending all the ladies into panic mode. Did he ever come back? Well, it would have been a pretty short episode if he didn't, and this one was packed lots of drama, so yeah, he came back. You can watch The Bachelor season 23, episode 6 right here on ABC.com or in the ABC app, or read on for highlights and spoilers to find out who went home on The Bachelor!
You're the Bully! No, YOU'RE the Bully!
Onyeka and Nicole continued yelling at each other for a bit when Week 6 kicked off, but Colton didn't take long to cool down and get on with the Roze Ceremony. In fact, he might have wanted to do it while angry, because when the roses were handed out, two ladies were left without: Onyeka and Nicole. If Colton was trying to send a message to the rest of the ladies that bickering will get you nowhere, well, message received.
Good Morning, Vietnam
The remaining ladies flew from Thailand to Vietnam for the next stage of their journey. Hannah G, who got the First Impression Rose back on the first night, had the first 1-on-1, a spa day that revolved around pampering, and apparently, making out. The two made out while getting massages, then made out while getting facials, then made out while wrapped up in palm leaves, then made out in a mud bath. You know, typical first date stuff. Colton said that though he was really into her, he felt like he didn't really know Hannah G all that well, but after a dinner where she opened up to him about her childhood and the like, he gave her the rose and the two made out some more.
The group date featured a lot less smooching and a lot more punching, as the ladies learned Vovinam, a form of Vietnamese martial arts. There was lots of giggling, but things got ugly quick once the punches started flying:
Things stayed serious at the cocktail party. Feeling like Colton just wasn't giving her as much as he was giving the other women, Sydney sat Colton down for a chat:
And that was that. Tayshia received the group date rose.
On the Hunt for Love
Kirpa had the next 1-on-1 date, and she and Colton spent their time out on the water, swimming, snorkeling, and hunting for sea urchin, which they later ate right there on the boat. Colton definitely seemed like he totally enjoyed eating it so very much: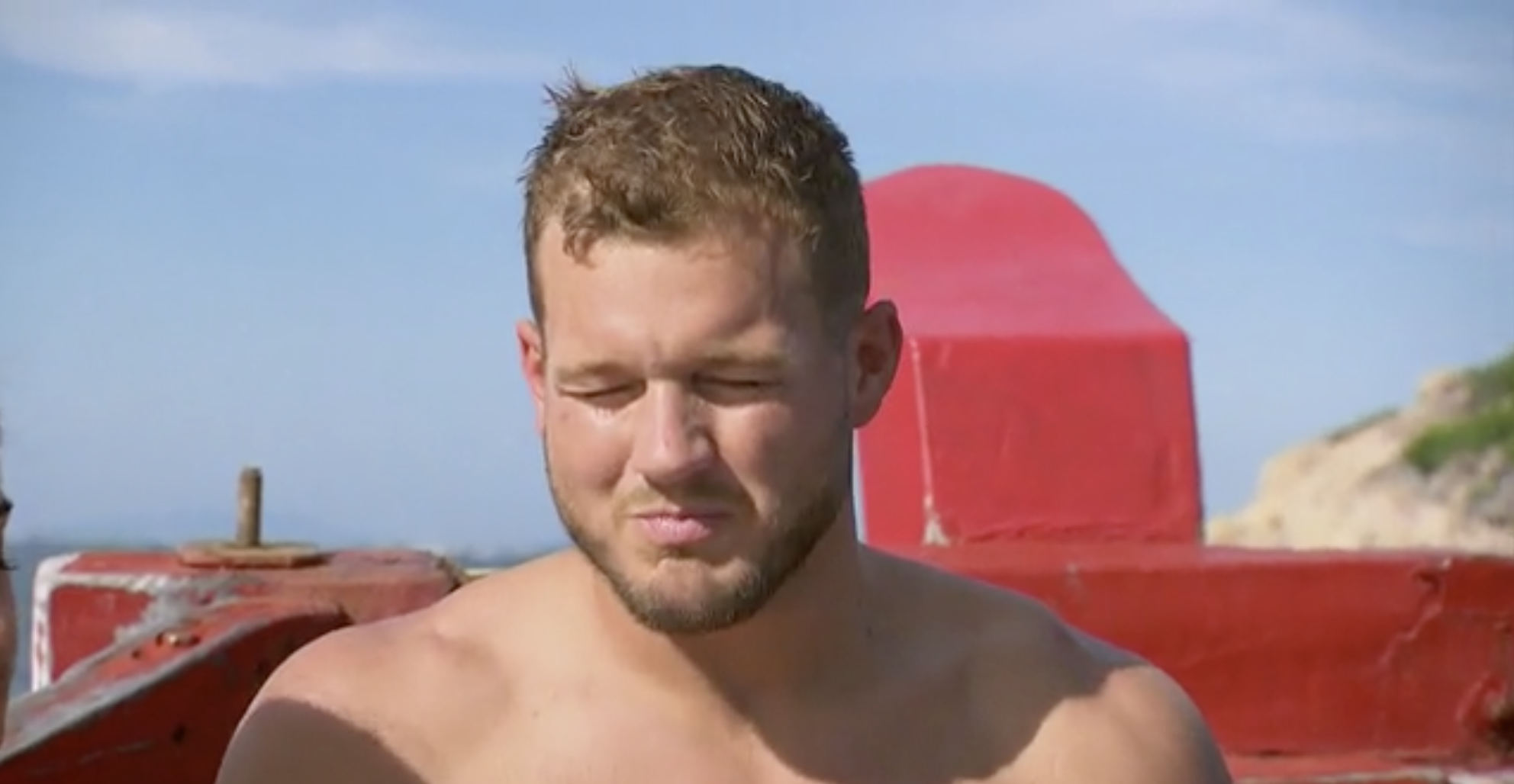 Kirpa hadn't gotten much screen time before now, so this was our first big look at her relationship with Colton, which seems like it's progressing nicely, as the two shared easy, open conversation. Kirpa revealed that she'd been engaged previously—and to a virgin! (Not on TV though, and not while he was dating 29 other women, so this whole situation is still pretty new to her.) Kirpa received a rose at the end of her date.
That night, Demi decided it was time for a bold move. (And when Demi says that, well, buckle your seat belts.) She snuck out and headed for Colton's bungalow, declaring "Hopefully, after tonight, Colton won't be a virgin anymore." And without further ado, Demi's Bold Move:
Oof ouch owie my heart...
No More Mr. Nice Colton (Okay Fine, He's Still Nice, But He Means Business)
If you were paying attention, you'd have noticed that Sydney and Demi both mentioned a little something upon their farewells: That there are some women here who are easy choices, but they're either not ready, or not right for Colton in some way. So after the Rose Ceremony, when it was Katie's turn to say goodbye, and she said something along those lines too, Colton just lost it:
Everyone's on notice now. No messing around. And amidst all that, it sure sounded like Tayshia and Kirpa were talking like they were going to put some sort of plan in motion. Maybe something good? Maybe something bad? Tune in next week to find out...
Don't miss The Bachelor, MONDAYS 8|7c on ABC!