Bachelorette Recap: Clint Sent Home, Nick V Returns, Rap Battles and Aladdin Auditions
When we left off last week, Kaitlyn Bristowe had gotten an earful from the guys about how Clint and JJ were the bad apples in the house, that they were two-faced, and that they needed to be sent home. Kaitlyn had heard enough after pretty much all the guys came to her with those same complaints, and sprang into action. Welcome to Week 4, where Kaitlyn handles her business!
First order of business: Dealing with Clint. Clint was busy telling the guys how confident he was when Kaitlyn pulls him aside for a chat and basically tells him she doesn't trust him:
He's clearly not happy, but he's even less happy when JJ doesn't have his back, and tells Clint he should apologize to everyone for his behavior. Clint and JJ go from buddies to enemies insanely fast after that:
So…uh…that was kinda weird, huh? JJ slapping himself? Anyway, after all that stress and drama, Kaitlyn couldn't even bear the thought of a Rose Ceremony -- so she just cancels it. Apparently it is that easy.
RELATED: Bachelorette Recaps and Eliminations - Catch up now »
After that, Kaitlyn and the guys head to New York City to continue the dating. First up is a group date where the guys will have head-to-head rap battles on stage in front of an audience.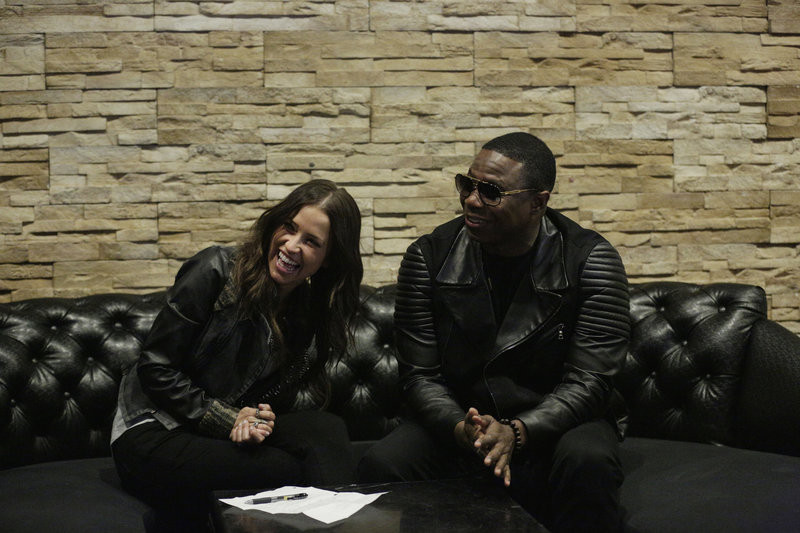 Kaitlyn Bristowe and Doug E Fresh
Hip-hop legend Doug E. Fresh hosts the event and helps the guys get their rhymes in order. All the guys are good sports about it despite their skills (or lack thereof), but one guy gets a lot of boos from the crowd:
Take a note: People will not cheer for you after you call them "hoes." Makes sense. But the battle is barely over when the real drama begins. Because, you see, Nick V from Andi Dorfman's season -- the guy who infamously called Andi out for having sex with him on national TV – showed up in NYC. He and Kaitlyn had talked briefly in the past over social media and text messages, and asked Kaitlyn she'd allow him join in this season and battle for her heart:
The guys, as you can imagine, are not thrilled by this news. Shawn in particular seems pretty upset about it. Jared has a 1-on-1 date with Kaitlyn in the middle of all this, but it's somewhat overshadowed by this looming cloud of bachelor. Kaitlyn waffles a lot on the subject, but ultimately makes a decision:
The next group date is an audition for Aladdin on Broadway. (For reals.) Whoever wins gets to play a bit part in the production with Kaitlyn, and the rest go home.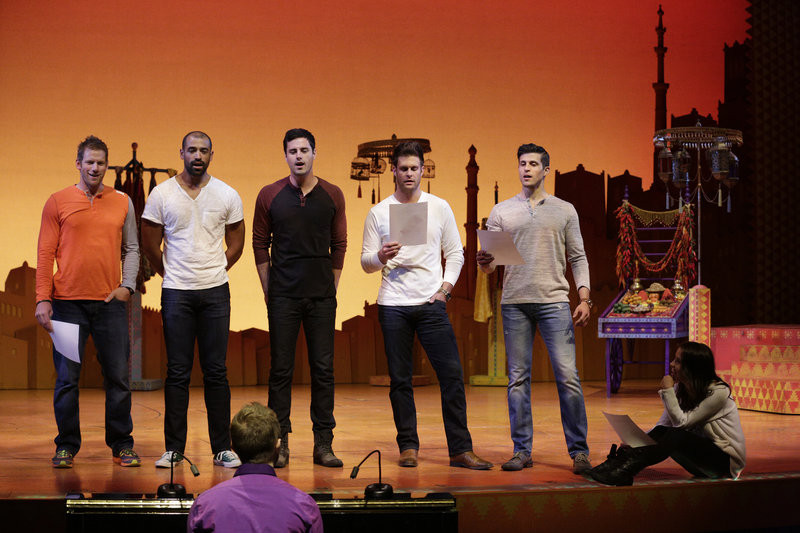 Joshua, Ian, Ben H, Joe, and Chris "Cupcake" practice their singing
Chris "Cupcake" was the winner, and gets to share this special moment with The Bachelorette:
But enough about love or whatever -- WHEN DOES NICK ARRIVE AT THE HOUSE?!?! Well, he arrives right at the end…so we have to wait until next week to see what goes down, and who goes home.
Watch The Bachelorette, MONDAYS 8|7c on ABC.