WABC's Sandy Kenyon Goes Backstage with the Cast of The Chew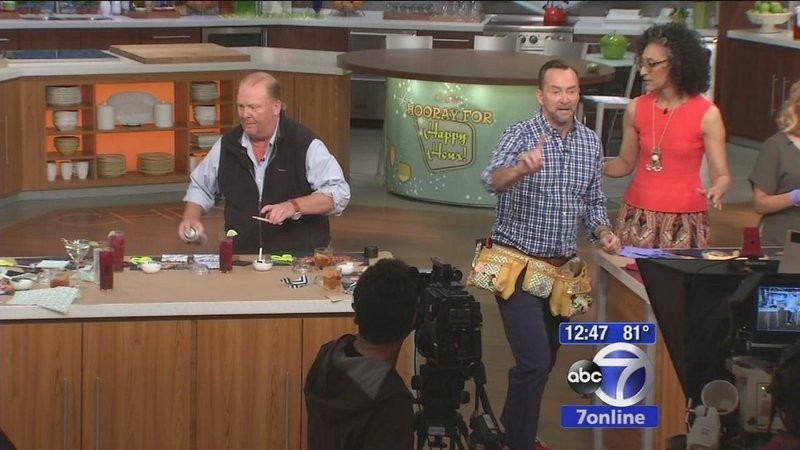 Watch the story on WABC's site
NEW YORK (WABC) -- I often marvel at the variety of stories I get to cover. Some are serious and require a lot of concentration.

Others are so much fun they hardly seem like work at all.

Some stories you get a bit of both. On the set of "The Chew", it was a mix of the serious with the sublime.

The Chew is all about eating, of course, and drinking, but after going behind the scenes, what I'll remember best is the dancing.

Our visit to the set came right after the cast won TV's highest honor.

Victory tasted even sweeter because the hosts of The Chew didn't expect to win.

"And then Carla and I went screaming up to the top and we were the most embarrassing recipients of the award ever, but it was really fun," said Daphne Oz.

"It's the best playdate ever," said Carla Hall.

"Play" and "fun" are words you hear a lot around here.

"I mean we spend every day making food and drinks and crafts, hanging out with celebrities. I mean it's the best job in the whole world," said Clinton Kelly.

Perhaps because they do feel so lucky, the stars of this show like to give back by throwing a spotlight on the less fortunate.

"Tonight, we celebrate the amazing work of individuals and organizations that are making a big impact on the fight against hunger," said chef Mario Batali at the annual "Can Do" awards gala, which raises money for the Food Bank of New York City.

"The fact is Americans aren't aware that 1 in 5 kids are hungry in this country, and that fact is the most amazing and pathetic thing," said Batali.

Batali brings his family to the Food Back once a month to serve.

"What really touches you is when you hand something to someone and you look across the counter at them & you say: 'well I was walking down the street, I wouldn't have said this person looks hungry,'" said Batali.

The Food Bank of New York City has provided food for 63 million meals for those in need in our city. It's based up at the Hunts Point Market in the Bronx and works out of a 90,000 square foot warehouse.

The Chew airs every day after Eyewitness News at Noon.