Welcome to the All-New Chew Website on ABC.com!
Hey Chew fans, The Chew's coming back MONDAY SEPT 8 1e|12c|p and to prepare for this new season, we took all of your feedback about our site and did a complete overhaul! Now you can access the site from any device, find and print your favorite recipes faster, check out the airing schedule and more…but by no means is this it. See for yourself by exploring our site; welcome to the all-new Chew website on ABC.com!

1. Access the THECHEW.com on any Device
Think of the last time you went to the grocery store and got the wild idea to make a recipe. What did you do first? You pulled out your trusty smart phone to get a recipe, but every site that you visited was a disappointment. The ingredient list was unreadable, the page wouldn't load, and more. Yeah,we've been there too. Now with THECHEW.com, you get the same great content no matter what device you are on PLUS we made it so you can actually use it! The site may look a little different on your phone vs. tablet or computer, but all the great recipes, crafts, and more are right there for you to access on all these devices.

2. Pinterest on Every Recipe
One of the most popular social media sites is now integrated onto THECHEW.com like you've never seen before. One of our favorite things to do online is to post pictures of food onto our Pinterest walls. But you know what? We figured out that it can be kind of a pain to go into every recipe that you want to post. We found a solution that a lot of us here are big fans of; the Pinterest share on our recipe thumbs. Now if you see a Pinterest logo in the upper left-hand corner of an image, you can post it right there instead of going into the actual recipe. We thought heck, sometimes you just want to post stuff that looks good, why not make it easier? Check out what it looks like!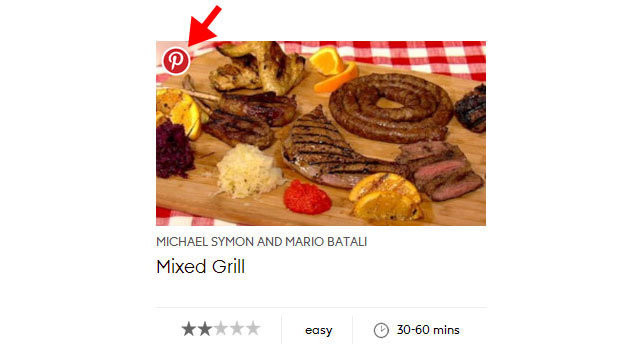 3. Recipes in Episodes
Back by popular demand, recipes can now be found in every episode! Let me paint you a picture of our site 6 months ago. You're watching The Chew on TV and see Carla making the most scrumptious looking apple pie. You think, I want to make that recipe and head over to THECHEW.com to get it, but you're disappointed to find that it's hard to locate. Do you search apple pie on the recipe search page, head over to the episode guide, or scroll through the vast catalog of recipes? Not the easiest task when all you want is THAT apple pie. Well, we came up with a solution. Head over to the episodes section of THECHEW.com and you'll see the exact recipes the chefs made in every episode. No more guessing plus you can stick around to watch the episode again in case you missed anything the first time around.

4. Recipe Collections
We've taken all of our great content and gathered them into collections that you can actually use. It's November and you're trying to figure out what to make for Thanksgiving in 2 weeks; head on over to the recipes section on THECHEW.com and take a gander at all of our Thanksgiving recipes. Stumped on what to make for Christmas dinner? We got that covered too. Not only is this useful for holidays, but we have collections broken down by ingredient (chicken, beef, and pork), cuisine (Southern, Italian), and heck we even took time to make cocktail collections broken down by liquor(mojito anyone?).

5. New & Improved Recipe Box
The recipe box is back with a vengeance! Before all you could do basically was save your recipe. Our brand new recipe feature now allows you to save the recipe, prepare grocery lists and find local coupons on your favorite items and more.

That's just some great highlights of our new site, but that's not all. Check out our newly redesigned (and easier to read) printable recipes, new ticketing page, and redesigned section for Clinton's Crafts. Do you have any other suggestions? Feel free to leave them in comments below!