The Chew Recap: The World's Biggest Baby Shower
It's The World's Biggest Baby Shower for Daphne Oz! The cast and the crew went all out to celebrate Daphne's second bundle of joy. From special guests, to amazing crafts and dishes you can make for your own baby shower, you can see how it all went down!
Don't forget, you still have time to watch the full episode of THE WORLD'S BIGGET BABY SHOWER.
The Day Started with Viewers At Home Sending Daphne Oz Their Well Wishes
The Chew was delighted that you, the audience, took to social media and sent Daphne and her baby some of your most heartfelt well wishes. Mario and the crew picked out their favorites and read them to Daphne and brought her to joyous tears.
Clinton's Crafts: Clinton Shows Daphne (and you) how to Give Any Party With A Festive Flair…Especially Baby Showers!
Get the Bowtie Napkins Craft
Baked Penne with Double Cheese Fondue and Pretzel Topping Recipe by Mario Batali
Mario made a pregnancy craving meal for our friend and special guest, Ginger Zee (who is also pregnant), of Good Morning America.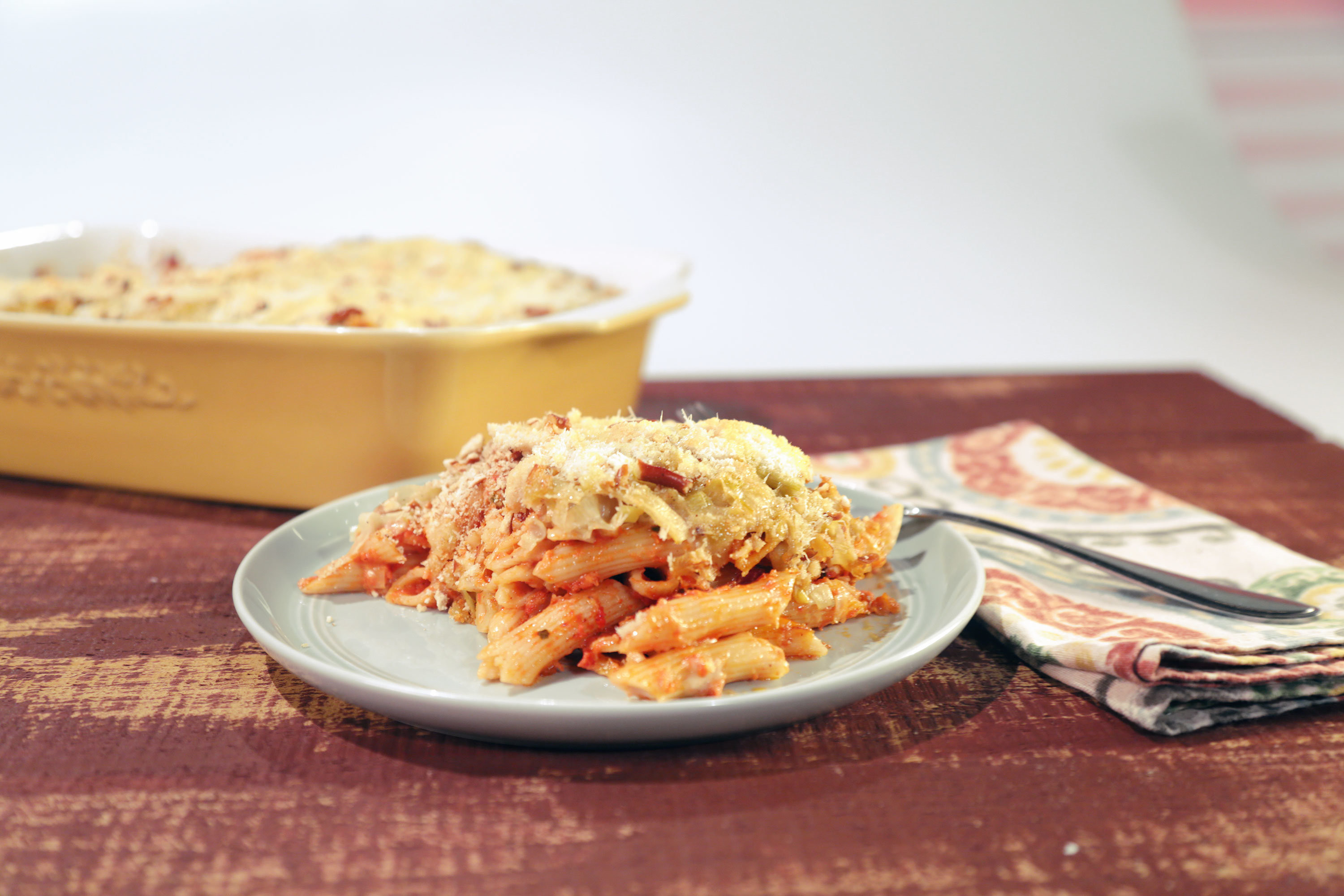 The party could not have happened without the help of some of our sponsors
MY M&MS - Daphne Oz's Baby Shower Sponsors
With 25 fun, vibrant colors, MY M&M's chocolate candies help make special moments more memorable through personalization. On The Chew, audience members received an exclusive THE CHEW blend of MY M&M'S as well as a gift card. Now, get this same gift box and create your own personalized blend for only $20, that's more than 60% off. This sweet deal is available for the next 48 hours! www.mymms.com/thechew
Banana, Date, and Nut Muffins Recipe by Lisa Oz
These muffins were Daphne's favorite growing up so her Mom, Lisa Oz, stopped by to make them with her daughter. The tradition will live on!
RELATED: The Chew's Daphne Oz Announces She's Pregnant Again! | Upcoming: The Chew to Broadcast from the 20th Annual Epcot International Food & Wine Festival