5 Frightfully Delicious Sweets
Lure trick-or-treaters with these terrifyingly tasty confections, all guaranteed to deliver a scream-worthy sugar high.
1. Pumpkin Pie Pop-Tarts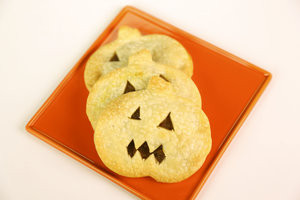 Peter, Peter Pumpkin Eater would be delighted to rise and shine with these festive breakfast pastries. Laden with a not-too-sweet filling, these flaky tarts will impress even the pickiest of pumpkin eaters.
Get the recipe: Pumpkin Pie Pop-Tarts
2. Crispy Peanut Butter Caramel Apples



Bobbing for apples? Give this traditional festivity a facelift by introducing a few of these candy-coated apples. Stuffed with a crispy peanut butter mixture and drenched in honey caramel, these dressed-up apples win for sweetest costume.
Watch how they're made above and get the recipe: Crispy Peanut Butter Caramel Apples
3. Cream Cheese Truffles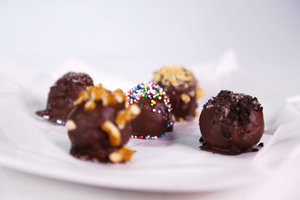 Fun-size candies don't stand a chance next to these one-bite delights. A luscious cream cheese center is surrounded by a velvety smooth chocolate shell and sprinkled with cookie crumbs, nuts, or sea salt for a whimsical finish.
Get the recipe: Cream Cheese Truffles
4. Halloween Themed Cookies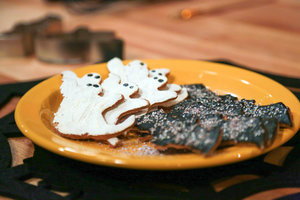 The ideal addition to an October lunchbox, these spooky cookies are cut into holiday-themed shapes, with appearances from of the usual cast of Halloween characters.
Get the recipe: Ghosts and Bat Cookies
5. Pumpkin Chocolate Cake



It's no trick: the classic Fall flavors of pumpkin and spice give way to a sophisticated treat. After the candy bowl is empty and trick-or-treaters have gone to bed, indulge in a slice of this heavenly pumpkin cake layered with mascarpone filling and drizzled with rich dark chocolate ganache.
Get the recipe: Pumpkin Chocolate Cake