You don't need a pocketful of gelt or a pack of reindeer to say happy holidays. Treat your hostess, neighbors and friends to one of these 8 homemade treats – all guaranteed to make the day merry and bright.
1. Pretzel Cheesecake Bars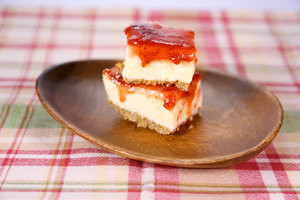 Decked in one of the season's signature colors, these inventive cheesecake squares feature a pretzel and graham cracker crust, velvety-smooth cream cheese filling, and strawberry preserves as bright as Rudolph's nose. Use a glass baking dish – rather than a cheesecake pan – to yield 24 perfectly sized bars.
Recipe: Pretzel Cheesecake Bars

2. Nut Nuggets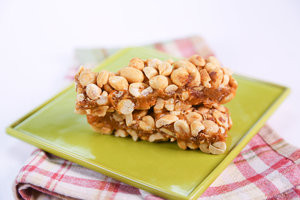 For those who don't have chestnuts roasting on an open fire or Jack Frost nipping at their nose, these nutty bars provide a comforting taste of winter. Homemade dulce de leche and a peanut butter-marshmallow mixture are sandwiched between layers of roasted peanuts – ideal for party favors or stocking stuffers.
Recipe: Nut Nuggets


3. Sugared Cranberries
Coated in a heavenly dose of sugar, these frosted beauties look as if they've rolled in a fresh mound of snow. The sweetness of the sugar cuts the tartness of the berries, so these zippy bites can be eaten alone, as a mix-in for ice cream or yogurt, or as a topping for cooked pears as a nod to the famed partridge in a pear tree.

Recipe: Sugared Cranberries

4. Palmier Cookies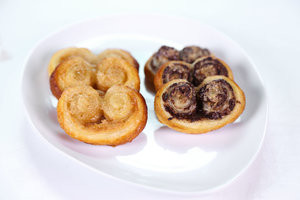 Ace your office cookie swap with these delicate and sophisticated French pastries. Named for their shape, palmiers are said to resemble elephant ears – though, we think they have more in common with light-as-air snowflakes. After all, what could impress your co-workers more than a fancy French accent?
Recipe: Palmier Cookies

5. Cream Cheese Truffles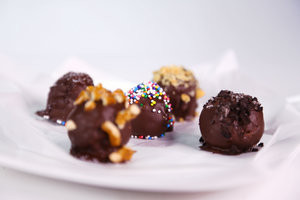 Who needs designer truffles when these homemade ones can be yours for a fraction of the cost? Choose from ultra-smooth cream cheese bites or irresistible peanut butter balls and ask the little elves in your life to decorate with toppings like sea salt, nuts, or crushed pretzel pieces.
Recipe: Cream Cheese Truffles

6. Castagnacio
When making a list, check it twice for chestnut flour – the secret ingredient in this traditional Italian cake. Serve an elevated version – laden with fresh rosemary and red grapes – and pour yourself a glass of dessert wine before cozying up to the fire.
Recipe: Castagnacio

7. French Macarons

Say hello to the trendiest cookie there ever was. These French natives have practically taken the country by storm due to the killer combination of light meringue cookies and smooth pumpkin ganache filling. For an inventive twist, experiment with fillings like salted caramel, chocolate hazelnut spread, or seasonal fruit jam.
Recipe: French Macarons

8. Mo Mo's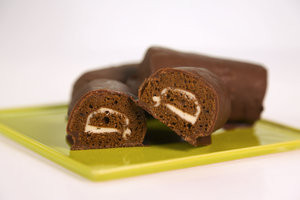 These hand-held cakes are a spin on the lunchtime treat that share their name with Santa's signature laugh. Rolled with sweet cream and topped with a sugary glaze, these individual treats are guaranteed to send Santa on a sugar high come Christmas Eve.

Recipe: Mo Mo's
For more gift ideas, shop The Chew's Holiday Gift Guide.