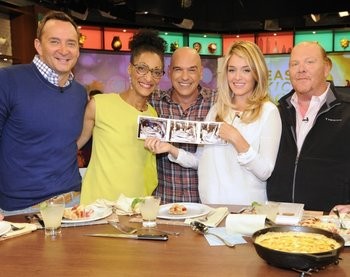 Daphne Oz brought down the house today when she shares some news with the co-hosts and the studio audience. She and her husband of three years, John Jovanovic, are expecting their first child and she just completed her first trimester.
After making everyone jealous when she discussed her anniversary trip to Italy and France she mentioned that she wanted to show a fun picture from the summer—and pulled out a strip of three sonogram images. As the audience erupted in cheers and applause, her friends Michael, Mario, Clinton and Carla were thrilled.
The hosts leapt to their feet to hug and kiss her, a few shed tears of happiness, while Michael proclaimed that he suspected something when she did not have coffee this morning, and Mario joked that the sonogram looks like him.
This will also be the first grandchild for Daphne's parents, Dr. Memhet Oz and Lisa Oz.