Maya Lynne Robinson Joins the Cast of ABC's 'The Conners' as a Series Regular
Actress Maya Lynne Robinson will be joining the beloved cast of
The Conners
as a series regular, alongside John Goodman ("Dan"), Laurie Metcalf ("Jackie"), Sara Gilbert ("Darlene"), Lecy Goranson ("Becky"), Michael Fishman ("D.J."), Emma Kenney ("Harris"), Ames McNamara ("Mark") and Jayden Rey ("Mary").
The Conners
premieres TUESDAY, OCT. 16 (8:00-8:31 p.m. EDT), on The ABC Television Network, streaming and on demand.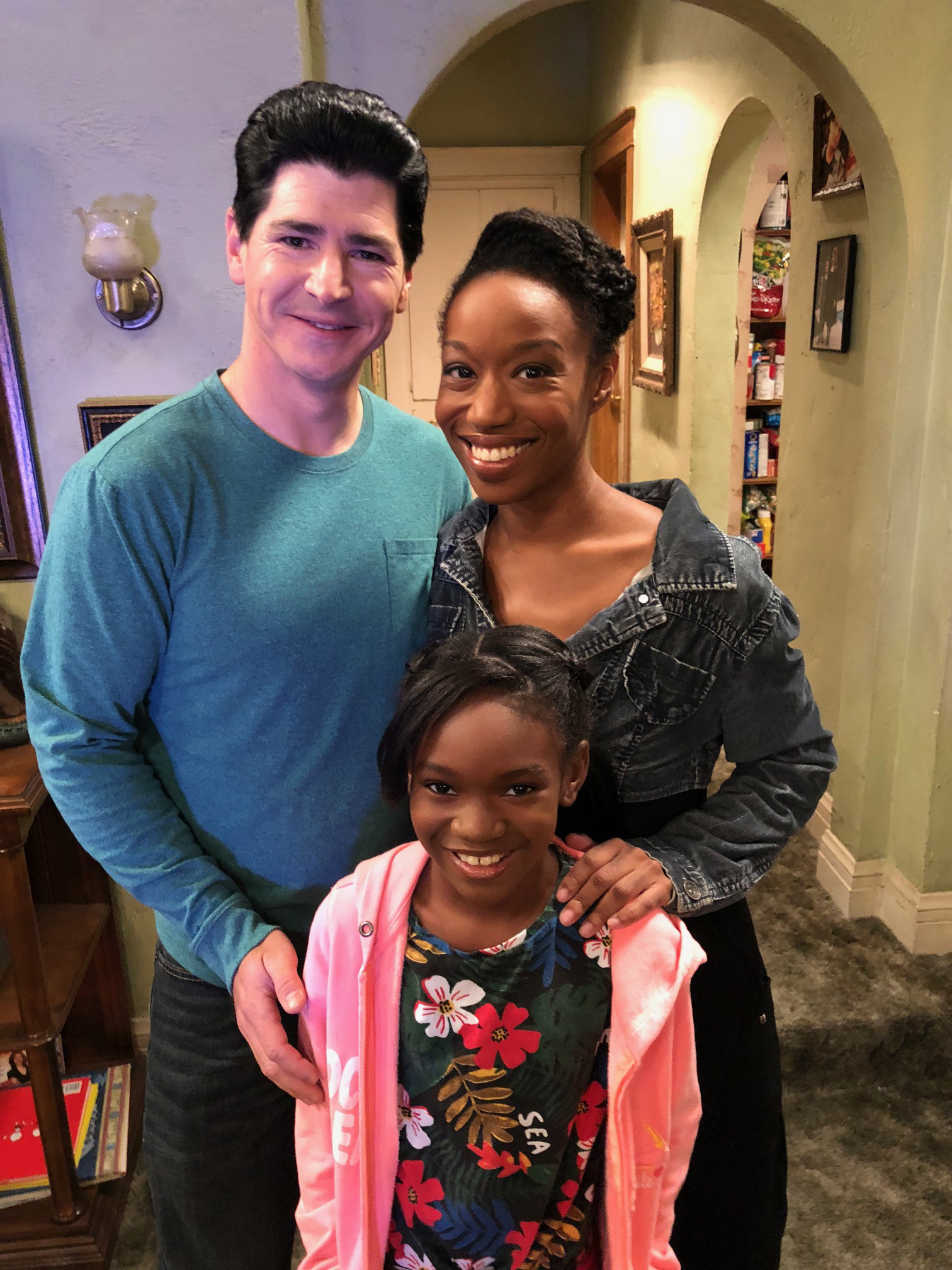 Michael Fishman ("D.J."), Maya Lynne Robinson ("Geena"), and Jayden Rey ("Mary")
Robinson will play Geena Williams-Conner, DJ's wife and Mary's mother, who returns home from active duty overseas in Afghanistan. Her character first appeared in the iconic episode from the original Roseanne series, "White Men Can't Kiss," which aired November 16, 1994.
"We're thrilled to welcome the incredibly talented Maya Lynne Robinson to the cast this season. Her character, 2nd Lieutenant Geena Conner, whom a younger DJ was reluctant to kiss in his school play, comes full circle as his wife and Mary's mother, bringing back a little piece of Conner history. Yet, while Geena is no stranger to the family, viewers old and new will enjoy seeing how her 'military-style' discipline meshes with the Conners' more laid-back attitude," said showrunner and executive producer Bruce Helford.
Along with acting on screen, Robinson has also been active in the theater scene, most recently playing Stella in A Streetcar Named Desire at the Theatre at Boston Court and Eunice in the world premiere of Runaway Home at The Fountain Theatre as a co-lead. She has worked all over the country including The Kennedy Center (D.C.), Florida Studio Theatre (Sarasota, Florida), New Federal Theatre (NYC) and The Fountain Theatre (LA).
Robinson is also the creator of the web series, HTMAST, and the co-creator/co-lead of the web series GURL, as well as the solo shows Character Breakdown and Straight A Student. She is a Helen Hayes and LA Drama Critics Circle award winner. Robinson is represented by BRS-Gage and Principal Entertainment LA.
Tom Werner will executive produce, along with Sara Gilbert, Bruce Helford, Dave Caplan, Bruce Rasmussen and Tony Hernandez. Bruce Helford, Dave Caplan and Bruce Rasmussen are also writers. The series is from Tom Werner and Werner Entertainment.