Amanda's Caramel Latte Religieuse
Mary Berry called Amanda Faber's Caramel Latte Religieuse a "smart little dessert" in the "Finals Week" Winter Celebration Showstopper challenge. Religieuse is pate a choux pastry, made with a round éclair for the base and a smaller éclair on the top. Keeping with her theme of warm beverages, Amanda is incorporating the flavors of mocha cream and caramel in order to create the taste of caramel lattes with each bite. Amanda's chosen a dessert that could either be a delicious treat or a misshapen mess. Watch the full episode of "Finals Week" from The Great American Baking Show Season 2 episode 8 to see which way it goes.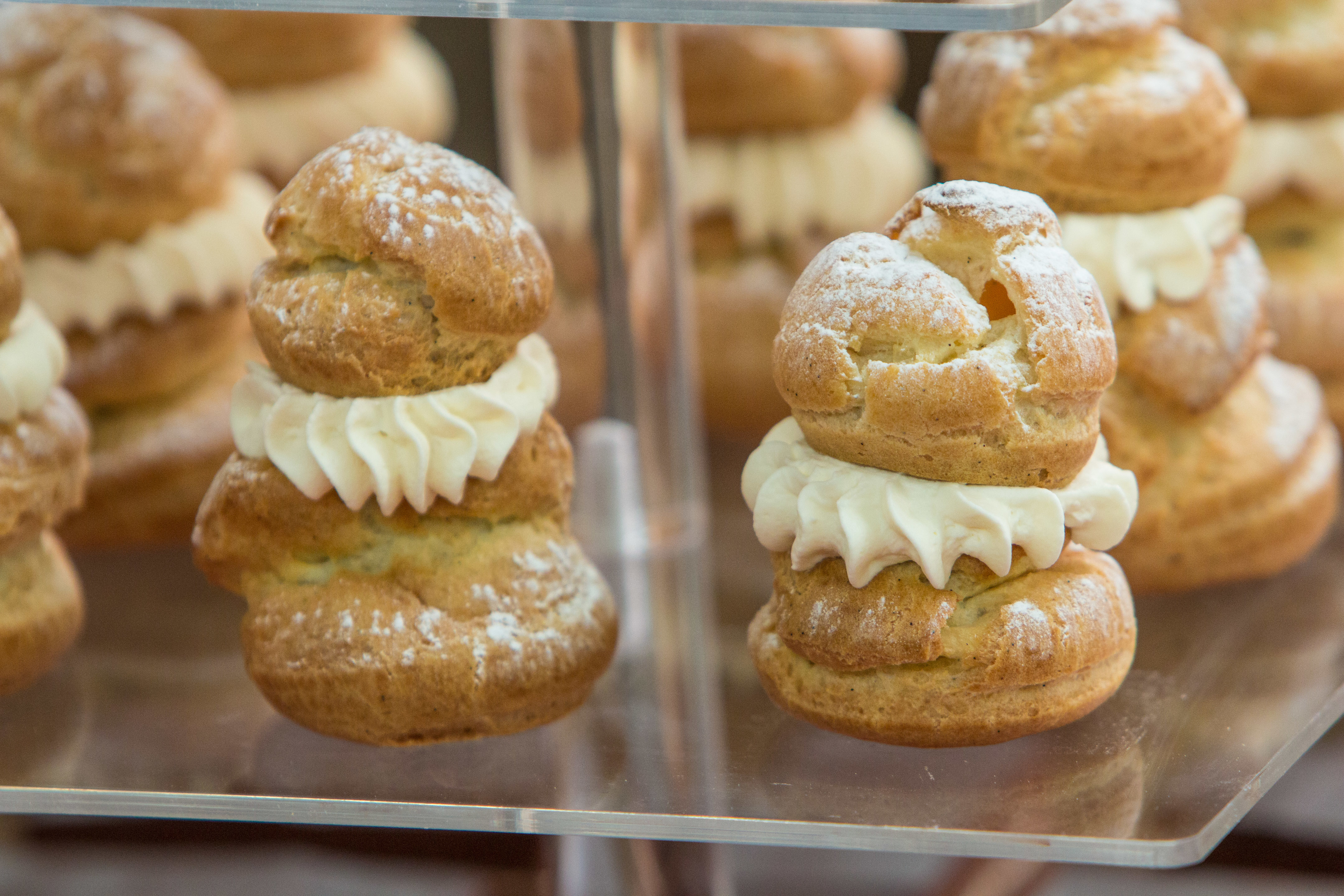 Espresso Pastry Cream:
• 4 1/2 cups whole milk
• 2tsp pure vanilla extract
• *2tbsp espresso powder
• 4 1/2 large eggs
• 4 1/2 egg yolks
• 327g granulated sugar
• 105g corn starch
• 1/2tsp table salt
• 45g unsalted butter, room temperature
Puffs:
• 1/2c whole milk
• 1/2c water
• 113g unsalted butter
• 1tbsp granulated sugar
• 1/2tsp table salt
• 136g all-purpose flour
• 4 large eggs, room temperature
• 1 vanilla bean
Vanilla Whipped Cream:
• 4c heavy whipping cream
• 62g confectioners sugar
• 2tsp pure vanilla extract
• *half will be used to top the sables
METHOD:
Caramel Latte Religieuse
Espresso Pastry Cream:
1. In a saucepan, heat the milk until steam starts to rise. Set aside.
2. In a large mixing bowl, combine the vanilla, espresso powder, eggs, and egg yolks. Set aside.
3. In a small mixing bowl, whisk together the sugar, cornstarch, and salt. Add to the egg mixture.
4. Temper the egg mixture with the hot milk. Keep whisking in the milk until completely combined.
5. Pour the mixture back in to the sauce pan. Heat over medium heat, stirring constantly.
6. Keep whisking until the mixture is thick and boiling. The boiling will look slo-mo because the mixture will be thick. Boil for one minute.
7. Remove from heat and scrape in to a stand mixer bowl. Add butter and stir on low with a paddle attachment until cool enough to chill in refrigerator. Cover with plastic wrap, press on the surface, and chill.
Pate a Choux Puffs:
1. Heat the oven to 425° F/218° C. Line a large baking sheet with parchment paper.
2. Heat the milk, water, butter, sugar, and salt in a sauce pan over high heat.
3. Once boiling, add in the flour and stir for a couple of minutes to cook and dry the dough.
4. Remove from heat and put dough in to the bowl of a stand-mixer. Stir with a paddle attachment for a few minutes.
5. Add the eggs one at a time.
6. Pipe using a round tip on to the parchment. Pipe 12 large puffs and 12 small puffs.
7. Place a crackle round on each puff.
8. Put them in the oven and lower the temperature to 375° F/191° C.
9. Bake for 20 minutes, rotate the pan. Bake until golden brown, ~10-15 more minutes.
10. Cool completely before filling.
Caramel:
1. Put the sugar in a heavy-bottomed sauce pan over a medium-high heat. Do not stir, but swirl occasionally to help sugar melt evenly.
2. Cook until deeply caramelized but not smoking.
3. Remove from heat and add the butter. Stir until smooth.
4. Add the cream and return to a medium-low heat.
5. Stir constantly until smooth and syrupy, about a minute.
6. Pour on to a dinner plate to cool. Sprinkle with sea salt.
7. Stir occasionally to check consistency.
Vanilla Whipped Cream:
1. Combine the heavy whipping cream, confectioners sugar, and pure vanilla extract in the bowl of a stand mixer fitted with a whisk attachment.
2. Whip until thick and smooth whipped cream is achieved. Chill.

*half will be used to top the sables
Assembly:
1. Using a piping tip, fill each puff with espresso pastry cream.
2. Dip the top of each puff in the caramel. Dip the small puff in the sugar pearls.
3. Chill in the refrigerator while putting the whipped cream in to a piping bag fitted with a large star tip.
4. Pipe whipped cream on the top of each large puff. Place a small puff on top.
5. Chill until ready to present.