Amanda's Petit Four Recipe: Lemon Sponge Cake with Cucumber Soak and Elderflower Buttercream
Amanda Faber usually would make a petit four over a few days but in the "Patisserie Week" Signature bake challenge she must bake them within hours. She imagines a tea party with her daughter and the types of cake she would enjoy which inspires her "Patisserie Week" Signature bake, a Lemon Sponge Cake with Cucumber Soak and Elderflower Buttercream. This grown up lemon sponge is paired with elderflower buttercream and cucumber syrup. Amanda has definitely been listening to the judges and hopes her bake will win them over. Watch the full episode of "Patisserie Week" from The Great American Baking Show Season 2 episode 7.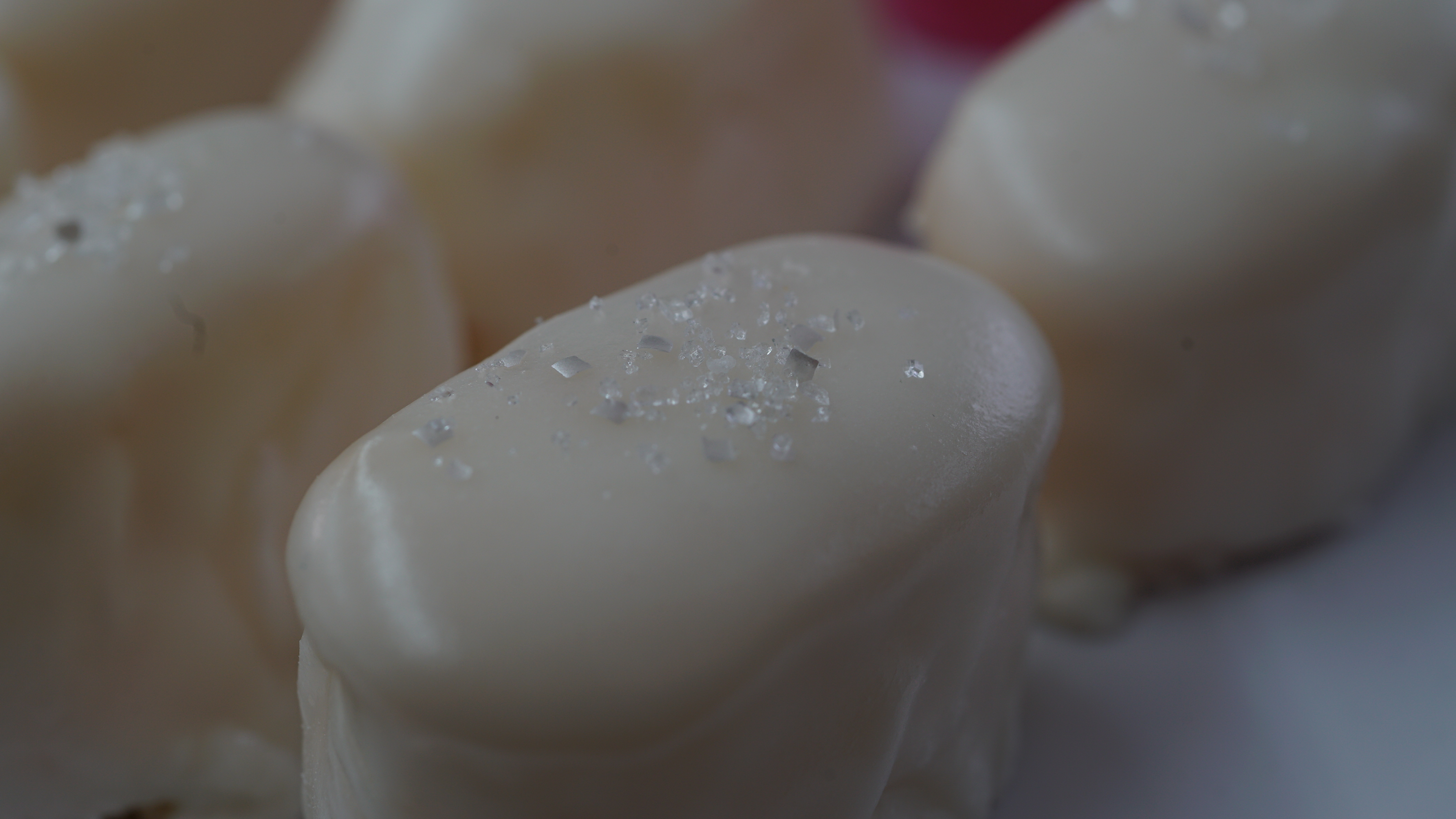 Lemon Scented Sponge:
165g granulated sugar
5 large eggs, room temperature
155g all-purpose flour
zest of one lemon
Cucumber Syrup:
114g granulated sugar
1/2c water
1 cucumber, diced
Elderflower Buttercream:
113g unsalted butter, room temperature
230g confectioners sugar
1/4tsp pure vanilla extract
2tbsp St. Germain liqueur
pinch of table salt
Fondant Glaze: x2
284g white chocolate chips
908g confectioners sugar
156g light corn syrup
1/2c hot water, plus more if needed to thin
1tsp pure vanilla extract
2tsp lemon extract
½ oz Strawberry powder
Pink food coloring
METHOD:
Lemon Scented Sponge
1. Pre-heat the oven to 410° F/210° C. Prepare a baking sheet with silpat and non-stick spray.
2. In a stand mixer fitted with a whisk, beat the sugar and eggs for 5 minutes on high.
3. Fold in half of the flour.
4. Fold in the zest and remaining half of flour.
5. Pour and level in prepared baking sheet.
6. Bake until lightly browned, ~7-8 minutes.
7. Once out of the oven, use a knife to loosen edges. Turn out on to a cutting board covered in parchment paper. Freeze.
Cucumber Syrup
1. Combine the sugar and water in a heavy-bottomed saucepan over medium heat. Stir to dissolve the sugar. Bring to a boil.
2. Remove from heat, add the cucumber.
3. Steep the cucumber for 10 minutes.
4. Strain the cucumber out. Chill the syrup.
Elderflower Buttercream
1. In the bowl of a stand mixer fitted with a paddle attachment, combine the butter and sugar.
2. Add in the vanilla extract, St. Germain, and salt.
3. Mix until smooth.
Fondant Glaze (make in two batches)
1. Prepare a bain-marie.
2. In a microwave-safe bowl, melt the white chips in short bursts.
3. In a separate large bowl, whisk together the sugar, corn syrup, and hot water.
4. Stir the melted chips in to the sugar mixture.
5. Stir in the extracts.
6. Check the temperature with a thermometer. Test on cakes. Use the temperature as a reference if it needs to be cooled or warmed on the bain-marie. The ideal temp is just below 100° F/38° C.
Assembly:
1. Soak the cold lemon cake with cucumber syrup.
2. Cut the lemon cake in half. Spread half with the elderflower buttercream.
3. Top frosted half with other half. Chill.
4. Using a petit four cutter, cut at least 15 cakes from each cake. Make sure to keep them separate.
5. Set the cakes on a cooling rack set on top of a rimmed baking sheet.
6. Use a spoon to pour fondant over each cake.
7. Let the fondant set. Then apply a small piece of gold to each of the cucumber cakes.
8. Use a warmed off-set spatula to move cakes to display.