Episode 1: Eddie's Grandma's Gingerbread House Showstopper Recipe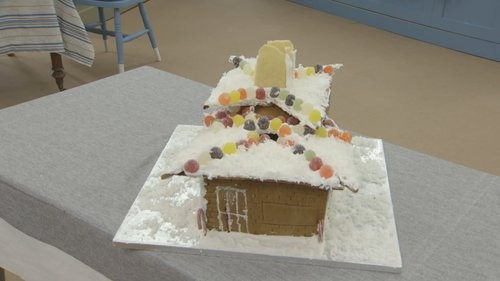 Episode 1 "Cookie Week" Showstopper Recipe: Eddie's Grandma's Gingerbread House
Ingredients:
For the gingerbread:
• 6 cups all-purpose flour
• ½ tsp baking soda
• 1 ½ tbsp grated ginger
• 1 tbsp ground cinnamon
• ½ tsp ground cloves
• 1 ½ stick unsalted butter
• 1 ½ cups packed light brown sugar
• 2 large eggs
• 1 cup molasses
• 1 tbsp water
For the Royal icing:
• 4 cups of confectioner's sugar
• 4 tbsp meringue powder
• Water
Decoration:
• Gum drops x 2 bags
• Candy buttons x 2 bags
• Sweetened shredded coconut flakes
• Starlght peppermints
• black licorice (both regular and string)
• red twizzler pull and peels
• small candy canes
• Smartie Candies
Butter Cookie Dough:
• 4 cups all-purpose flour
• 1 pound salted butter
• 1 1/3 cups granulated sugar
• 2tsp pure vanilla extract
Directions:
For the gingerbread:
1. In a large bowl combine all dry ingredients.
2. In mixing bowl mix butter and sugar together till light and fluffy.
3. Beat in eggs, molasses, and water till well mixed.
4. Slowly add in dry ingredients. Add half and mix until smooth; add the second half and mix till dough comes together.
5. Turn the dough out onto a floured surface and knead 2--3 minutes.
6. Refrigerate dough for 30 minutes.
7. Let dough stand on counter for 10 minutes before trying to roll. Roll dough to approx. ¼ inch thickness.
8. Using pattern templates cut out house pieces, place on a parchment lined cookie sheet.
9. Bake at 350 degrees Fahrenheit or 176 degrees Celsius for 15 minutes or until the edges are browned. Let cool completely before assembling house.
10. Assemble using royal icing, decorate as desired with assorted candies.
For the Royal Icing:
1. Combine confectioners' sugar, 3 egg whites, and water together for desired consistency.
For the butter cookies:
1. Combine the ingredients and cuts them to size using templates. Bake until golden brown. Assembles the scene using and decorating with Royal icing.