Episode 1: Tim's Czech Nut Cookies & Iced Sour Cream Sugar Cookies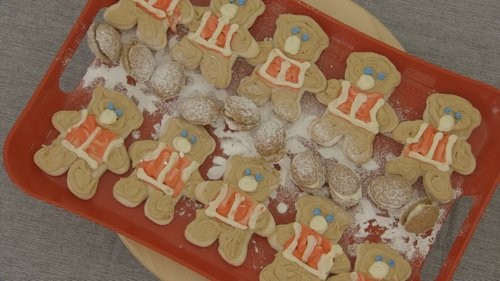 Signature Bake: Cookies for Santa
Cookies: Tim's Czech Nut Cookies and Iced Sour Cream Sugar Cookies
Iced Sour Cream Sugar Cookies:
Ingredients:
Cookies:

• 268g Granulated sugar (1-1/3 c)
• 76g Unsalted butter (softened) (1/3 c)
• 68g Vegetable shortening (1/3 c)
• 152g Full Fat sour cream (2/3 c)
• 2 egg – large
• 2 tsp. vanilla extract
• 400 g all-purpose flour (3-1/3 c) + Extra for rolling out.
• 2 tsp. baking powder
• 1/2 tsp. baking soda
• ½ tsp. Kosher salt
• 1/4 tsp. ground nutmeg
Buttercream:

• 224 g (2 sticks) unsalted butter (softened)
• 4-6 tbsp. Heavy Cream
• Dash of Kosher salt
• 500-750g powdered sugar
• 1/4 tsp. almond extract
• 1/4 tsp. vanilla extract
Buttercream Decoration:

• Sparkling sugar
• Food coloring paste: Ever Green, Red, Black, Pink, lt. Blue, Brown
Directions:
Cookies:


1. Cream together butter, sugar, shortening.

2. Mix in sour cream, egg and vanilla.

3. Sift Flour, Baking soda, baking powder, salt and nutmeg.

4. Mix in flour mixture.

5. Dough may be sticky, wrap and set aside in fridge briefly to cool.

6. Preheat oven to 400° Fahrenheit (204° Celsius)

7. Roll dough out on lightly floured surface about ¼" thick

8. Cut with Cutter, using spatula transfer to baking sheet lined with Silpat.

9. Bake cookies for 8-10 minutes.

10. Let cool for a few minutes on sheet then transfer to cooling rack.


Buttercream:


1. Cream together, in a stand mixer fitted with a whisk attachment. Butter, Milk and salt until creamy and light

2. Add extracts.

3. Add powdered sugar in stages until you get the desired thickness.

4. You may need to add additional milk.

5. Divide and color with paste based food coloring as desired.
Decorate Cookies:
1. Once the cookies are cool. Decorate them by first frosting the base layer with a spatula, then piping detail. If desired, use the sparkling sugar as accent.

2. Allow cookie to dry before storing. Icing will crisp on the outside but will not get hard, avoid stacking the cookies until they develop a slight crust.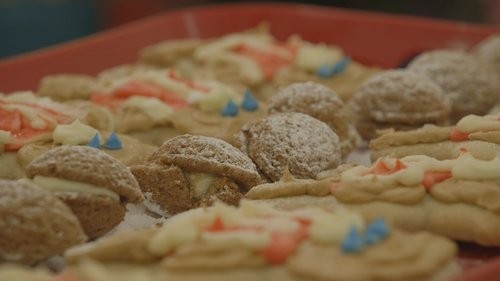 Czech Nut Cookies:
Ingredients:
Cookie:

• 112g (1 sticks) Unsalted Butter (Softened)
• 180g (1.5 c) All-purpose Flour
• 50g (¼ c) Granulated Sugar
• ½ tsp. Unsweetened Cocoa Powder
• ¼ tsp. Ground Cinnamon
• ¾ c nuts (pecans)
Pastry Cream:

• 245g (1 c) Whole Milk
• 50g (1/4 c) Granulated Sugar
• ½ Vanilla Bean
• Pinch of Kosher Salt
• 2 eggs (Large)
• 2 Tbsp. Corn starch
Directions:
Cookie:
1. Preheat over to 350° Fahrenheit (176° Celsius).

2. Line cookie Sheet with Silpat, this will prevent the tins from sliding around.

3. Grind nuts finely using a food processor.

4. In a stand mixer with a paddle attachment mix together butter, sifted flour and sugar.

5. Add Cocoa, Cinnamon and Finely Ground Nuts, mix well.

6. Mix in egg till combined.

7. Form small balls, about 1-1 ½ tsp. in size and press into the nutshell molds.

8. Align on baking sheet.

9. Bake for about 12 minutes.

10. Allow cool, removing from tins and place cookies onto cooling rack.
Pastry cream:
1. Combine Milk, ½ the sugar and vanilla bean (split seeds scraped) in a medium saucepan over medium, until aromatic and mixture simmers.

2. Remove bean pod.

3. In a small bowl mix together egg yolks, the other ½ of the sugar and corn starch.

4. Slowly add the hot mixture into the yolk mixture slowly, mixing and tempering.

5. Once tempered, transfer back to pan and heat, continue to stir continuously until thick.

6. Transfer to stand mixer fitted with a whisk attachment.

7. Mix on medium speed until the cream becomes fluffy and has cooled a bit 4-5 minutes.

8. Transfer to bowl, cover top with plastic wrap and place in fridge to cool.

Assembly:

1. Take "nut" half and fill with pastry cream using a pastry bag and tip. Don't overfill.

2. Place a second half on top, cookies should not touch, there should just a hint of pastry cream.

3. Plate

4. Dust with powdered sugar.