Episode 1: Tim's Showshowstopper Gingerbread Carousel Recipe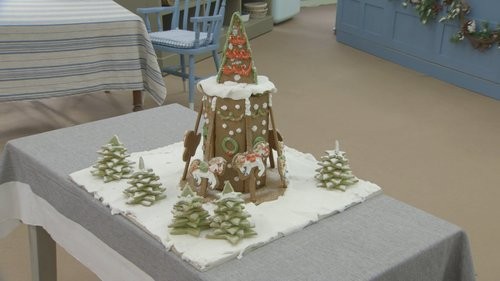 Episode 1 "Cookie Week": Tim's Gingerbread Carousel Recipe
Ingredients:
Gingerbread (Will Need 2 batches):
• 448g (2 Sticks) Unsalted Butter
• 400g (1 c) Dark Brown Sugar
• 280g (7 tbsp.) Dark Corn Syrup
• 1200g (5 c) All-Purpose Flour
• 4 tsp. Baking Soda
• 6 tsp. Ground Ginger
• 2 tbsp. Ground Cinnamon
• 1 tsp. Ground Cloves
• 1 tsp. Table Salt
Cutout Cookie:
• 448g (2 c) Unsalted Butter (Softened)
• 400g (2 c) granulated Sugar
• 2 tsp. Vanilla Extract
• 1/2 tsp. Table Salt
• 720g (6 c) All-Purpose Flour
• 4 Tsp. Baking Powder
• 2 Egg (Large)
Royal Icing:
• 6 tbsp. Meringue Powder
• 1000g (4 c) Powdered Sugar
• 10 tbsp. Water
Misc. Decorating:
• Fondant – 3 lbs. white
• Powdered Sugar
• Food Coloring (Gel type)- Red, Green, Blue, Yellow, Brown, Black, Purple, Pink
• Gold Pearl Dust
• Unflavored Vodka or lemon extract
• 400g Granulated Sugar (2c)
• Sparkling sugar
Directions:
1. Preheat oven to 350° Fahrenheit (176° Celsius).
2. In a saucepan combine butter, sugar and corn syrup over medium heat until melted and combined.
3. In a stand mixer, fitted with a paddle attachment, combine sifted flour, baking soda, salt and spices.
4. Pour sugar mixture into flour mixture and mix well.
5. Once combined divide and roll each piece out onto parchment about ¼" thick. (Note Roof pieces can be a bit thinner to reduce weight load)
6. Cut (pieces according to the template for build) and transfer on paper to cookie sheet.
7. Bake for 12-13 minutes or until edges are just starting to brown. (less time for thinner pieces).
8. Remove from oven, immediately trim with pastry wheel if needed, cool on baking sheet and then transfer to cooling rack until completely cooled.
Cutout Cookies:
1. Preheat oven to 350° Fahrenheit (176° Celsius).
2. Cream together butter, and sugar.
3. Mix in Vanilla.
4. Scrape down bowl.
5. Mix in Egg.
6. Sift Flour, baking powder, and salt.
7. Mix in flour mixture.
8. Roll dough out on lightly floured surface about 3/8" thick.
9. Create tree "star" shapes.
10. Bake cookies for 9-12 minutes. Until edges brown, baking time depends on cookie size. Group like size "stars" together on the same sheet to avoid uneven cooking.
11. Let cool for a couple minutes on sheet then transfer to cooling rack.
12. Set Aside.
Royal Icing:
1. Put Meringue powder and sifted Powder sugar in a stand mixer fitted with a whisk attachment, mix on low speed to incorporate.
2. Add water.
3. Once combined mix on high until stiff peaks and is light and fluffy. About 7 minutes.
4. Divide as needed, Color and set aside in bowls, wrapped airtight.
Construction and Assembly:
1. Make Gingerbread per instructions May be able to make as one batch if mixer is large enough.
2. Make Cookie Tree shapes per instructions.
3. Make Royal Icing.
4. Pipe design onto the 6 center panels and horses prior to them being assembled, allow to dry.
5. Using green royal icing, pipe and assemble the star "tree" shaped stack cookies in varying heights, Need at least 8 in total. Set aside to dry.
6. In the frying pan heat 1c of sugar up at a time to create a sugar glue.
7. Dip edges of dried panels together and press next to each other.
8. Carefully assemble the interior panels together in a hexagon in the center of the base plate.
9. Assemble the roof panels together using the melted sugar and place into the setting ring to use as a form until the sugar hardens.
10. Assemble hexagon onto base.
11. Once cooled pipe royal icing over the sugar seams on the center.
12. Decorate the roof structure.
13. Roll a thin sheet or fondant to cover baseboard.
14. Cover board around the carousel with white fondant.
15. Make another batch of sugar and secure roof and horses to the final structure.
16. Apply decorations and ice/paint as needed.
17. Install trees.
18. Create small snow mounds out of extra fondant.
19. Dust with powdered sugar.
20. Pray everything stays together.