Episode 2 Eddie's Signature Bake: German Chocolate Yule Log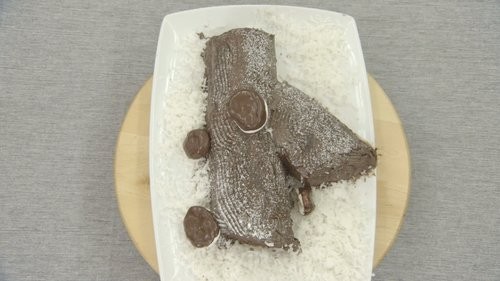 Episode 2 Signature Bake: Eddie's German Chocolate Yule Log
German Chocolate Yule Log
INGREDIENTS:

For the Cake:

• 4oz. German Chocolate bar
• 1 cup granulated sugar
• 1 ¼ cup all-purpose flour
• 1 tsp baking soda
• 4 large eggs
For the Filing:
• 4 large egg yolks
• 1 can evaporated milk
• 1 cup granulated sugar
• 1 stick unsalted butter
• 1 tsp pure vanilla extract
• 1 ½ cups chopped pecans
• 7oz sweetened shredded coconut
For the Frosting:
• 2/3 cups dark chocolate cocoa powder
• 2 cups confectioners sugar
• 1lb. unsalted Butter chilled and cut into pieces
• 1/3 cup heavy cream
• 1 tbsp pure vanilla extract
• 12 oz dark melting chocolate
METHOD:
For the cake:
1. Place chocolate and ½ cup of water with vanilla in a small bowl. Microwave for 1 to 2 minutes to melt chocolate, stir to combine
2. Separate eggs, beat yolks and sugar till fluffy.
3. In a separate bowl whisk egg white till soft peaks form
4. Pour chocolate mixture in with sugar and yolks, mix to combine
5. Combine baking soda with flour. Slowly add flour to wet ingredients, mix till well combined.
6. Pour batter onto cookie sheet that has been sprayed and lined with parchment paper
7. Bake at 350 degrees Fahrenheit or 160 degrees Celsius for 15-18 minutes. Remove from oven and let cool.
For the Filling:
1. Combine all ingredients except pecans in a medium saucepan.
2. Cook over medium heat stirring constantly so that your yolks slowly come to temperature and thicken (you know that the mixture is done when the custard covers back of spatula and when you run finger across the spatula the custard splits and stays separate) About 13 minutes.
3. Add pecan and allow to cool.
4. Spread filling over cake
5. Using the parchment as a guide, roll the cake length wise

For the Frosting:

1. In a large bowl, cream the butter and confectioners' sugar until light and fluffy. Beat in the chocolate, milk and vanilla until smooth. Frost the cake, using a metal spatula or cake comb to create a bark-like effect.
2. Use confectioners' sugar and angel flake coconut to create a snow effect and decorate as desired.
3. Melt chocolate and pour over the log to help create wood effect