Episode 3 Lauren's Showstopper Bake: Alice's Christmas Tree Choux Pastry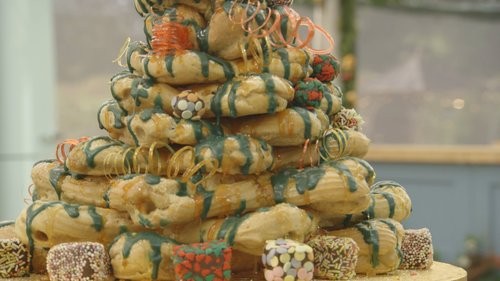 Episode 3 Showstopper Bake: Lauren's Alice's Christmas Tree Choux Pastry
Alice's Christmas Tree Choux Pastry
INGREDIENTS:
For the Pate a Choux (2 x batches):
• 1 1/2 cups water (3 cups water in total)
• 12 tablespoons unsalted butter (24 tablespoons butter in total)
• 1/4 teaspoon kosher salt (. teaspoon salt in total)
• 2 cups all-purpose flour (4 cups flour in total)
• 8-9 large eggs (16-18 eggs in total)
• 1 teaspoon granulated sugar
Butterscotch Pastry Cream:
• 3 cups whole milk
• 1 teaspoon vanilla bean paste
• 1 cup single cream
• 1 cup whole milk
• 12 large egg yolks
• 1/3 cup granulated sugar
• 1 cup light brown sugar
• 6 tablespoons corn starch
• 2 teaspoons pure vanilla extract
• 4 tablespoons salted butter
• 3-4 tablespoons butterscotch liqueur
• 1/3 cup dark brown sugar
Bruleed Bananas:
• 12 yellow bananas (not overripe)
• 1 cup turbinado sugar
Caramel (need 4x ingredients for extra batches):
• 2 cups granulated sugar (8 cups in total)
• 1/2 cup water (2 cups in total)
Caramel for colored sugar work:
• 3 cups granulated sugar
• 1 cup water
• Liquid food coloring (red and green)
Brigadeiros (presents at bottom):
• 1 can (14 ounces) sweetened condensed milk
• 1/4 cup unsweetened dark cocoa powder
• 2 tablespoons unsalted butter
• 2 teaspoons pure vanilla extract
• Different colored non-pareils- multicolor, blue, and red
Icing:
• 1 cup powdered sugar
• 1-2 tablespoons butterscotch liqueur
• 1-2 tablespoons single cream
• green food coloring
• 1 tablespoon melted butter
METHOD:
To make the Pate a choux:
1. Preheat oven to 425 F, 220 C.
2. Bring water and butter to a boil. Reduce heat, adding in flour and salt off the heat. Stir well until smooth. Return to heat. Cook and stir for 1 minute until firmer. Remove from pan into large bowl. Add eggs one at a time, beating in with an electric hand mixer until proper consistency (falls slowly in sheets from beaters). Place into piping bag with large found tip or snipped end. Pipe small, medium, and large cream puffs. Wet finger and pat down tips gently. Bake for 20-22 minutes until browned, puffed and crisp. Remove from oven and immediately pierce with sharp knife or skewer.
For the pastry cream:
1. Heat milk on medium with vanilla bean and seeds. In a large measuring cup (4 cup size), whisk together egg yolks, sugars, and cornstarch. Remove vanilla bean from milk.
2. Add a bit of the warm milk to yolks, whisking well. Then pour yolk mixture back into remaining milk. Whisking constantly, bring mixture slowly to a boil until thickened. Remove from heat. Add vanilla extract, butter, and butterscotch liqueur, whisking until smooth. Either place in a water bath and/or chill covered in separate bowl. Poke each cream puff bottom with piping tip. Fill cream puffs with pastry cream mixture in piping bags.
For the bruleed bananas:
Cut bananas in thin discs. Spread out on sheet pan lined with foil. Sprinkle liberally with raw sugar. torch until caramelized. Pureed 1 cup of them and fold into pastry cream
To make the colored sugar and caramel:
1. Working in batches, combine the sugar and water in a medium saucepan (2-3 quarts) overmedium-high. If doing the colored sugar, add the color. Do not stir, only jiggle pan slightly if needed. When sugar starts to become medium Amber (or reaches hard crack stage), remove from heat. Can plunge in ice bath or begin dunking filled cream puffs. Save some caramel for the angel.
2. For the colored sugar work, using a spoon, make the star shapes and curls with blue and red and place on parchment to set. Make green spun sugar with either a whisk with ends cut (with wire cutters) or forks and spin back and forth between two rolling pins. Make green tree triangles. Set aside.
3. Assemble tree by making a second batch of caramel. Starting with the larger puffs at the base, build in rows, dipping bottoms in caramel to attach. Gradually get smaller and smaller with the cream puffs and spiral up toward the top point. Attach angel with additional caramel.
4. To make the Brigadeiros, bring the condensed milk, cocoa, and butter to a boil. Whisk constantly for 8-10 minutes or until mixture starts to pull away from the side. Add vanilla off the heat. Pour into parchment lined pan and chill until firm. Cut into squares and rectangles, rolling in colored sprinkles to look like little presents.