Episode 3 Nicole's Signature Bake: Pumpkin Pops and Honeyed Fig Tarts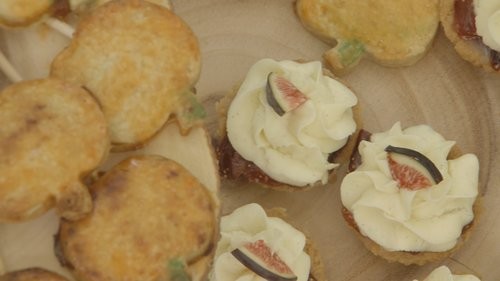 Episode 3 Signature Bake: Nicole's Pumpkin Pops and Honeyed Fig Tarts
Pumpkin Pops

INGREDIENTS:
For the pop dough:
• 2 1/2 cups of all-purpose flour
• 1 tsp granulated sugar
• 1 tsp fine sea salt
• 1/2 tsp pre-ground pumpkin pie spice
• 2 sticks of unsalted butter (cold and cubed) (226g)
• 1 tbsp apple cider vinegar
• 4 tablespoon ice cold water
• One large egg (for egg wash)
For the pumpkin butter:
• 1 can of 100% pumpkin puree
• 1/4 cup pure maple syrup
• 1/2 cup brown sugar
• 1/4 cup apple cider (any brand)
• 1 tablespoon lemon juice
• 1 tsp pumpkin pie spice
• Pinch of fine sea salt
For the glaze icing:
• 3/4 cup of powdered sugar (icing sugar)
• 1 TBSP heavy cream (double cream)
• 1/4 cup whole milk
• 1/4 tsp vanilla bean paste
• Electric orange gel food color and Kelly green gel food color
METHOD:
For the pop dough:
1. Mix flour sugar and salt in food processor. Pulse to blend. Then add cubed cold butter and pulse until mealy. Add water one TBSP at a time and pulse. Press together on parchment paper and split into two disks and refrigerate for 30 min. Once chilled take out and roll 1/8 inch thin, use pumpkin cutter to cut out 24 pieces. Put in fridge to chill.
For the cream cheese filling:
1. In a bowl whip egg, cream cheese, sugar and flour until combined. Set to the side.
For the pumpkin butter:
1. Mix all ingredients in a sauce pan cook until it comes to a boil. Cover with lid (prop open with a wooden spoon) and lower heat to med-low and simmer for 30 min. Stir frequently. Let
come to room temp. Once cooled mix 1/2 cup pumpkin butter with 1/2 cup cheese mixture.
For the glaze:
1. Mix sugar, paste and cream add milk one tbsp. at a time until the right consistency is achieved. Color 3/4 of glaze orange and 1/4 green.
Assembly:
1. Lay down 12 pumpkin pieces, brush with egg wash around the sides. Fill with 1 tsp of filling, lay a cake pop stick inside. Place a pumpkin dough shape on top and press the sides to seal. Cut a small slit in the top dough for steam. Put in fridge until chilled again.
2. Bake pops at 375 degrees Fahrenheit (190 degrees Celsius) for 15-17 min.
3. Let pops come to room temp then pour glaze on top to look like pumpkins.
Honeyed Fig Tarts
INGREDIENTS:
For the dough:
• 6 TBSP unsalted butter
• 5 oz of flour
• 1 TBSP vegetable oil
• 3 TBSP water
• 1 TBSP granulated sugar
• 1/4 tsp fine sea salt
For Mascarpone Cream:
• 1 cup full-fat mascarpone
• 2 Tbs powdered sugar
• 1/2 vanilla bean past
Honeyed Figs:
• 1lbs black figs
• 3/4 cups honey
• 3 TBSP water
• 1 TBSP lemon juice
METHOD:
For the dough:
1. Set oven for 410F/210C. Put butter, sugar, salt, oil and water in a large glass bowl and place in oven for 15-20 min until butter begins to brown.
2. All at once add the flour quickly and stir with a wooden spoon. Until a ball forms. Spray tart pan with PAM. Use small cookie scope to scoop balls of dough into each tart. Press the sides with a fork and poke holes in the bottom.
3. Put tart pan in fridge to chill for 5 min.
4. Bake for 7-9 min.
For the Honeyed Figs:
1. Remove stems and cut figs into small chunks. Place in a pot with honey and water. On med/ high heat simmer until it gets thick. Add lemon juice and cook for an additional min. let it cool in fridge.
For the Mascarpone Cream:
2. Put mixture into a piping bag fitted with a star tip.
3. All ingredients to mixer and whip until fluffy.
Assembly:
1. Cool tarts and pop out. Fill with fig mixture, top with mascarpone crème and a chopped fig brushed with honey.